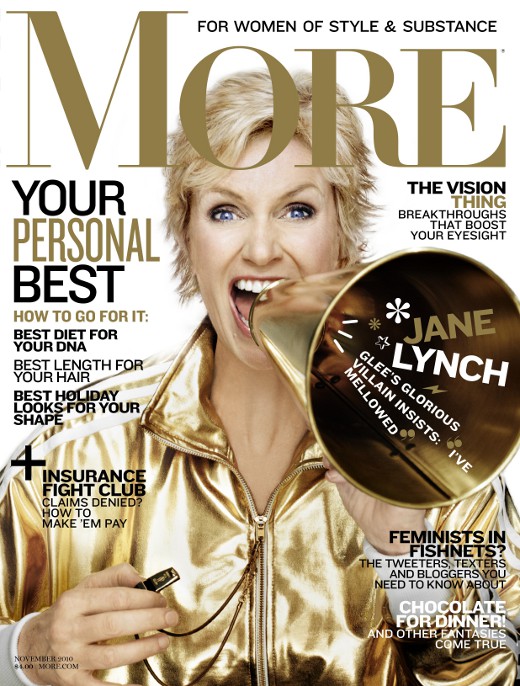 Glee's Jane Lynch, 50, is the cover girl for More Magazine. I haven't heard much about More Magazine and I guess it's a women's magazine targeted at 40-somethings. They have some useful intelligent articles and I spent a lot of time on their website. Anyway Lynch gave a pretty candid interview to More, in which she talked about her 19 years of sobriety and about the moment she realized her now-wife was "the one." I really admire her and find her so interesting. Lynch is a lot shyer in interviews than you might expect and when I heard her on NPR's Fresh Air about a year ago I was surprised by how soft spoken she was. She said she didn't like being the center of attention and that "I just want to be like everybody else." It looks like she's more comfortable now with her role as a superstar, as evident in this interview and the sexy photo spread. Here's more:
Almost missing out on playing Sue Sylvester: True to her workaholic form, Lynch was already committed to two other series (Starz's Party Down and an ABC project) when the Glee offer arrived. This meant that for the first four episodes of Glee, Lynch's status was temporary. "We were keeping our fingers crossed that I got to stay."

On how she met her wife: Lynch met her wife, Lara Embry, last year at a lesbian rights fundraiser. A week after meeting, Lynch flew to Sarasota, Florida, where Embry lived. Just before takeoff, Lynch called Embry and said, "We need to acknowledge how courageous both of us are that I'm coming into town and you really don't know me. And I'm hopping on a plane to visit someone I really don't know. So for a moment, let's give ourselves a little pat on the back."

On getting hitched: After six months of dating, Embry proposed to Lynch. On May 31, the two women exchanged matching wedding rings in a small ceremony. "I shouldn't say this, but I'd never dated anyone that I wanted to marry. I didn't think it was going to be out there for me. But the minute we were married, I felt the difference: I felt like I am no longer alone." Lynch says she loves being able to realize two wishes many mothers have for their daughters: "I got married—and I married a doctor!"

On becoming a stepmother: Lynch's wife has an eight-year-old daughter. When asked, 'What's it like to become a parental figure for the first time in midlife?' Lynch replies, "I haven't really done it [on a day-to-day basis] yet. I took her to school. I picked her up. I went to lunch with her. So I kind of had a test run. We're pretty darn good together."

About being "a little OCD": Lynch is currently renovating her home to make room for Embry and her daughter. Until they move in together, the actress is confronting what she feels is a holdover from single life—her obsession with tidiness. "I'm a little OCD," admits Lynch who says she stares longingly at the dozen or so boxes of Embry's belongings that have been shipped and fantasizes about paring down. "I don't want to start going through them and saying, 'Well, we can get rid of this, and that!' But it's hard."

On deciding to become sober in 1991: "I was hungover all the time." One evening she told a friend, "I'm pouring out this glass of wine and never drinking again." She kept her promise. "Relatively speaking, my personal bottom was rather benign." Lynch says she used to stand up at 12-step meetings and apologetically say, "Had I known I'd be telling my story over and over again, I would have made it a lot better."

On turning 50: "I like the equanimity that comes with my age. I don't have big highs, and I don't have big lows. Even if this job goes away tomorrow, the nonstop ambition is a thing of the past for me. I've mellowed."
[More Magazine via Daily Stab]
I admire people who are able to quit drinking and not take another drink for decades. I have a couple of relatives who are like that and they're very matter-of-fact and low key about it. It sounds like Lynch is the same.
I'm up to date with Glee now and am really looking forward to seeing the Rocky Horror Glee show tomorrow night! The Duets episode, the last one that aired a couple of weeks ago, was very well done as it focused on the characters and their relationships. We didn't see much from Lynch and I hate that we haven't seen more of Coach Beiste, Lynch's character Sue Sylvester's new enemy. Hopefully we'll see more of both in the upcoming episode.