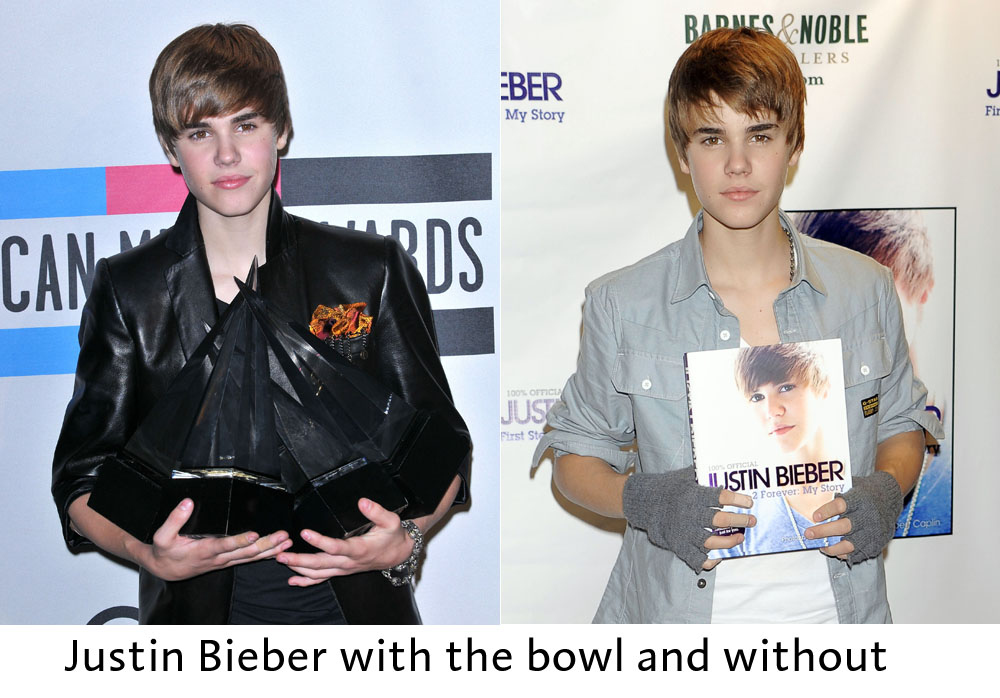 Canadian singer Justin Bieber, 16, has changed up his signature bowl cut and is sporting a lighter shorter style that's more "Chace Crawford" than Bieber. He looks more mature, and more feminine. It's possible his hair is just wet, though. The boy is just so pretty and you can see his features when his hair is out of his face. If you compare recent photos of Bieber with his mushroom 'do to his new hair, it's like he's aged three to four years overnight. When you're that young, that's a good thing.
Does this herald the end of the Bieber bowl 'do? We can only hope. Maybe Gisele will finally let Tom Brady cut his hair.
Justin is promoting his new autobiography, First Step 2 Forever. It seems ridiculous that a 16 year-old kid has an autobiography, and the title suggests that at least some of it is written in text speak. A quick glance at the reviews on Amazon confirms my hunch, with a reviewer named Andrew Shaffer noting that "The book simply reproduces many of Bieber's Tweets without fixing them for grammar or spelling." Bieber is also said to spend a lot of time "writing" about girls and even fills an entire page with the phrase "I like girls" over and over – as if that's enough to dispel any doubt.
At the book signing in New York on Friday when these photos were taken, Bieber was delayed by some rain. He made it up to everyone by letting in a 1,000 extra fans and taking time to meet with them. That's sweet, and will surely sell more copies of his book. Half of which is said to consist of photos of Bieber. Does that make up for the extremely thin content? It's not like his young fans are going to care.
Here's Justin on The Today Show Friday [via ONTD]. His voice is changing. He says that doesn't plan on going to college and won't comment on whether he has a girlfriend or not. He also has a new acoustic album out.

Photos from WENN.com. Story from AceShowbiz via WeSmirch