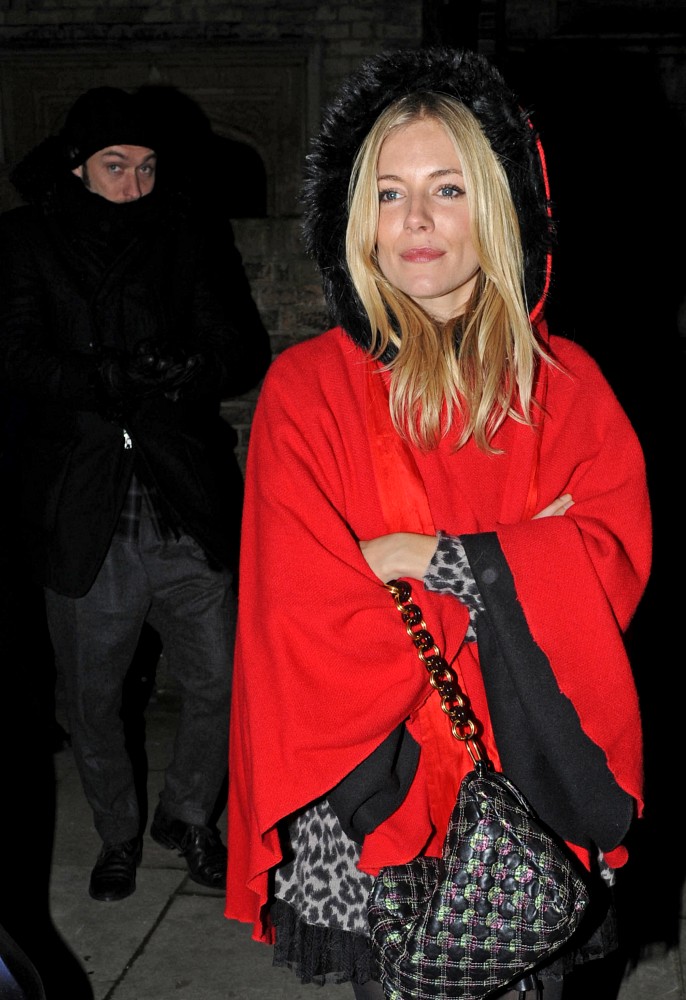 These are new photos of Sienna Miller and Jude Law out and about in London last night. I kind of hate Sienna's red fur-lined hoodie cape thing, although the bitch looks good in it. I'm surprised to see new photos of them – I was just thinking about them a few days ago, wondering why they'd been so low-key lately. Like, I've barely heard anything about them for months, except for the odd "they're getting married!" report. Could it be that things are totally solid between them, and that their corresponding and equal beauty somehow drives down Sienna's famewhore AND Jude's libido?
Anyway, The Telegraph has a hilariously bitchy interview with Jude's ex-wife Sadie Frost. They were asking Sadie about her Christmas plans, and Sadie managed to get in a dig at Sienna, of course. As you may remember, Sadie was extremely pissed at Sienna after Sienna and Jude took Jude's kids on vacation, and Sienna took one of the kids to get a haircut. Sadie freaked out and rage-tweeted at Sienna. There were also rumors that Sadie had "banned" Sienna from spending time with the kids, AND that Jude had to step in and hold "peace talks" between the two women. That's just backstory for Sadie new swipe:
Jude Law's former wife, Sadie Frost, says Sienna Miller will spend Christmas with 'her own family'.

Jude Law and Sienna Miller have been described as "inseparable" since they rekindled their romance a year ago, but Mandrake can disclose that the couple will spend Christmas apart.

The actor's former wife, Sadie Frost, tells me that Law, 37, will be with her and their three children.

"We are going to Jude's for Christmas lunch," Frost says at Red's Hot Women awards, at the Saatchi Gallery in Chelsea. "He's going to cook for us. I don't think Sienna is going to be there. She has her own family."

In June, the actress gave Miller a ticking-off on Twitter, the social-networking website, after she took Frost's 10-year-old daughter by Law, Iris, to the hairdressers. "I think ya should get ya own child and cut their hair," she told her.

Now, Frost, 45, insists that she has resolved her differences with Miller, who is 28. "We all get along," she tells me, adding: "I think she's a sweet girl. It wouldn't be problem if she was there."

After Frost divorced Law in 2003, they continued to spend Christmas holidays overseas with their children. Last year, however, Law took the children to Barbados for a holiday with Miller.

"I am having a really low-key Christmas with the children," Frost adds. "We are not going away this year. We're just going to have a family Christmas at home."
[From The Telegraph]
"She has her own family." BURN. Maybe Sadie didn't mean it that way. Maybe she was just trying to say "Jude said Sienna was going to spend the holidays with her parents." Or maybe Sadie was trying to say "She's still not allowed near my children, and Jude knows this, so he's sending her away." Oh, this will amuse me for hours.
By the way, is anyone else amused at the dichotomy of Sienna's "LOOK AT ME" red coat and smiles for the paps while Jude basically is trying to avoid being photographed?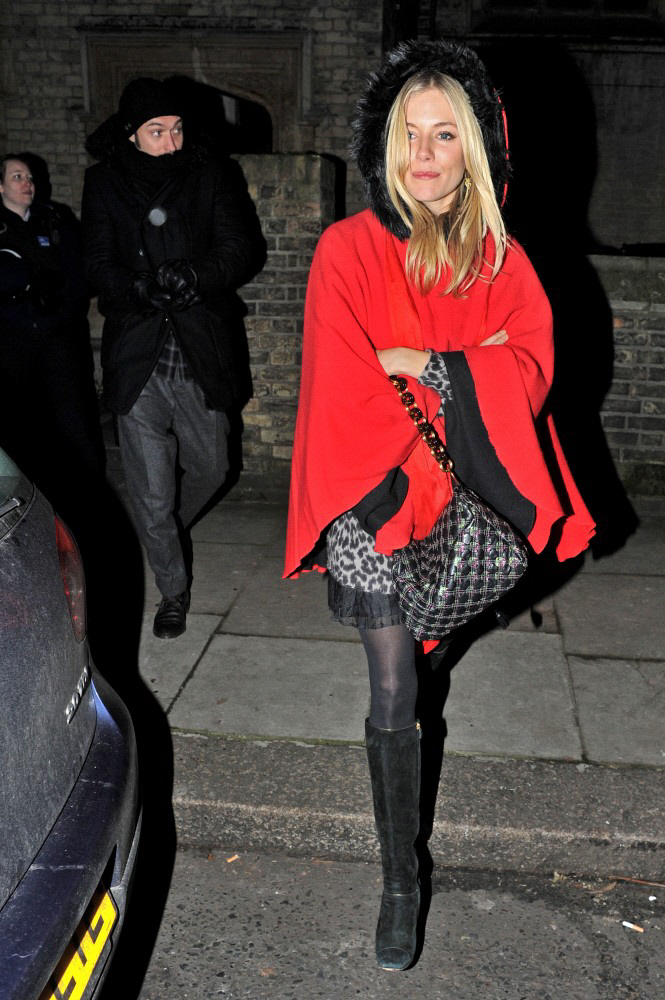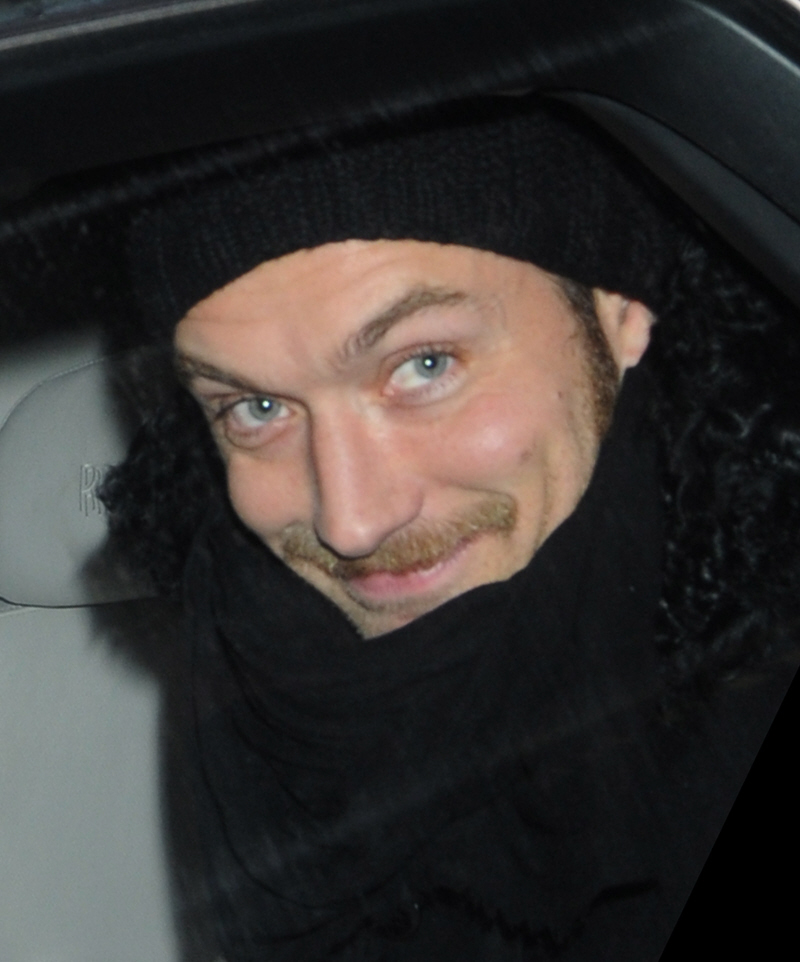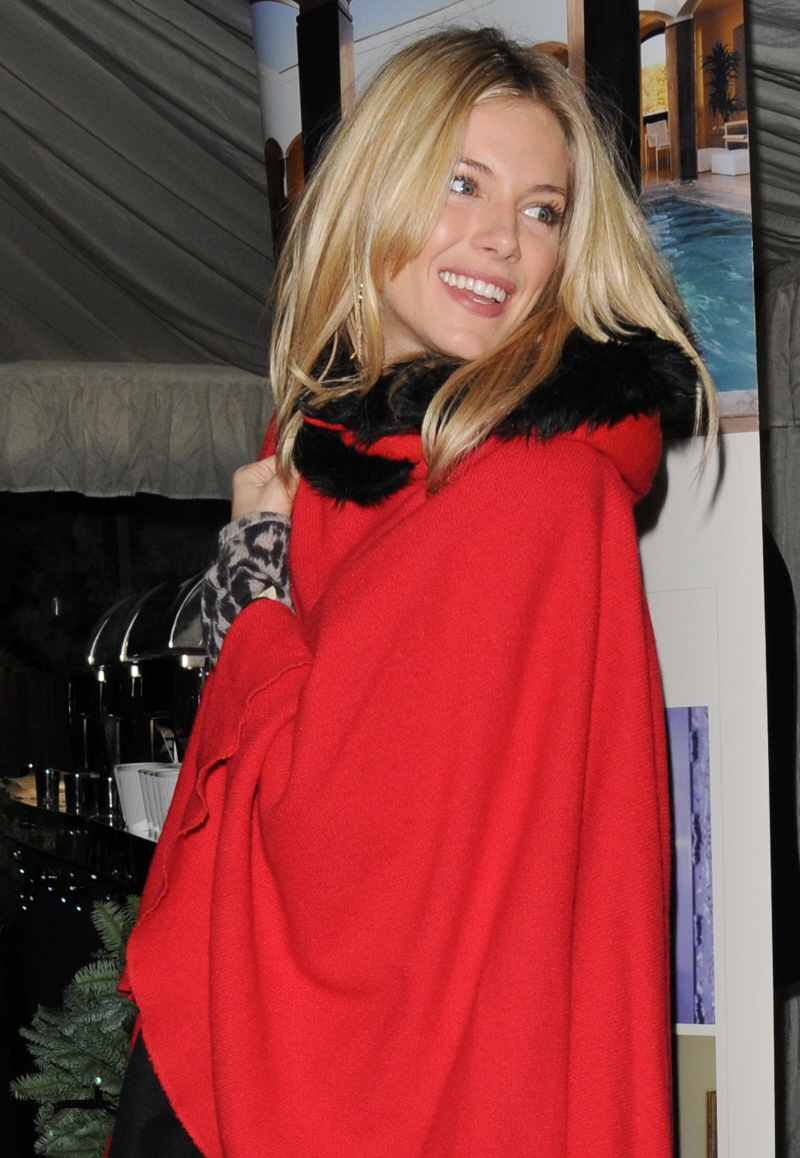 Photos courtesy of Bauer-Griffin and WENN.