Diddy, "The King of Sexy," let Justin Timberlake "borrow" the term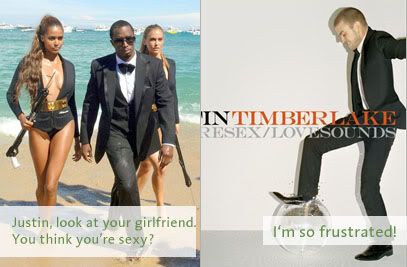 Diddy seems to think that he owns the common adjective "sexy" and that he alone holds the rights. He said he is the true "King of Sexy" and that he let Justin Timberlake "borrow" the term for his latest CD:
Hip-hop mogul SEAN COMBS has given JUSTIN TIMBERLAKE permission to use his catchphrase "sexy" for his comeback single. The Bad Boy Entertainment boss is famed for his use of the word, and he has no problem with Timberlake hijacking the term for his song SEXYBACK. Diddy says, "I'm a big fan of Justin and he's allowed to use my catchphrase 'sexy' and run with it. I mean, I got it from somebody else, so it's all good. "(But) I am the king of the sexy, Justin. Let's not get it twisted."
Victoria's Secret must have called up Diddy before the launch of their Very Sexy bras to make sure he approved of their use of the word. Or maybe they're paying him royalties.
Oh wait – I dated a patent attorney a while ago, and I think the way it works is that you only have rights to a trademark within a certain industry. In that case Diddy is the sole "sexy" singer and Timberlake indeed needs to bow to him in order to call himself sexy. All other professions and industries can be sexy without Diddy's approval.
Timberlake album cover found at Cake and Ice Cream. Diddy pictures from yeeeah. The last few photos of Justin Timberlake are high resolution from an Observer photo shoot found at TimberlakeNow.net.
Written by Celebitchy

Posted in Arrogant, Justin Timberlake, Music, P. Diddy, Photos, Sexy

- Who butchered the National Anthem? [D-Listed]
- Rob Lowe never ages [Lainey Gossip]
- What is Vanessa Hudgens wearing? [Go Fug Yourself]
- Summer guide to reality TV [Reality Tea]
- Game of Thrones recap [Pajiba]
- Tan Mom's music video [Buzzfeed]
- Amanda Knox is broke [Starcasm]
- Backstage at the Billboard Awards [Popsugar]
- Miley is still stuck in the 90s [Popoholic]
- Blind Items revealed: Adam Levine [CDAN]
- Hugh Hefner bought Crystal Harris a house [Celebslam]
- What happened to Aimee Teegarden? [The Blemish]
2 Responses to "Diddy, "The King of Sexy," let Justin Timberlake "borrow" the term"