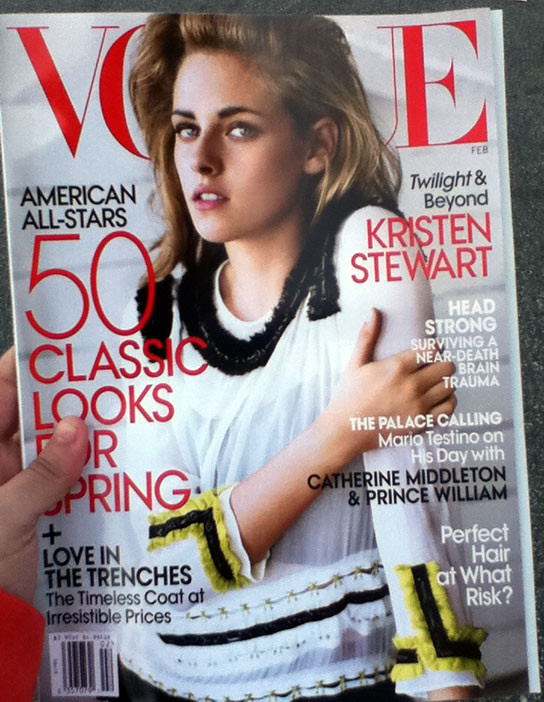 I didn't know Kristen Stewart was the going to be the February cover girl for Vogue! That's very interesting. Anyway, this is just a preview of her cover piece – Vogue hasn't released the Mario Testino shots, but there are some interview excerpts floating around. As far as the cover shot – I think Kristen looks nice here. I like the lighter hair, but I don't care for the blouse. Her expression is cracking me up a little – slightly snotty, slightly scared, mouth open but not in a sexy way. It's oddly compelling. Here are some interview highlights:
Talking about going back to the Twilight Saga set after a long period off, Kristen said: "It was like going back to school…Twilight is a different beast."

On starting out as a child actor: "I don't think I would have ever have been able to be an actress had I not started at nine-years-old. I would have been the last person to stand up and say, 'I'd like to star in the play."

With the Twilight Saga being stupidly successful, Kristen admitted that she's "bothered" that she can't be "some girl" anymore. She said: "There's no way to eloquently put this. I just can't go to the mall. It bothers me that I can't be outside very often. And also to not ever be 'some girl' again. Just being some chick at some place, that's gone."

And no interview could be complete if the subject about why she's staying schtum about her relationship with Robert Pattinson didn't arise. But Kristen being Kristen just said: "It's not my job."

On finding a good part: "A compulsion absolutely fills you."

On trusting her friends: "You build a perimeter of people that are really important to you."
[From Hollywood Life & Entertainmentwise]
If you remember, Kristen was supposed to have a Vogue cover last year, when she was promoting The Runaways and/or Eclipse. Something went down between Kristen and Anna Wintour, and Blake Lively ended up with a cover while Kristen was relegated to "The Steal of the Month" – one photo and a short write-up. So… it's good that Kristen and Anna has buried the hatchet.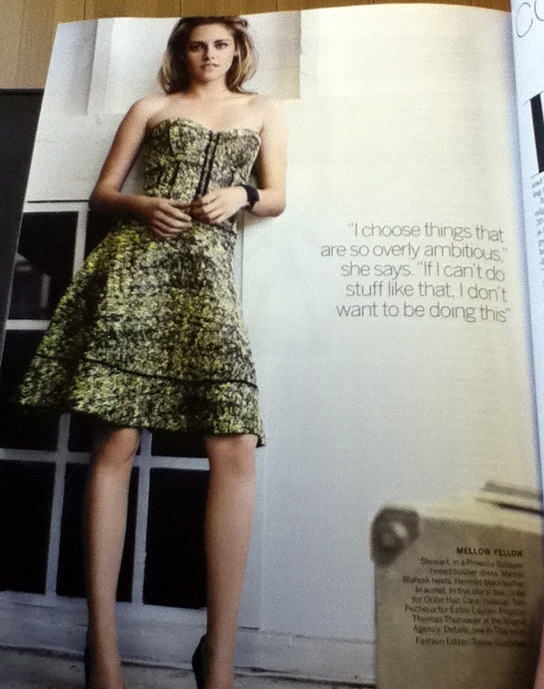 Vogue cover shot courtesy of The Fashion Spot. Additional pic courtesy of Hollywood Life.