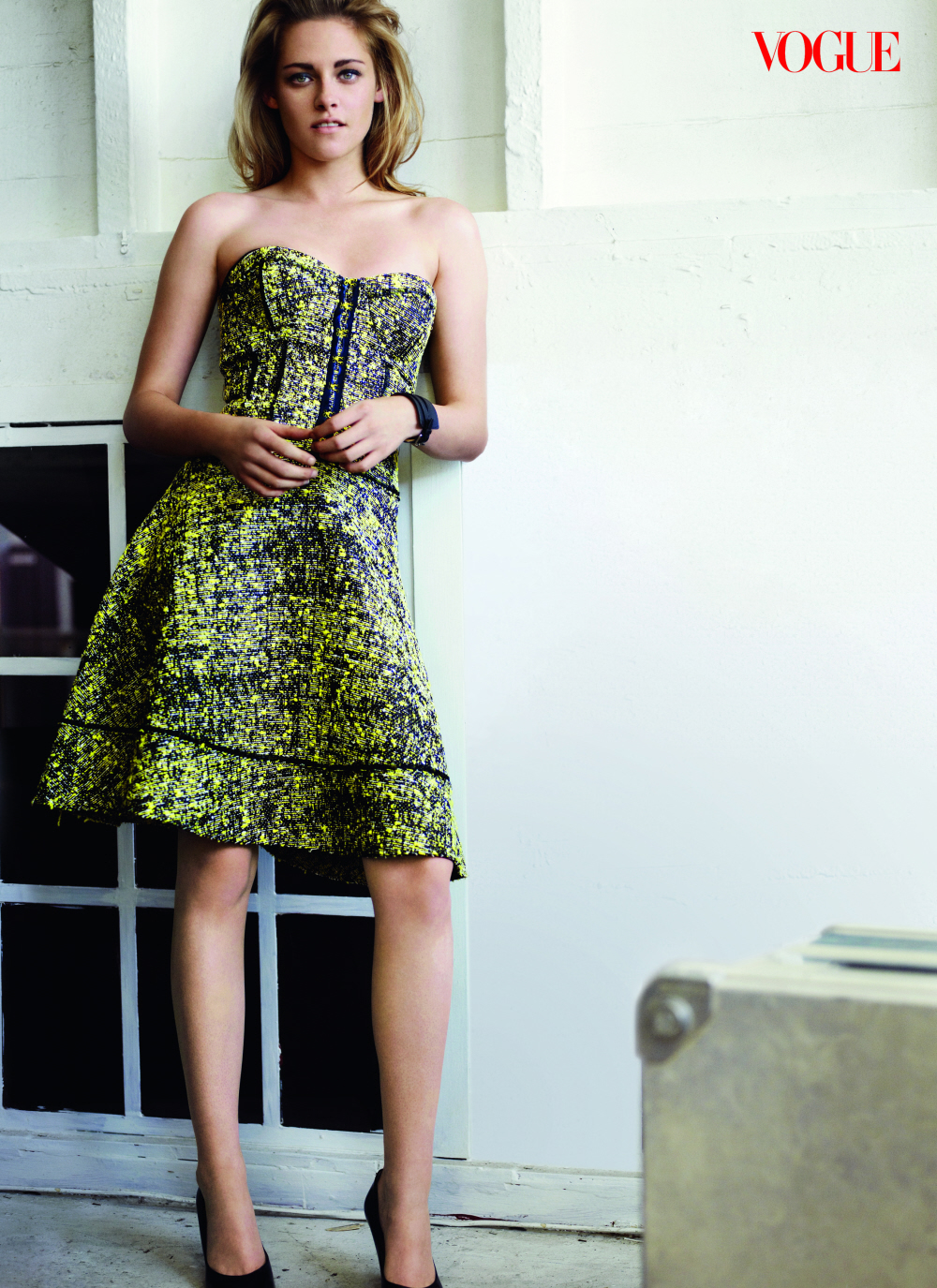 Last week we had a preview of Kristen Stewart's Vogue pictorial, as well as some snotty-sounding interview excerpts. Well, Vogue has finally released their full interview (online here), and it's kind of bad. Like, K-Stew comes across… uh… well, she doesn't seem quite like the "snotty little bitch" personae that she often inhabits in interviews. She seems to try to make an effort here, but the problem is… she doesn't really have that much to say. She bitches a little bit about fame, but she's learned how to stop complaining about that for the most part (either that, or this is heavily edited).
Now, the whole piece is definitely worth a read, if only for the various descriptions of what she's like during the interview. Like, "Stewart, a sylph in tomboyish jeans and a lumberjack shirt, is moving around the kitchen of a friend's house, cracking her knuckles as she talks. She gets nervous dealing with the media—TV interviews in particular, she says, make her squirm—and she is sometimes accused of being downbeat and defensive in her public appearances, not least because she rarely smiles. She nurses some bad-girl tics, smoking and littering her conversation with expletives, and maintains an insouciance in the face of her big career." Wow. It's just the third paragraph and I want to smack her a little bit.
On her career choices: "I choose things that are so overly ambitious, and if I can't do stuff like that, I don't want to be doing this," she says. Scratch the surface, however, and the attitude seems more about the passion and perfectionism she feels about her work than the opposite. "A compulsion absolutely fills you," she says of finding a good part, and admits that she sometimes has difficulty letting go.

On The Road versus Breaking Dawn: Today she is stoked from having just returned from shooting On the Road with Walter Salles, the masterly Brazilian director of The Motorcycle Diaries and Central Station. She plays a character based on Neal Cassady's first wife, LuAnne Henderson, opposite Garrett Hedlund and Sam Riley. It was an intense improvisatory experience that left her "crying my head off," she says. "I didn't want to leave." Installing herself in Baton Rouge for the foreseeable future was "like going back to school. . . . Twilight is a different beast."

On Bella Swan: "A character who is embedded in so many people's psyches at this point. It's starting to enter my head a lot more than it used to because it's at the end and it's come such a long way. I just want the fans of the book to be happy." She laughs. "I don't necessarily care about anyone else."

She likes Jenny Lewis, the L.A. musician: "She's the only person I've ever met that I can't function around."

Fave movies: Her favorite movies are John Cassavetes' A Woman Under the Influence, starring Gena Rowlands, and La Vie en Rose, with Marion Cotillard. She loves Jane Fonda in Klute.

Hobbies: Her new hobby is cooking, no doubt encouraged by the fact that she lives in a somewhat isolated way: "You build a perimeter of people that are really important to you." Friends tease her for watching the Food Network with a stern frown of concentration on her face. "I'm such a dork." (The frown pays off. For lunch, she prepares an elaborate, and delicious, Mexican tortilla soup with numerous condiments, along with pulled-pork sandwiches.) She also likes golf, a sport that has the advantage of involving private membership and small numbers of people over large areas.

Not going to the mall: "There's no way to eloquently put this," she says. "I just can't go to the mall. It bothers me that I can't be outside very often. And also to not ever be just 'some girl' again. Just being some chick at some place, that's gone."

More on Bella: "Masses of girls identified with Bella in a really profound way, for want of a better word," she says. "The connection that I've seen people have . . . I've seen it physically. It's the characters they're flipping for."

On money: She also feels the power for good that comes with her influence. "It's funny when you are endowed not only with public recognition on a f-cking seriously vast level, but also money," she says with endearing earnestness. "Like, funds." (She was reportedly paid $25 million for the two films of Breaking Dawn, plus a percentage of the gross.) "Anytime I hear that somebody's really rich, the first question is 'Do you do anything with it? Or do you, like, chill? You just sit on it?'" She is thinking carefully, strategically, about how best to put her own contribution to use, and has a plan—inspired by her researches for the role of a runaway in the sex trade—to set up a network of halfway houses to help those who want to recover and get back on their feet. "That would be amazing," she says. "Right now it's the thing I feel most connected to."
[From Vogue]
My favorite part is where she's talking about money. I will admit, I would love to talk to Kristen about money. I bet that conversation would be really good. And I think the undertone of the money stuff is Kristen being a smart girl and thinking "Yeah, this might not last, prepare for the worst and save for a rainy day." Because there will come a day when Kristen can walk around in a mall, you know? Because all of this Twilight stuff will be over and everyone will have moved on the next thing and we won't have to read any more twitchy, uncomfortable interviews from Kristen.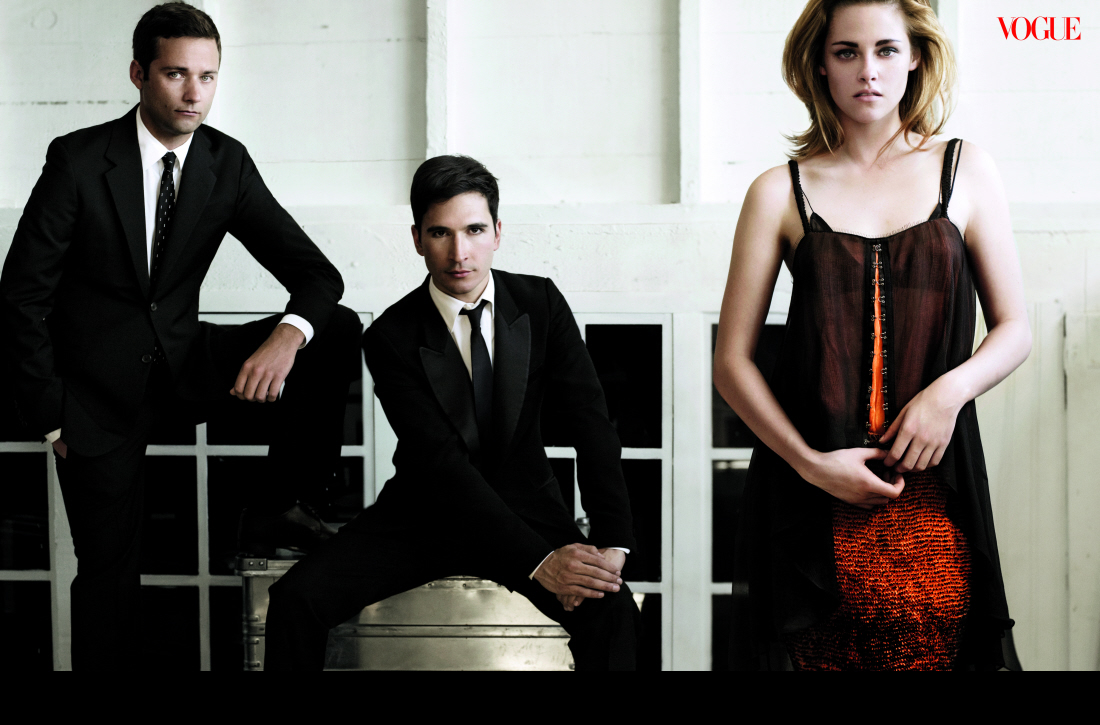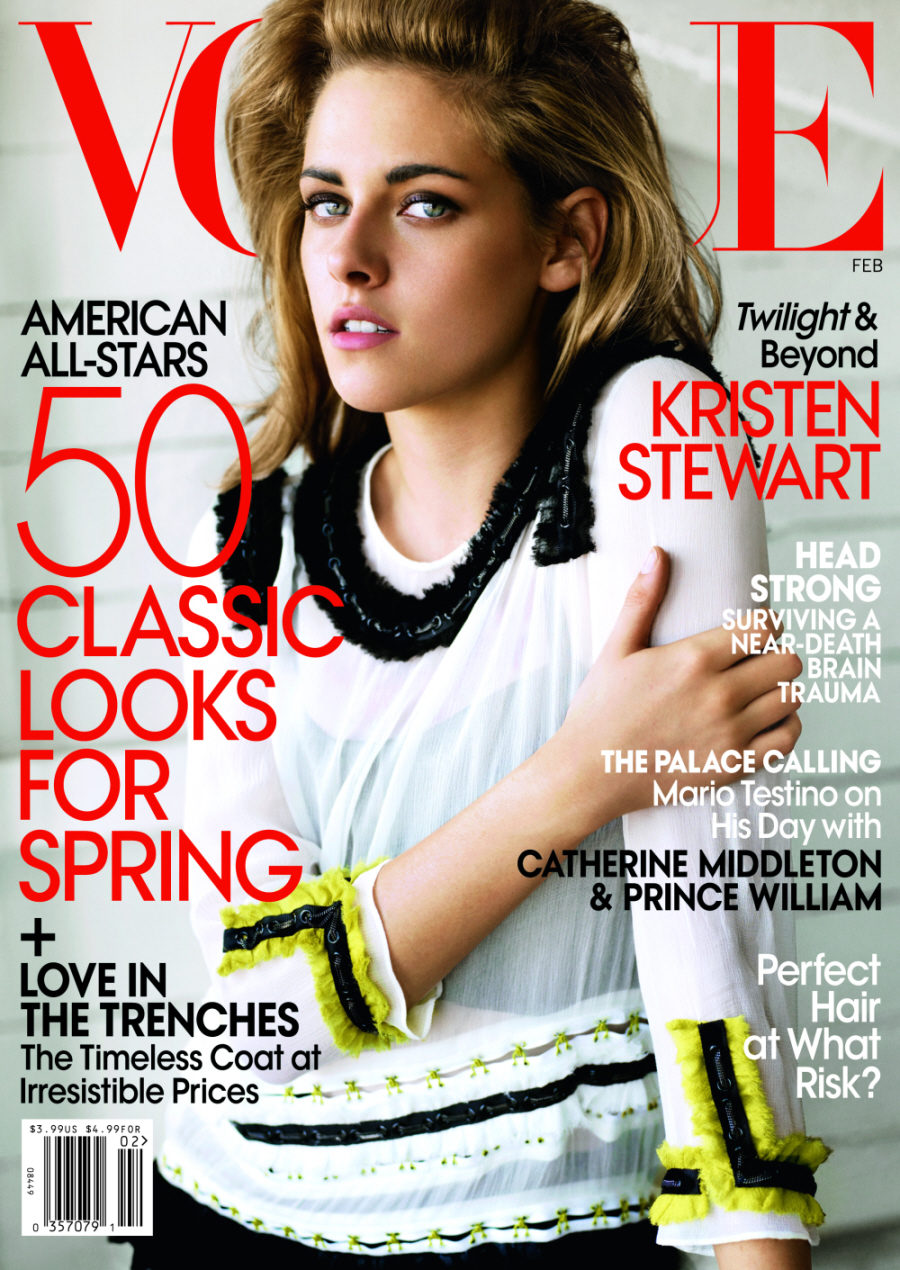 Photos courtesy of Vogue.