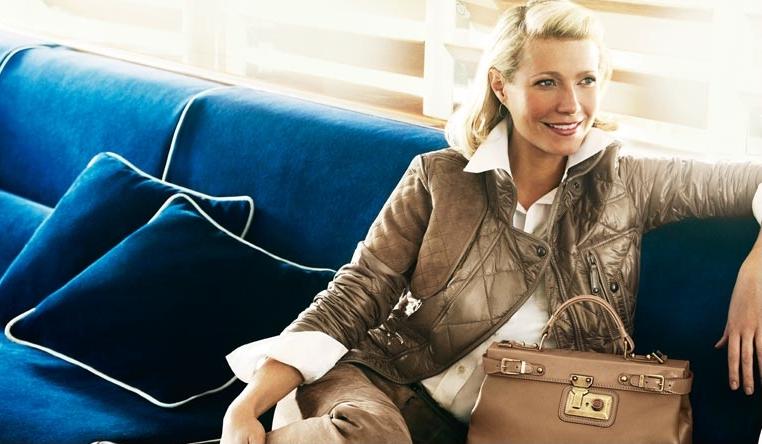 Gwyneth Paltrow has confused the crap out of animal rights supporters by signing on to promote Italian designer Tod's. Not only does the line use fur – Gwyneth is pictured draped in it. It's especially confusing because Paltrow has said she's a vegetarian (though she does eat fish) and follows a stringent macrobiotic diet. Her husband, Coldplay singer Chris Martin, is also a vegetarian.
The Hollywood star has been signed up by Italian designer Tod's and is pictured draped in fox fur and wearing fur-lined boots feature in the company's latest advertising campaign. Miss Paltrow, 35, who is married to the Coldplay singer and vegetarian Chris Martin has won praise for her impeccable green credentials and is a fan of holistic practices and yoga.

The decision to endorse Tod's, a luxury goods company which also uses ostrich and snakeskin in its products, and describes itself as "refined, understated luxury, impeccable taste and enviable quality", has come as a shock to animal rights campaigners. Mark Glover, director of Respect for Animals, said: "Gwyneth Paltrow should be ashamed. I can only assume that Paltrow either is ignorant of the facts or lacks human decency and compassion."

Friends have said that Miss Paltrow's decision will jeopardise her close friendship with Stella McCartney, the designer and the daughter of Sir Paul McCartney and Linda McCartney, the animal rights activist. Miss McCartney does not use fur or leather in her designs and supports People for the Ethical Treatment of Animals (Peta).
A spokesman for Peta said calls to the actress had been rebuffed.
[From The Telegraph]
Gwyneth appears in ads for the brand's upcoming fall and winter collection. It's important to note that this isn't technically hypocritical, at least by strict definition. Gwyneth has said she's a vegetarian, not a vegan. If she were a vegan and promoting fur, that would be one thing. Many people argue that being a vegetarian and still using/wearing animal products is in itself hypocritical. But they are technically two different (though related) ideologies, though it's not hard to understand the argument. I'm not a vegetarian, though I still wouldn't wear fur for a multitude of reasons. Gwyneth has decided it's okay for her – but I guarantee you she's going to catch hell for it.
Photos are from Tod's website.