Jake Gyllenhaal carries on with Taylor Swift's nemesis, Camilla Belle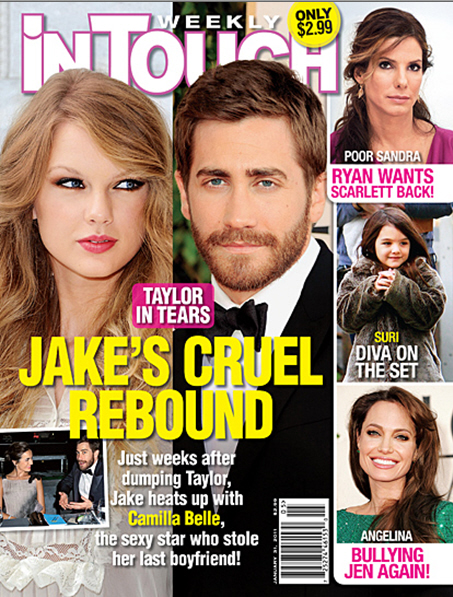 As I mentioned earlier today, Jake Gyllenhaal was reportedly flirting his ass off with every girl available at the Golden Globes after-parties. By the way, you should totally go back and read my thing from this morning – I just want you to watch the video of Jake and Ryan Seacrest flirting with each other. It's incredible. Anyhoodle, Jake's girl drama took the cover of In Touch Weekly this week – apparently, some "sources" are telling ITW that Jake was getting hot and flirty with another Joe Jonas ex, Camilla Belle the night before the Globes: "They hung out together the entire night. They were talking intimately, and laughing. There really seemed to be chemistry, a connection. Jake and Camilla were flirting all night. And before he left, I saw him very affectionately touching her arm. She is definitely his type." Actually, his type is petite blondes (which includes Ryan Seacrest). Anyway, this junk is already being denied:
Is Jake Gyllenhaal getting chummy with Taylor Swift's frenemy, Camilla Belle? Relax TSwift fans, there is nothing romantic going on between the two.

Jake, 30, was spotted hanging out with Camilla, 24, at the Art of Elysium "Heaven" Gala in Los Angeles on Saturday evening. While the meet-up may have raised eyebrows amongst some Taylor fans, Jake's rep exclusively tells Celebuzz that the pair are "not dating."

RadarOnline previously reported that the pair "hung out together the entire night" and were spotted "talking intimately."

"Jake and Camilla were flirting all night," a source told RadarOnline. "And before he left, I saw him very affectionately touching her arm."

Taylor fans were shocked to hear that Jake was reportedly getting cozy with Camilla since the 21-year-old singer has been feuding with the Disney singer for years.

Camilla began dating Joe Jonas in 2008 shortly after the Jonas Brothers frontman dumped Taylor over the phone. Taylor allegedly wrote "Better Than Revenge" about Camilla, which includes lyrics like "She's an actress/Better known for the thing that she does on the mattress." Yikes!
[From Celebuzz]
Yeah, speaking of Swifty's prowess as a lyricist (rolls eyes), it was inevitable. We all predicted it. At this point, it's just Taylor Swift's M.O. She dates a guy with gayish tendencies, he breaks her heart (usually by dumping her over the phone), and Swifty then writes a whiny song about everything, adding some references to ponies, glitter, kittens and high school. Well, PopEater's sources are saying that Swifty is likely already recording "The Jake Gyllenhaal Song". They also say that she's kind of depressed and she's not ready to date anyone again.
Delving into her work since the recent split with Jake Gyllenhaal, Taylor Swift isn't in a rush to find another guy.

"Taylor is not exactly a loner, but she fares well on her own and will be fine if she doesn't hook up with a guy immediately, " a source close to Swift tells PopEater.

According to several reports, Swift hasn't recovered from the breakup and isn't her usual bubbly self. If anything, she's busy in the studio working on her breakup song. In the past, Swift, 21, has written plenty of songs about ex-boyfriends including Taylor Lautner and John Mayer.

Her relationship with Gyllenhaal, 30, was short but looked promising. After hanging together after a segment of 'Saturday Night Live' in October, the couple began seeing each other in New York, Nashville and London. Although they tried to keep things secret, they were spotted through the end of November in those cities, including a stint in Big Sur, Calif., walking on the beach and nibbling on ice cream cones.

During the Thanksgiving holiday, the couple spent time together in Brooklyn with Jake's sister, Maggie Gyllenhaal, and her husband, Peter Sarsgaard. After that, Swift and Gyllenhaal flew back to Nashville for a few days where they were seen holding hands, embracing and sipping coffee.

"While people expected them to spend the Christmas holidays together, they were each photographed separately in different cities," says the source. "It looked like things didn't work out."
[From PopEater]
SOB! Oh, how much do you love the idea of Camilla Belle and Swifty being arch-enemies? It's fitting, isn't it? Camilla Bella is a pretty girl, but she's a Bosworth. No, scratch that – she's worse than a Bosworth. At least I know why I know Bosworth's name. Camilla is even less than that. Anyway, I hope Swifty's Jake song is heart-wrenchingly awkward, with references to Seacrest, sparkle-ponies and Mattress Girls.
Here are some pics of Camilla last night at a film premiere. She looks really, really tacky.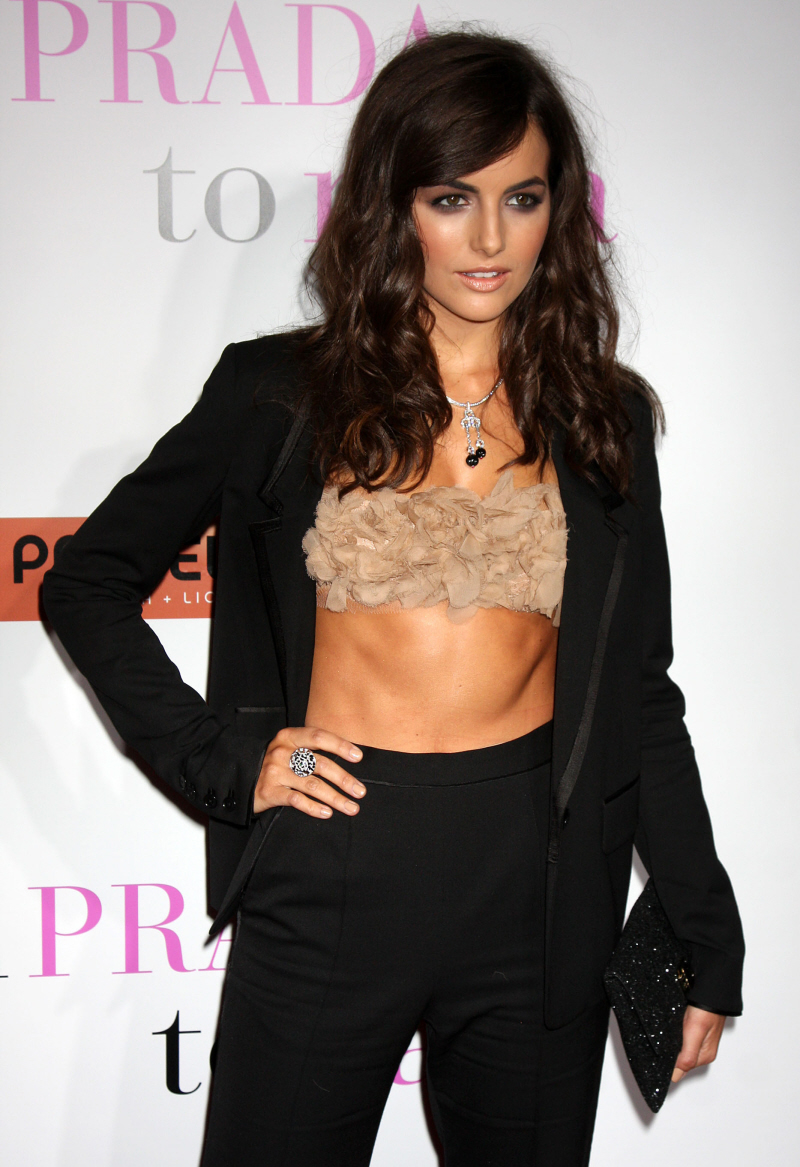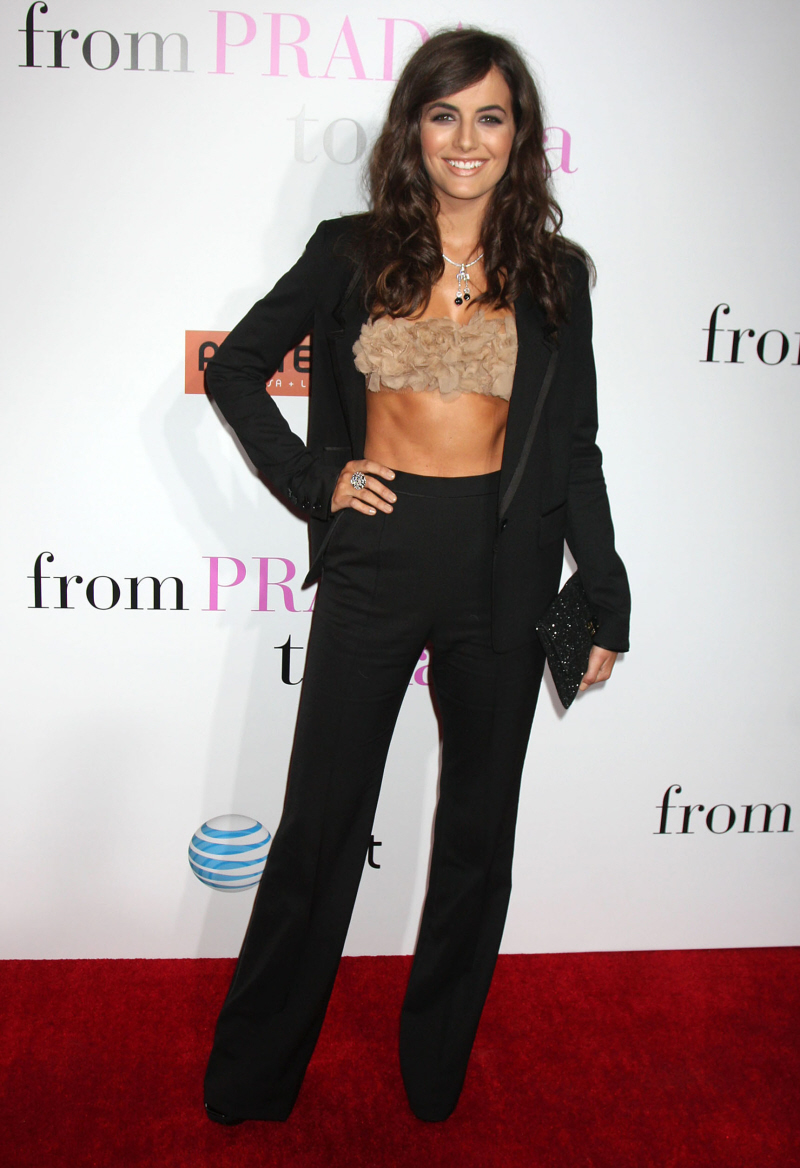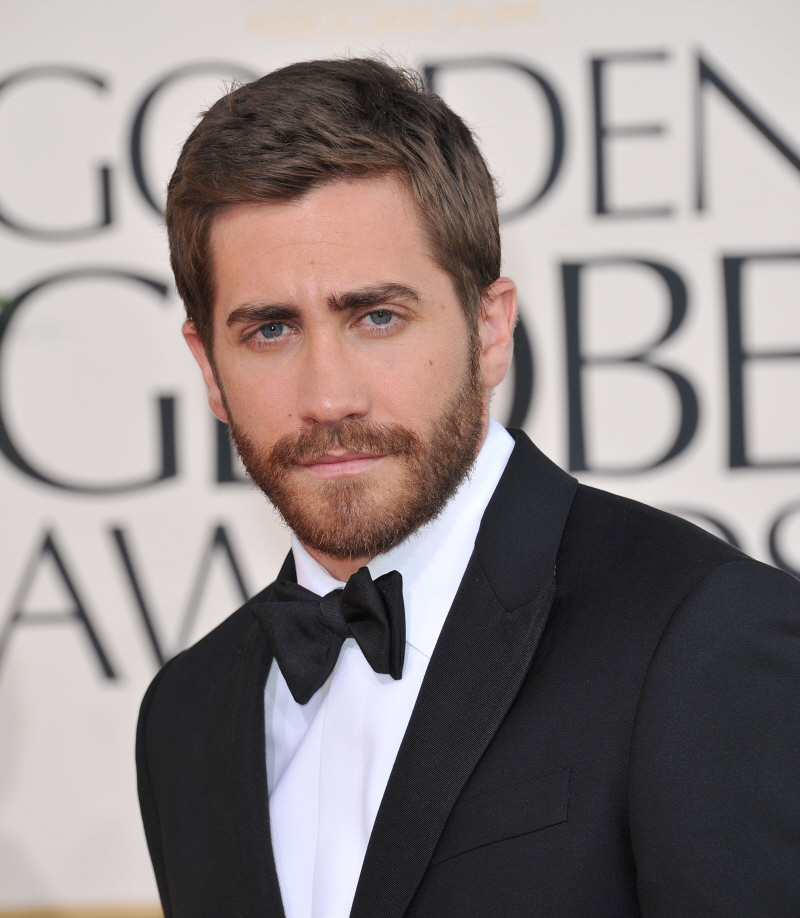 ITW cover courtesy of CoverAwards. Additional pics by WENN.

Written by Kaiser

Posted in Camilla Belle, Jake Gyllenhaal, Taylor Swift

- Harry Styles & Kimberly Stewart going strong [Lainey]
- Demi Moore's new man is gross [D-Listed]
- Fug or fab: Emma Stone [Go Fug Yourself]
- Arrest warrant issued for Jenelle Evans [Reality Tea]
- Only God Forgives review [Pajiba]
- Hugh Jackman, scooter master [Buzzfeed]
- Who does Drew Barrymore call her sister? [Evil Beet]
- Cannes couples past and present [Popsugar]
- Arrested Development supercut [CDAN]
- Lea Michele's see through skirt [Celebslam]
- Cheating wife's lover escapes out of window [Movin925]
- Joe Francis is crazy [Starcasm]
41 Responses to "Jake Gyllenhaal carries on with Taylor Swift's nemesis, Camilla Belle"