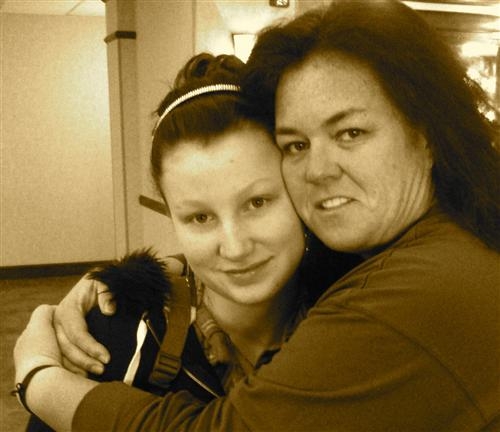 Kim Kardashian blames MTV 's Teen Mom show for some anectodal evidence that teen pregnancy is on the rise, when it has in fact decreased. There's another minor celebrity who finds the show worthwhile and even watches it with her teenage daughter. Rosie O'Donnell told US Magazine that she likes the show and thinks it helps educate her 13 year-old about the pitfalls of young motherhood.
"I have to say it's interesting," O'Donnell, 48, told Us Sunday at Self Magazine's Tribute to Women Who Make Women Look Good on Film. "My daughter is 13. I watch it with her," the star said of Chelsea, whom she adopted with ex partner Kelly Carpenter. "I think the fantasy for adopted children is to have a baby of their own, and then keeping it, which their mother did not do," she mused.

Added the comic: "The rate of teenage pregnancy is up [sic], so when my daughter saw that [Teen Mom 2] was on the air, I said 'Let's watch it.'"

Her review? "At the end of almost every episode the mothers say they wish they used protection or waited, 'My whole life is over,' or 'I can't live the life of a teenager.' I think it sends out a positive message."

Her opinion wasn't shared by Kardashian, who ripped on the MTV hit in her blog last week. "It seems that shows like Teen Mom are all of a sudden making teen pregnancy seem cool in the eyes of young girls," the reality star, 30, wrote "But girls, these are not people you should idolize!"

O'Donnell had one note of concern about the show, however. "I do feel sad that all these girls are getting pregnant in an effort to get on a TV show," she told Us. "That's a little tragic."
[From US Weekly]
Teen pregnancy was on the decline 6% from 2008 to 2009, according to the CDC. A study last year found that the birth rate among 15 to 19 year-olds increased 3% from 2005-2006. It looks like there's a kind of rise and fall in teen pregnancy rates that may be connected with the economy. There was that story that Kim Kardashian got up in arms about involving 90 pregnant teen moms at one school in Memphis. It turned out that a lot of the pregnant teens transfered there for special services they offered. So these shows and stories are sort-of framing the debate and making it sound like teen pregnancy is on the rise when it has in fact since lowered.
I also wonder if these stories about teens getting pregnant just to get on Teen Mom are accurate or if they're trumped up. Surely there are a few teens who may be encouraged to do it, but I doubt it's a trend.
The US has the highest teen pregnancy rate among industrialized nations. You might say that Teen Mom is reflecting reality rather than shaping it.
These photos are from Rosie's Blog. Her kids are adorable, and she has a blended family of 10 kids (!) with partner Tracy.