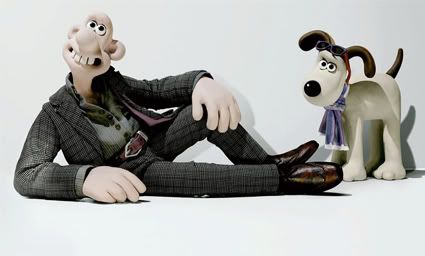 Now this is a celebrity endorsement I can get excited about. Wallace and Gromit, the world's most adorable claymation movie stars, will be featured in an upcoming ad campaign for British department store Harvey Nichols. Wallace, that lovable but nerdy inventor, and his clever dog Gromit, will wear some of the finest couture available to represent the store in its fall campaign. In clay, of course.
They've modeled clay, but now Wallace & Gromit are modeling the latest fashions.

The cheese-loving claymates are the newest faces for the British department store Harvey Nichols, exchanging their usual sensible mix of tweeds, sweater vests and dog collars with finery from designers Alexander McQueen, Dolce & Gabbana and Giorgio Armani. And Wallace love interest Lady Tottington will be seen sporting some Christian Louboutin stilettos, according to the U.K.'s Sun.

While we still have to wait for the duo's next animated adventure, the currently in-production A Matter of Loaf and Death, we're perfectly willing to accept them as our next top models.

Because that's one fierce dog.
It's about time this Academy Award winning duo gets some well deserved time in the spotlight. Somehow I can't imagine Wallace working Dolce & Gabbana- but I can definitely see Gromit pulling it off. That dog oozes style. I hope there's a "making of" documentary on this- because I need to see how Wallace and Gromit creator Nick Park recreates a tiny pair of clay Christian Louboutin stilettos!