Miley Cyrus on smoking the bong: "I'm not perfect, I made a mistake"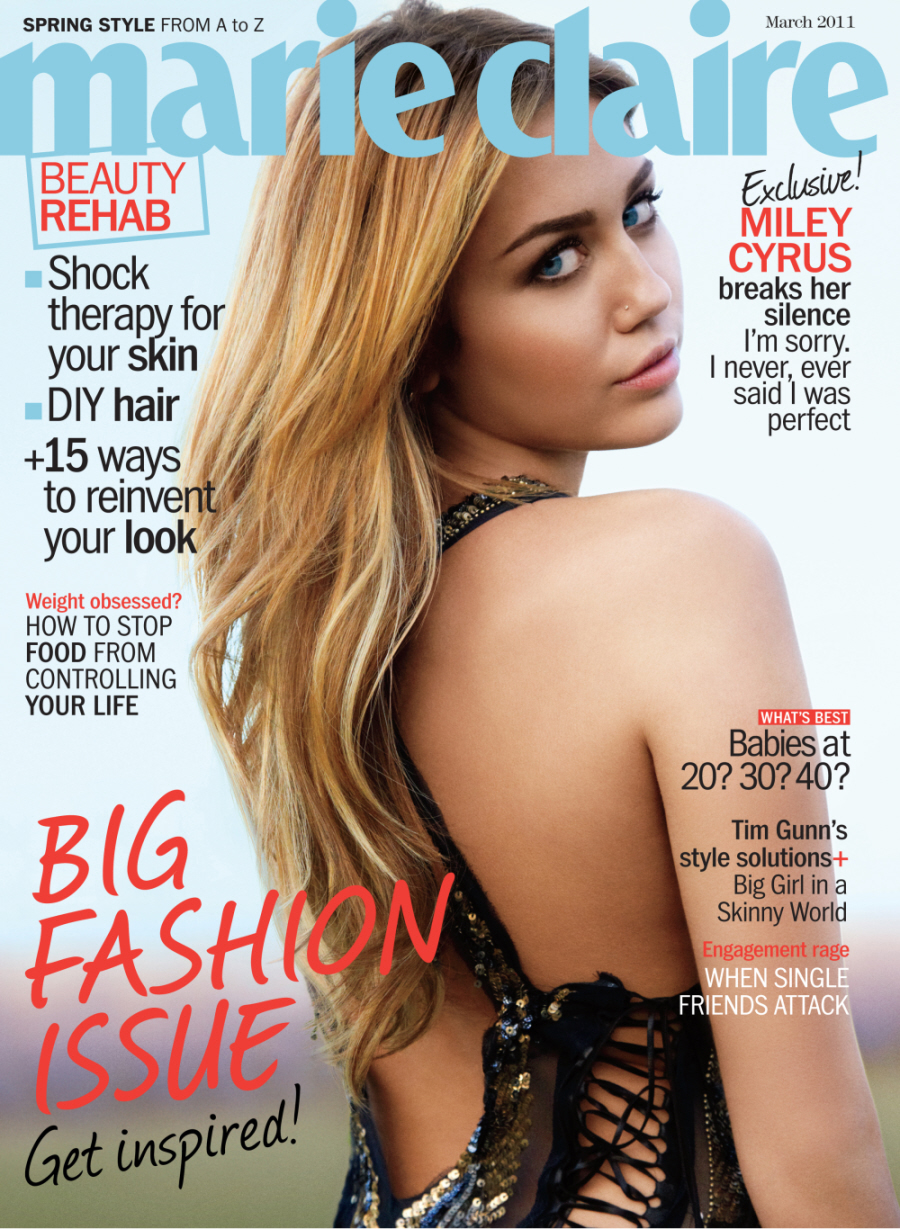 Miley Cyrus is the cover girl for the March issue of Marie Claire (American). I hate myself for liking the styling of this shoot – I get the feeling that Miley's default styling is on "duck-lip pose while wearing something trashy". Marie Claire subdued that and made her look almost wholesome-pretty. I really like the black & white photo at the bottom of the post too. Anyhoodle, Miley's interview is somewhat interesting – the full piece is here, and I'll just do the highlights. Miley talks about the smoking salvia thing… and being a role model. And that's about it. Oh, she's now tight with Demi Moore. Eh.
The Salvia Incident: The subject of "The Bong Incident" (which, in case you have been living under a rock, involved a two-and-a-half-minute video of Cyrus smoking a bong filled with salvia, an herb sold legally in many health-food stores, posted on TMZ in December) has come up, and after she says all the things you expect her to say ("I'm not perfect … I made a mistake … I'm disappointed in myself for disappointing my fans …"), I cannot help but set my journalist hat aside for a minute and say, "But do you really think it was a mistake? Obviously college kids your age all over America are smoking bongs with a lot more than salvia in them." She looks at me with her big blue baby-doll eyes. "But they're not Miley Cyrus," she says. "They're not role models. So for me it was a bad decision, because of my fans and because of what I stand for."

Miley's goal: To "spread love and change the world in 2011."

On Demi Moore: There is the comedy LOL that she made earlier this year with Demi Moore, with whom she still talks to (or texts) almost every day. ("It really felt like Demi was my mom a little bit because we had such great conversations, and I feel like it shows on-screen. I can't wait for LOL to come out. It's what I'm most proud of.")

On Kelly Osbourne: There is her So Undercover costar and new friend Kelly Osbourne, whom she adores and often runs around with on the set, singing "You're the One That I Want" from Grease or "My Favorite Things" from The Sound of Music. ("We're so much alike, it's crazy.")
[From Marie Claire]
I think my favorite is her goal to "spread love and change the world in 2011." Because… that sounds about right. My goal is a butterfly up everybody's ass and world peace.
Here's the behind-the-scenes video of her Marie Claire shoot. Her voice will make you want to punch someone.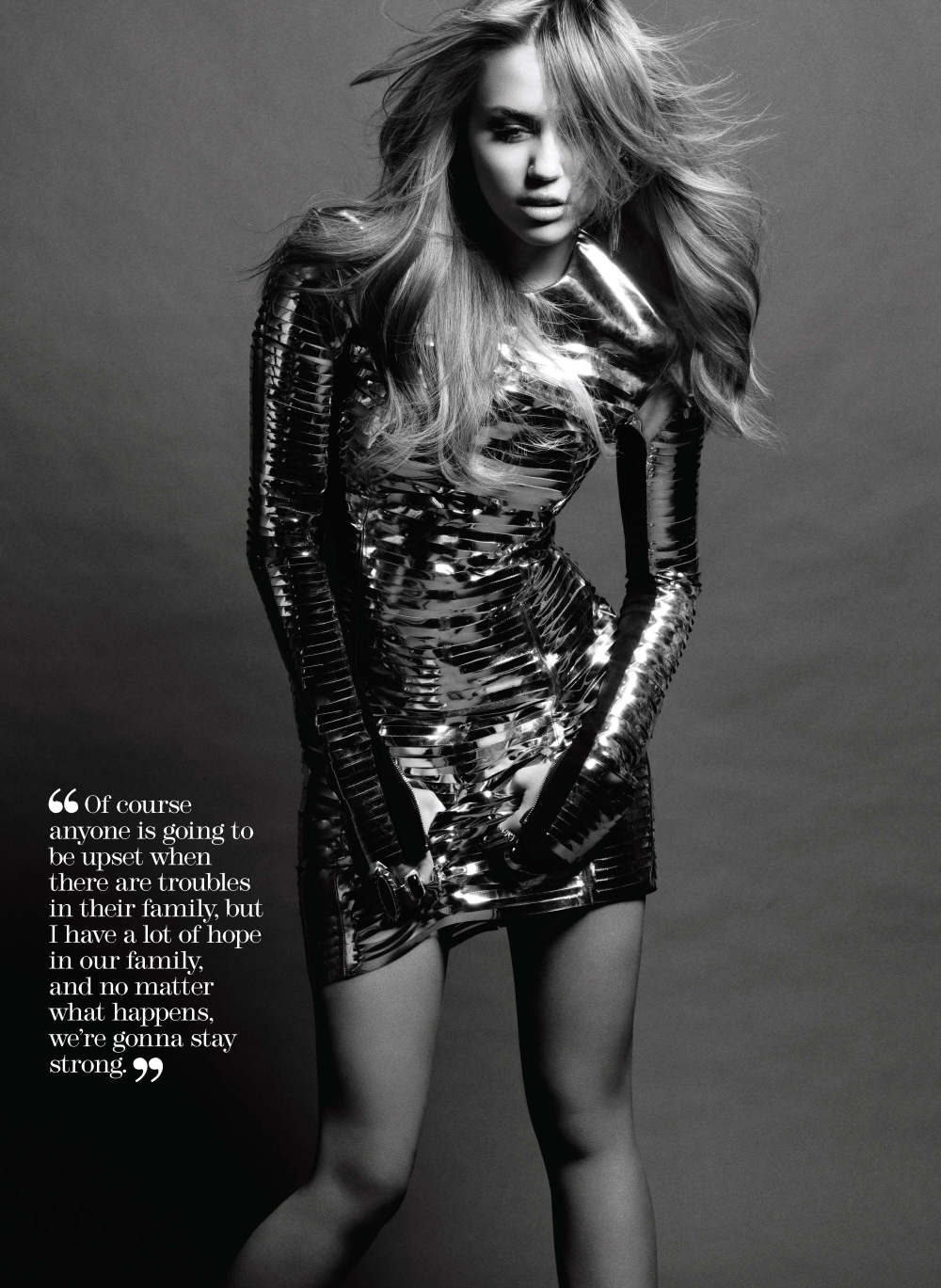 Photos courtesy of Marie Claire's slideshow.

Written by Kaiser

Posted in Miley Cyrus

- Harry Styles & Kimberly Stewart going strong [Lainey]
- Demi Moore's new man is gross [D-Listed]
- Fug or fab: Emma Stone [Go Fug Yourself]
- Arrest warrant issued for Jenelle Evans [Reality Tea]
- Only God Forgives review [Pajiba]
- Hugh Jackman, scooter master [Buzzfeed]
- Who does Drew Barrymore call her sister? [Evil Beet]
- Cannes couples past and present [Popsugar]
- Arrested Development supercut [CDAN]
- Lea Michele's see through skirt [Celebslam]
- Cheating wife's lover escapes out of window [Movin925]
- Joe Francis is crazy [Starcasm]
38 Responses to "Miley Cyrus on smoking the bong: "I'm not perfect, I made a mistake""