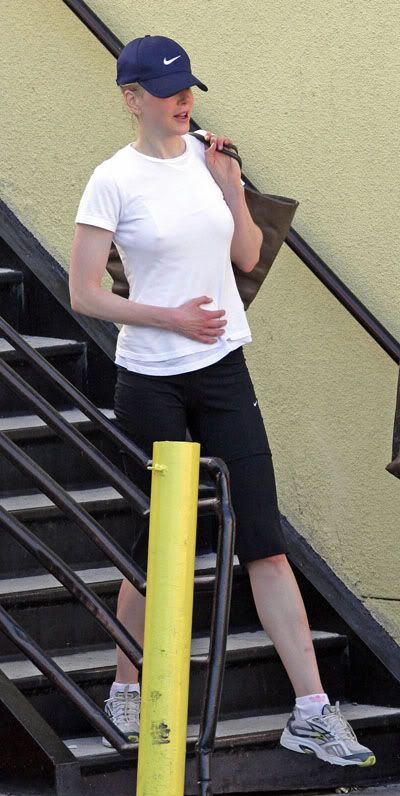 She must have just worked out her abs hard, because Nicole Kidman no longer has a hint of a bump in these pictures taken outside her Hollywood gym on August 5th. Either her stomach is sore or she's teasing the paps, because she really doesn't look pregnant. The 39 year-old actress is said to want a biological child with her new husband, country crooner Kieth Urban, 38.
Reader Millie points out that fertility treatment can make a woman bloated, and that could explain the baby bumps on otherwise skinny "older" actresses.
Kidman has lent her name to an ad declaring support for Isreal in the Middle East Crisis. She signed an ad in the LA Times along with Michael Douglas, Danny DeVito, Dennis Hopper, Sylvester Stallone, Bruce Willis, Don Johnson, James Woods, Kelly Preston, and Patricia Heaton, saying she was "pained and devastated by the civilian casualties in Israel and Lebanon caused by terrorist actions initiated by terrorist organizations such as Hezbollah and Hamas."
Now we know which side of the Hollywood fence she stands on. I'm not touching the subject this time people, discuss amongst yourselves.