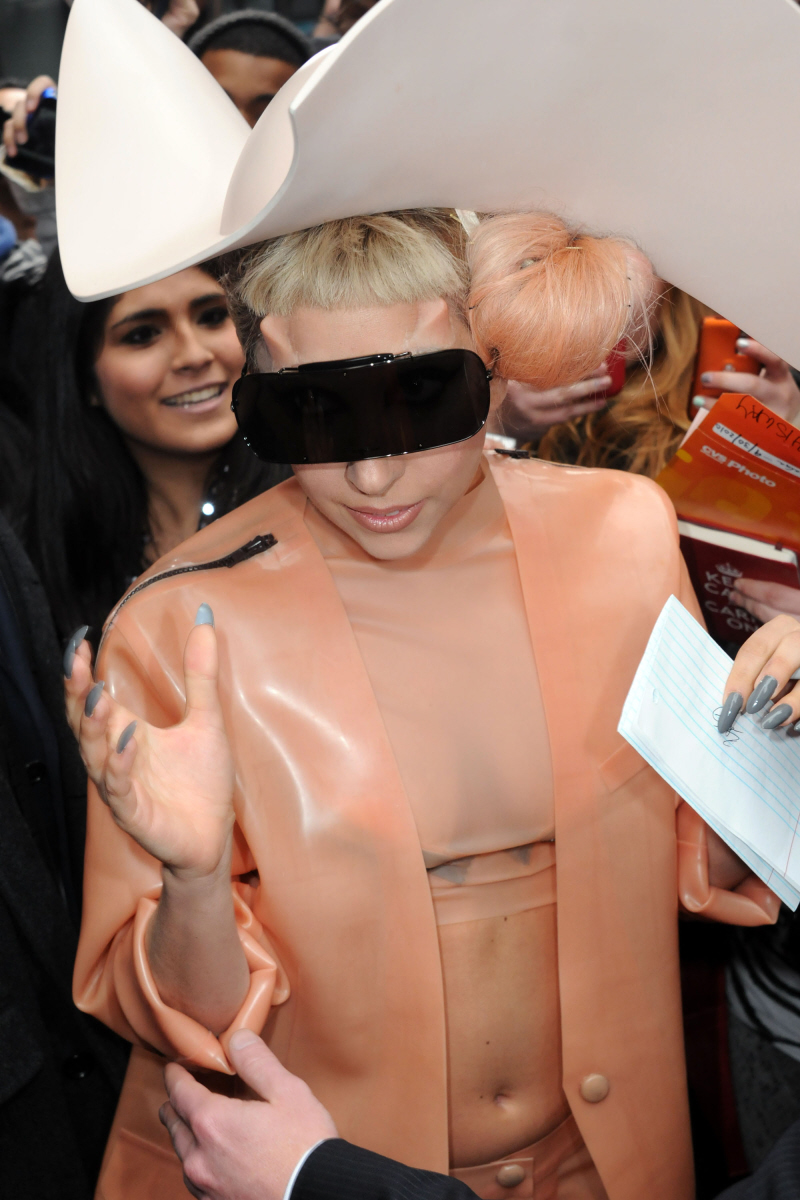 These are some photos of Lady Gaga getting completely mobbed on her way out of the Good Morning America studio. She's wearing… a latex suit. It's a Condom Dress. Literally, that's what people are calling it, and I think Gaga is calling it that too. I don't know what the hat is called, though. The Diaphragm Hat? Sure. Apparently, she wore the Condom Dress to raise awareness about AIDS. It's an important issue. Gaga is one of the spokeswomen for MAC Viva Glam, and she's the face of one of the lipstick colors in which the proceeds go to charity. So her message seems to be: wear condoms and buy Viva Glam.
LADY GAGA highlighted the importance of safe sex on Thursday (17Feb11) by donning a flesh-coloured, "latex condom-inspired" dress to promote AIDS awareness on U.S. TV.

The Paparazzi hitmaker appeared on breakfast show Good Morning America in her capacity as a spokesmodel for cosmetic giant MAC's Viva Glam campaign, which raises funds to fight HIV around the world. And she let her fashion choice speak volumes as she sat down for an interview with presenter Robin Roberts.

She said, "Today was a latex condom-inspired outfit because we're here to talk about safe sex. Today I really wanted to be representative of what we women all over the world need to be concerned about, which is the leading cause of death in the world, which is HIV."

Gaga, still sporting the alien-like facial ridges she debuted at Sunday's (13Feb11) Grammy Awards, revealed her goal for 2011 is to boost donations to Viva Glam to $50 million (£33.3 million) via the sale of her special line of MAC lipstick. She also urged parents to be more open about the topic of sex with kids to ensure they know about the dangers of HIV and AIDS from a young age.

She continued, "MAC has been fighting for identity, and for passion and love and protection for so long and that's why I'm here. We raised $34 million last year and I want to raise $50 million this year for AIDS to save lives worldwide. I want to get people started at home at a younger age with their children talking about HIV, talking about AIDS, talking about safe sex. My mother talked to me about sex at a young age, and she always taught me to be self-aware… I encourage women all over the world, and men, to speak with your friends, your parents, your sister, your brothers, your uncles, your aunts, all the loved ones in your life, about safe sex, about protection, because it is a 100 per cent disease that we can prevent, but it is zero per cent curable."
[From WENN]
Sure. Good issue. I think Madonna might have mentioned this stuff as well…? Ah, nevermind, it's a new generation, and they need to hear it.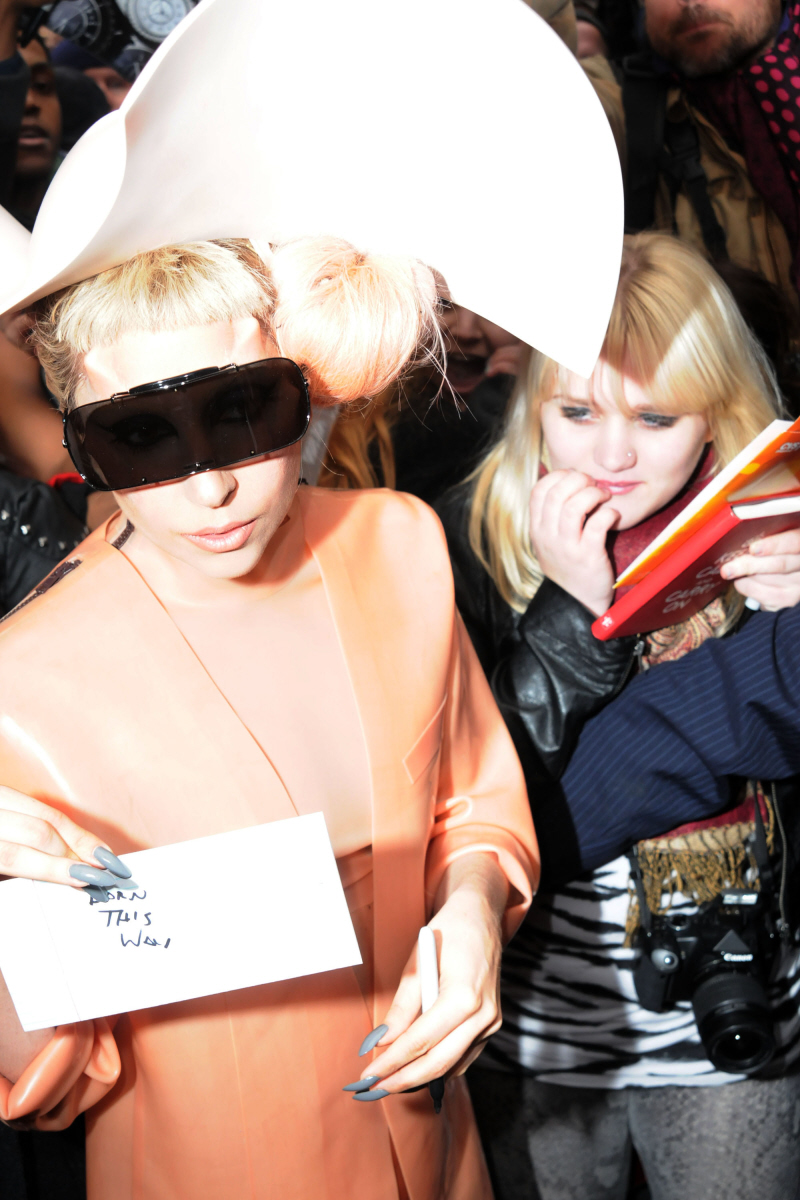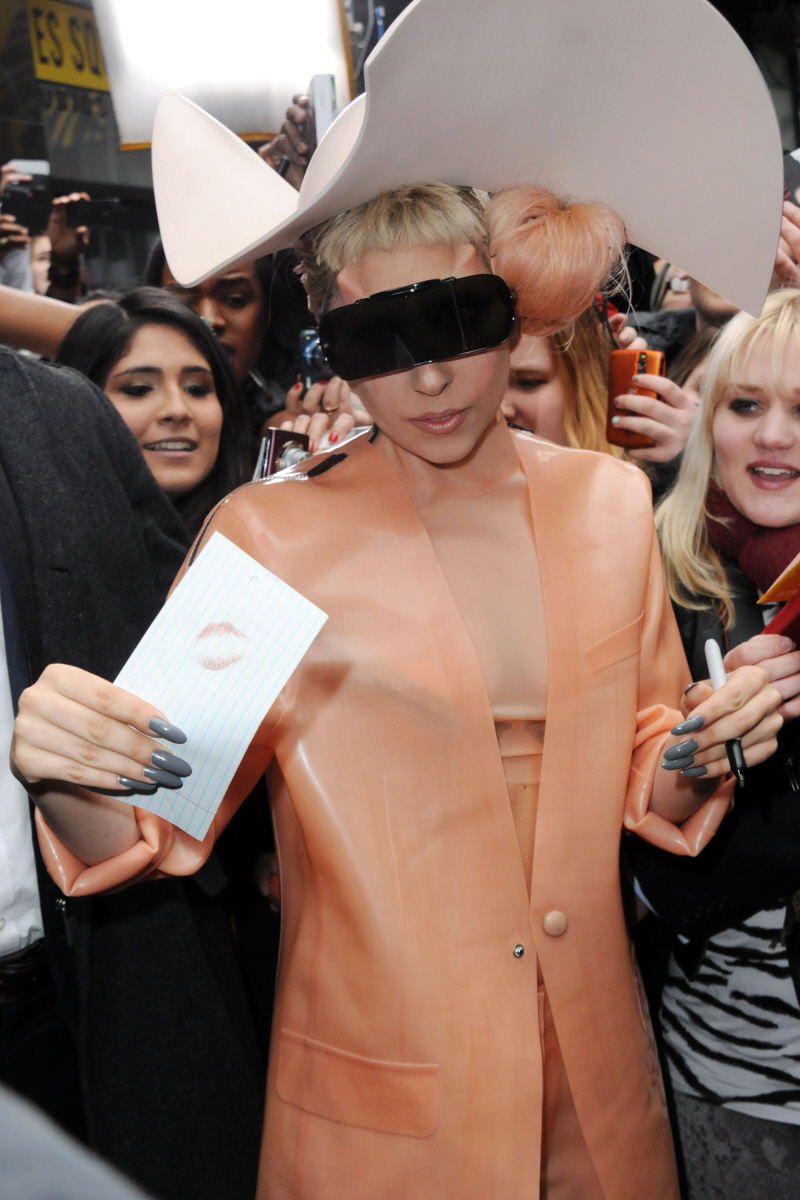 Photos courtesy of WENN.