Charlie Sheen introduces us to his porn star babysitters; Mel Gibson called him
Visit msnbc.com for breaking news, world news, and news about the economy
For the wackiest quotes from Charlie's interview yesterday, fast forward to 6:35
The second part of Charlie Sheen's interview with The Today Show aired this morning. There's not a hell of a lot more to say about Charlie, and it seems like there's too much news coming out about him to cover everything. It's still kind of fascinating to watch his downfall and the talkshows know that. The guy is spouting his nonsense to anyone who will listen and he's obviously disturbed and self-righteous about it. For anyone who has an addict like this in their lives, I'm so sorry.

Anyway on The Today Show Charlie introduced us to the young porn star and the model he called his "goddesses" and they all posed together in his kitchen and talked about how they love Charlie's twin boys and live happily together. He gave some lip service to letting his paid companions have their say in how he lives his life, but it's obviously not the case. It was more of Charlie telling us how he's special and he deserves to go back to work when all his actions have been proving the opposite. He looks like a corpse: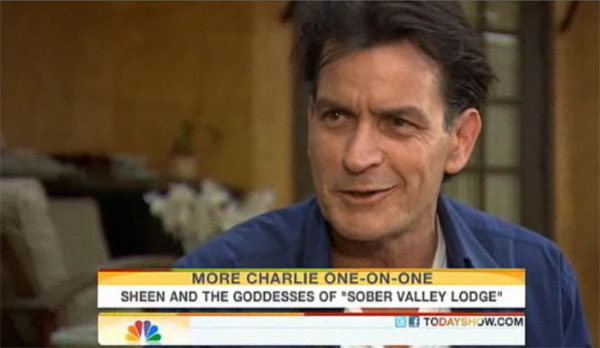 On his intense pressure to get 'Two and a Half Men' back on the air:
"Who else is applying pressure? John Cryer? Angus [Jones]? Anybody? They're just sitting at home waiting for something to happen."

On his publicist, Stan Rosenfield, quitting yesterday:
"I don't know … maybe he got overwhelmed, maybe he felt like he wasn't respected, I don't know … But there's something epic about that — that things got so gnarly that Stan just went 'I'm out.'"

On his father, Martin Sheen, and his family's attempt to help:
"They tried. I said, 'I'm not ready … but I appreciate your love and compassion, if that's what you want to call it.' I'm 45 years old, and I'm not interested in people treating me like a 12-year-old."

His reaction to Monday's 'Today Show' interview:
"I'm entertained as hell. I'm not saying it's not true. I'm laughing with the goddesses, I'm laughing with my friends. Everybody's like, 'Did they expect it to be normal interview? Did they expect to be conventional and boring and everything else?' No, man, we're shaking the tree."

How he describes himself:
"I'm grandiose, because I'm living a grandiose life. I'm tired of being like 'Aw, shucks, that's not me.' Because it is me."

His message to his fans:
"Don't be worried. Celebrate this movement. I love and I'm so grateful that you have supported me and the show for so long, and I will not let you down. Trust me."

Response to Twitter backlash:
"It's sad for them. It's like, 'Get a job, anyone?'"
[via Popeater]
I just hope that Denise Richards is making sure that her daughters stay far away from Charlie. Brooke may let him see the twins but she's in no way sober. Just check out this picture of her before Charlie kicked her out prior to his vacation to the Caribbean.
Charlie also went on CNN's Piers Morgan Tonight. (Given how many interviews he's been doing, I'm sure I'm missing a couple.) Charlie got support from kiss ass Piers, who said "I think you're entitled to behave anyway you like. [in your personal life]" Here are some quotes from the part I watched (video segment below)
I've been riding it on a mercury surfboard.

I'm on a mission, it's an operation actually to right some terrible wrongs.

I'm at the dead epicenter of every single moment that's been going on in this thing.

I'm not going to say it wasn't epic and I wasn't having a ball and all those around me weren't enjoying the show.

We were on a rocketship to the moon some nights.
Charlie kept insisting he could do his job no matter what he did in his personal life. Piers asked him if he was late or unprofessional and Charlie claimed he was late to rehearsals occasionally but was never late for his two "money days" during the week when filming takes place I guess.
Radar has more from that interview, and Charlie claimed he never hit a woman and made a lot of excuses for the past incidents in which he's been violent against women. He also said that Mel Gibson called him to offer support and that Mel told him he "just like thought you might like to hear a friendly voice." I can see these two being friends. They're both addicts and abusive SOBs, and they probably have plenty of conspiracy theories and delusions in common.
If Charlie is able to stay alive for a while I expect we'll see some kind of book from him or maybe even another television show. He told Radar he had a bunch of offers in the pipeline and I wouldn't doubt it. Given all the people who are making excuses for him and condoning his behavior, and given the fact that he was the highest paid star on television up until a few weeks ago, I'm sure that there are still chances for him. If he can make people money they'll ignore the fact that he's so very obviously far gone. They've ignored it up until now.
Here's part of Charlie's Piers Morgan interview.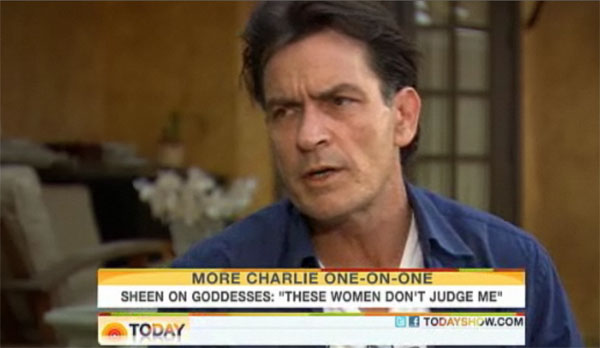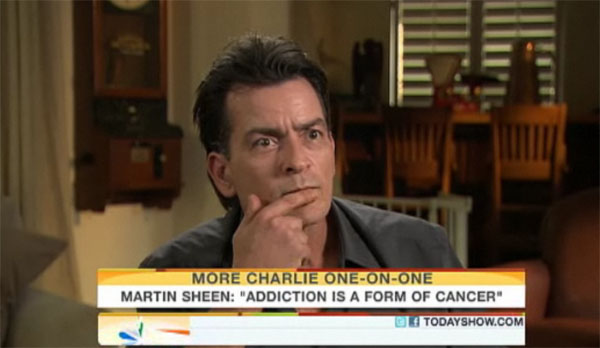 Written by Celebitchy

Posted in Addictions, Careers, Charlie Sheen, Mel Gibson

- Mariah Carey lip synced on American Idol [CDAN]
- Colin Firth is looking good [Lainey Gossip]
- Internet celebrity charged with murder! [D-Listed]
- What is Paz Vega wearing? [Go Fug Yourself]
- New bachelors on The Bachelorette [Reality Tea]
- Goodbye to The Office [Pajiba]
- Bachelor Sean's fiance cheats on him [Evil Beet]
- Britney Spears out with her man [Popsugar]
- Nina Dobrev works it [Popoholic]
- Cindy Crawford needs to lay off the 'tox [Celebslam]
- Who said it: Carrie Bradshaw or The Dalai Lama? [Buzzfeed]
110 Responses to "Charlie Sheen introduces us to his porn star babysitters; Mel Gibson called him"