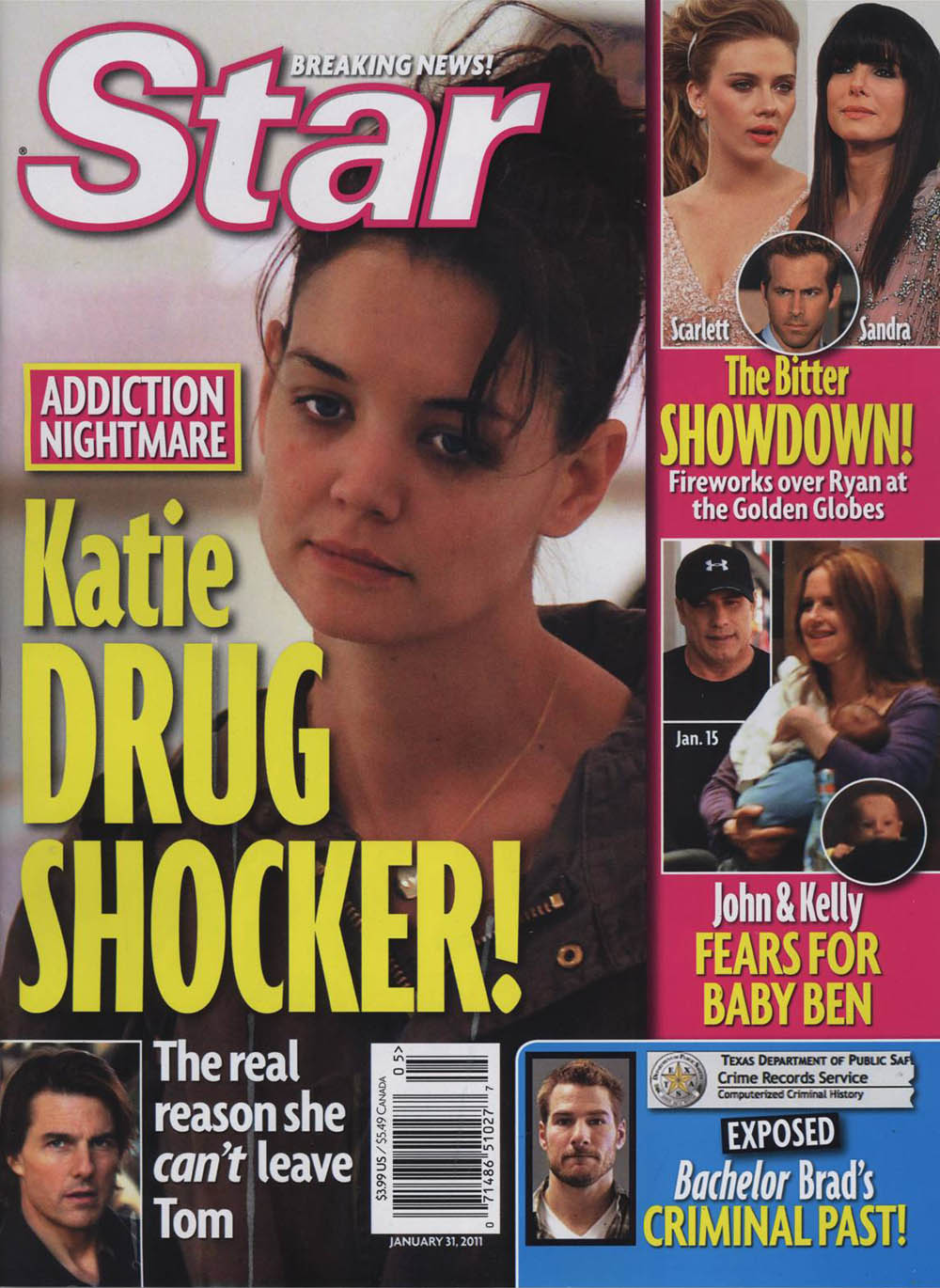 Katie Holmes is reportedly set to sue Star Magazine for a cover story they ran on her last month with the title "Addiction Nightmare: Katie Drug Shocker." We covered that story, which just claimed that Katie was addicted to the Scientology cult's auditing sessions with a crude lie detector called an "e-meter." Former Scientologists told Star that treatments could be addicting in a way that mimicked drug addiction. As I mentioned back then, I think Star took the wrong angle on the story, because there are plenty more scary, terrible, mind-altering things that Scientology does to members that they could have focused on. Scientology basically stripped Nicole Kidman from access to her children and if Katie leaves Tom she probably fears she'd lose custody of Suri. That angle has been played out by the tabloids, though, so they had to find a new one.
Katie's rep told The Wrap that she's about to take out a lawsuit again American Media, the parent company that owns Star:
Katie Holmes is expected to file a libel lawsuit in federal court on Tuesday seeking $50 million in damages from American Media Inc., owner of Star magazine, TheWrap has learned.

The actress and wife of Tom Cruise is furious that the tabloid ran a cover that she considers deliberately defamatory, suggesting that she used drugs, according to her representative who spoke to TheWrap….

"The cover is libellous no matter what they say inside the magazine," said the representative.

The tabloid frequently targets Holmes and Cruise as fodder for the celebrity gossip mill, most often suggesting that their marriage is in trouble, they're about to separate, and Holmes is miserable.

In the past, Star has lamented Holmes' "tortured life." In October, the tabloid said that the couple's "marriage contract collapses."

To prove libel is difficult in U.S. courts. The plaintiff must prove defamation occurred, and that injury to their reputation happened as a result.
I doubt this will be successful at all. It's notoriously hard to successfully sue a tabloid in America for damages and celebrities rarely do it because it's not worth the trouble. Katie and Tom's people are going after Star to try and get them to stop running stories on them.
In October they ran "Tom & Katie: Broken Home – Marriage Deal Falls Apart"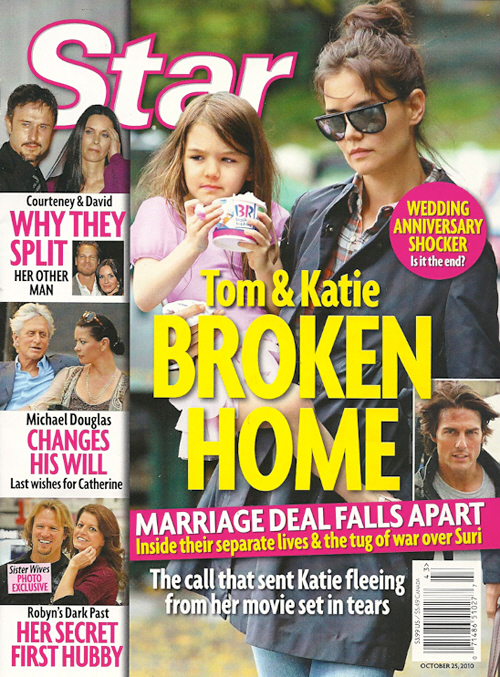 In November it was Suri & Shiloh "Nannies Tell All"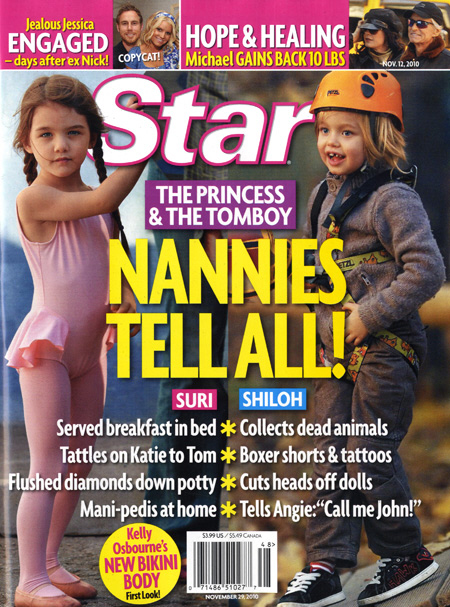 In December it was "Separated: Fed Up Katie Leaving Tom"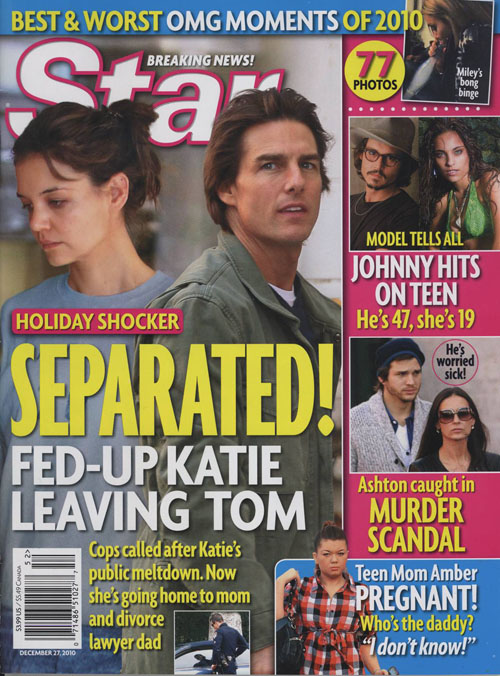 A couple of weeks ago they ran "FBI Probe: Tearing Tom and Katie Apart"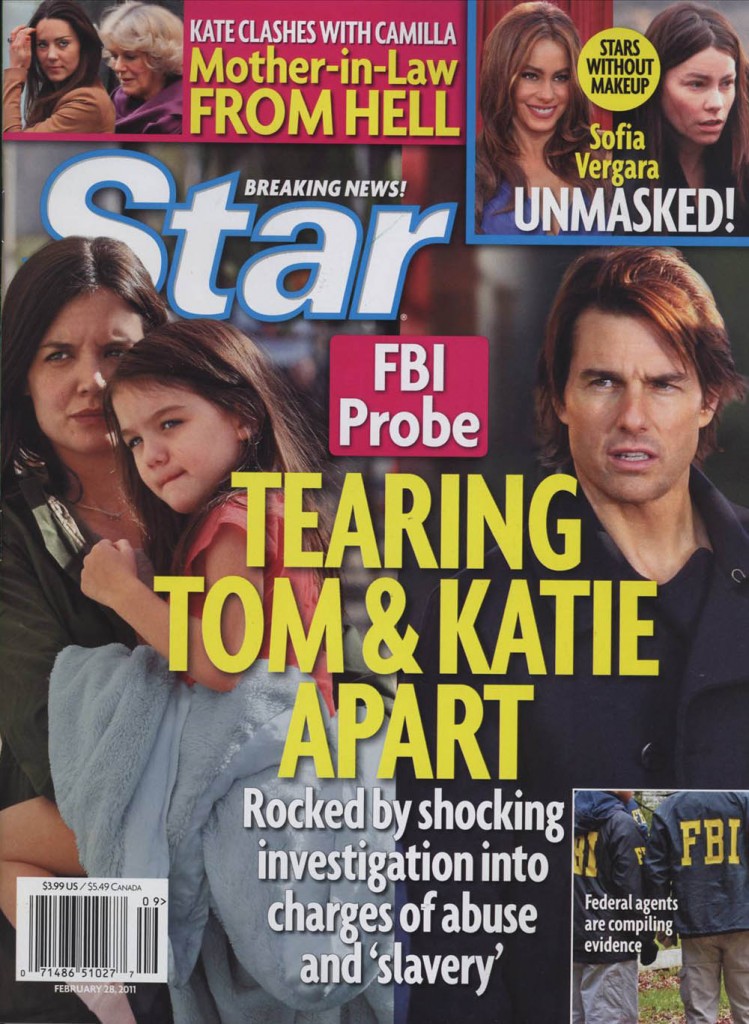 Katie and Tom are hoping that Star and other tabloids get the message that they're not to be messed with. Lawsuits are a common tactic of the very litigious Scientology cult and are often meant to harass anyone that dares question them or their illegal practices. I'm surprised these two haven't filed a lawsuit sooner. That's not to say that Star has the right to run misleading cover stories about Katie and Tom or their family, just that it's hard to sue over it in the US. Maybe TomKat should take a hint from Brad and Angelina and sue a British tabloid first. Suits against tabloids in the UK seem to have a higher success rate.
Update: Tom Cruise successfully sued a gay porn actor for $10 million in 2001 after the man claimed he had an affair with Cruise. It's unknown whether Cruise has ever collected and the man claimed he didn't have the money anyway. Cruise also successfully sued The Daily Express, a British publication, in England in 1998 for a story claiming his marriage with Nicole Kidman was a sham. He accepted undisclosed damages for that story. Cruise has never sued a US tabloid from what I can find, although he did threaten to sue a publication called The Beast in 2004 for calling him one of the most loathsome people of the year.