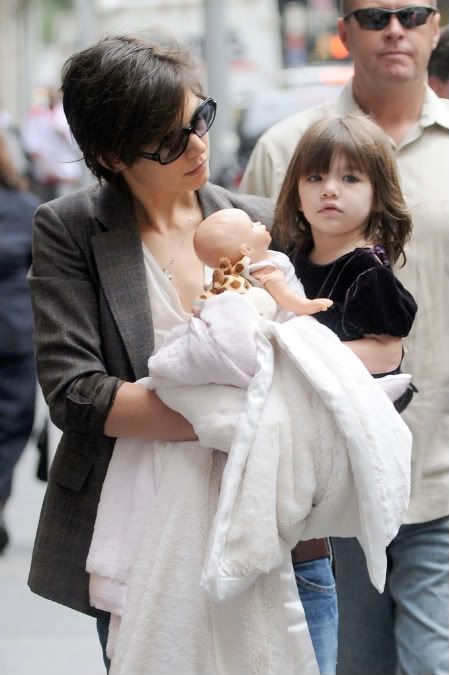 Say what you want about her nutty parents; that Suri Cruise is one hell of a cute little kid. Suri went to work with mom Katie Holmes today and was photographed looking adorable with her doll and blankie. Whenever I'm tired and see a kid with a blanket I get insanely jealous. Even worse is when they're in one of those lay-down strollers. They really should make something similar for adults; where you can just nap whenever.
It's a conundrum that working mothers the world over wrestle with – how to combine raising their children with their career. But Hollywood actress Katie Holmes isn't prepared to be parted from her pretty two-year-old daughter.

Although she has thrown herself back into work after taking a couple of years off to raise her only child, she makes sure she spends as much time with Suri as possible. And if that means taking her daughter to work then that is exactly what she does.

Katie Holmes takes her daughter Suri to work as she heads to Broadway for her play All My Sons in New York yesterday As Katie arrived on Broadway yesterday for her performance in All My Sons she carried Suri wrapped in a cosy blanket. And to keep her occupied she carried a selection of toys – a cuddly lamb, doll and small giraffe.
[From the Daily Mail]
That girl is going to grow up unfairly gorgeous. Here's Suri and Katie in Manhattan today. Pictures thanks to WENN and Fame.