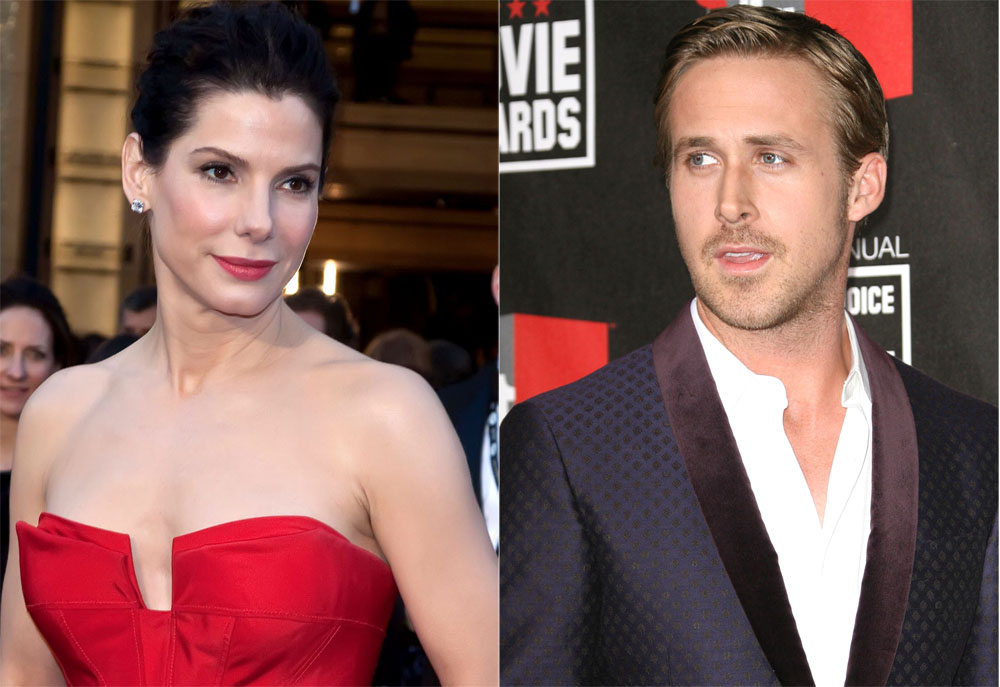 Here's a story in In Touch that suggests that Sandra Bullock is on the prowl and is reaching out to her old flame, the highly hittable Ryan Gosling. The last we heard of Sandra's love life, she was enjoying some friends with benefits sex with newly single Ryan Reynolds. (In my fantasies, don't ruin it for me.) Maybe she accidentally confused the Ryans in her contact list on her phone, sexted the other Ryan, got a positive response and decided to follow up on it. Ryan Gosling is of course said to be dating Olivia Wilde, but she's all over him and you know Sandra is playing it cool like she couldn't care less. Men love that.
According to a friend, Sandra wants to rekindle a romance with old flame Ryan Gosling – and has been secretly taking steps toward making that happen.

"She carries a torch for Ryan, and now they're both available, so she's made contact with him," the friend reveals. "They're both open to getting back together."

Ryan, 30, and Sandra, 46, first met on the set of Murder by Numbers back in 2001, where they clicked instantly, despite their 16-year age difference. They embarked on a steamy romance – but because of Sandra's reservations, the relationship ended before it was able to run its course. "He was just too young at the time," the friend explains. But Sandra now feels she may have made a mistake…

Now she wants Ryan to know that she's ready to give him another chance.

And it seems he's very interested in the offer. The friend says that he and Sandra have spoken on the phone and exchanged flirty text messages – and so far, things have been looking good. "They made plans to get together," the friend shares.
[From In Touch, print edition, March 14, 2011]
Yes, this is In Touch, it's probably completely made up, but how interesting would this be if it were true? Ryan was just 20 in 2001 when he was working with Sandra (his birthday is at the end of the year) and she was 37. That's a much bigger maturity difference than 30 and 46 (Sandra's birthday is in July.) Now they have a chance to finish what they started and see if they really are meant to be together. Only Ryan has been playing the field lately, dating Olivia Wilde, Blake Lively and maybe even hooking up with Charlize Theron last summer. (There are surely plenty of other women we haven't heard about.) Will he continue to settle for low hanging fruit like Olivia "I used to be a princess" Wilde or will he take the challenge, man up and go for more worldly Sandra? Maybe it's Sandra who should rethink her dating choices though, not Ryan. She could do better, you know? I used to like Ryan but he's giving off a douche vibe lately. It doesn't help that he's dressing like Hugh Hefner.*
*(Someone pointed that out in the comments, I didn't come up with it.) Photos credit: WENN