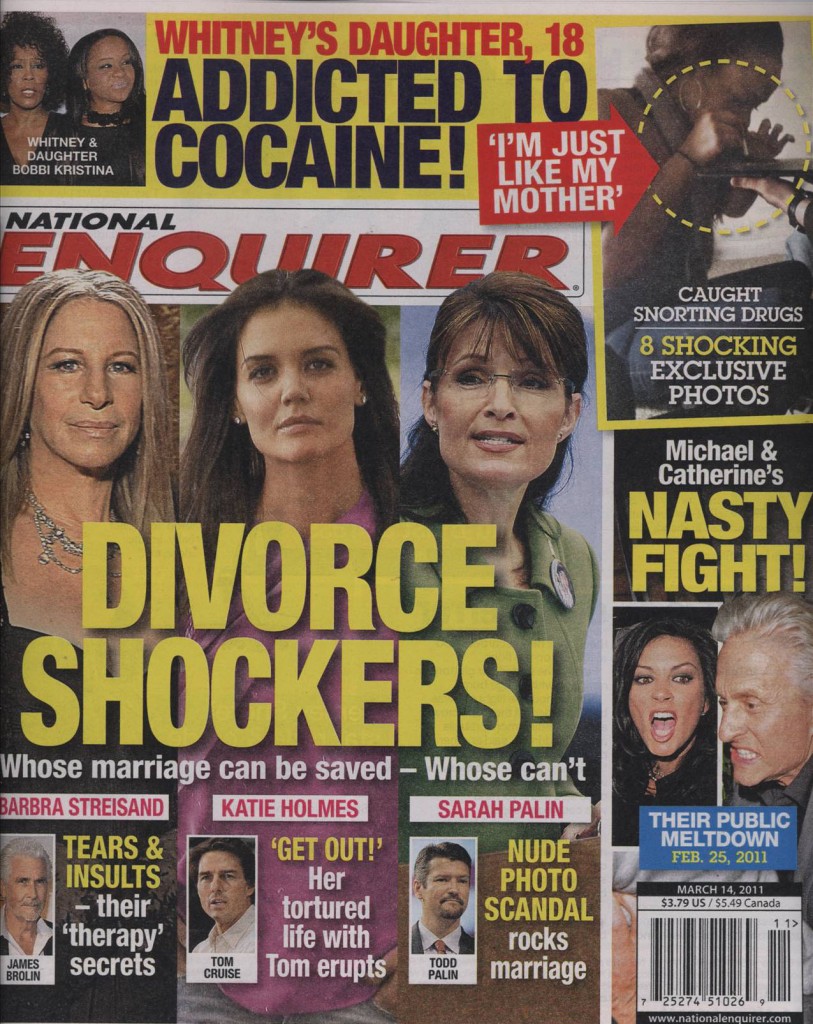 Whitney Houston and Bobby Brown's now 18 year-old daughter, Bobbi Kristina, was photographed apparently snorting cocaine in a series of pictures published in this week's National Enquirer, as we mentioned yesterday. I had the chance to read the article yesterday, and they have quotes from an ex boyfriend of Bobbi's, who had pictures of her doing coke at two different parties in Georgia near Atlanta. It's very obvious that's what she's doing both from her positions in the photos and other pictures with Bobbi in the background that clearly show white lines laid out on a tablet. Here's some of the excerpts from the article, and you can see the photos in this week's National Enquirer (with "Divorce Shockers" on the cover) and here.
18 year-old Bobbi Kristina Brown – known to friends as "Krissi" – is seen snorting lines of cocaine at two different parties.

The troubled teen – who was admitted to apsychiatric ward in 2008 after trying to kill herself – also smokes marijuana, guzzles beer and gets smashed on Everclear, a potent grain alcohol, a close source tells The Enquirer.

The source – a former boyfriend of Krissi – has come forward in a desperate bid to save her life, and to beg Whitney to get involved before it's too late.

"Krissi is addicted to cocaine. I've tried to stop her, but all she said was, 'I'm just like my mother!" the ex-boyfriend – who dated her for 2 1/2 years – told The Enquirer.

"Whitney needs to see what her daughter is doing to herself. If Krissi doesn't stop soon, this addiction to cocaine will kill her!"
[From The National Enquirer, print edition, March 17, 2011]
Krissi just had her 18th birthday, so these pictures were taken sometime last year. She's responded to this controversy on Twitter and has put up quite a few tweets about it. She doesn't deny that it happened, but says several times that it was a long time ago. In a series of tweets she says she was set up by an ex boyfriend and that she's changed:
The pictures_ a former very dear person to me did this. Set me up.

But it's really not what it looks like.. People will do anything for money which is extremely sad, and I'm very hurt by this.

Thing's people do these days to hurt others is a shame. All I can do now, is keep my head up high, keep looking towards the lord.

All the lord is telling me is be still. That's all, and that's exactly what I'm going to do. #BeStill.

I love my family so much. My mom just comforted me to the max, and I'm so thankful for her. Thank you so much lord for blessing me with an Phenomenal family and incredibly phenomenal mother. Thank you for giving me the strength to move forward and put things in the past.

And the person that did this was a result of a horrible relationship that went sour. I was in love_ he was in love with money. I've learned My lesson. I'm so much greater and blessed for it today, and I believe nothing less. That is the last I will speak of this, let's praise god And be greatful and thankful for your family, and people that truly love you, strength, courage, and life lessons learned. GodblessUall «3
[via Popeater, NecoleBitchie]
She sounds very mature and put together, but she never took responsibility for what she did or said she was ashamed of it. She only blamed her ex boyfriend for "setting her up" and suggested it's not what it looks like. Krissi didn't give an explanation of how she could be doing anything other than snorting coke. I get that she's really young and that she's going to deny it, but it would be nice if she would take responsibility for her actions instead of blaming other people for outing her. Then again, her mom is in her 40s and she never quite took responsibility for her drug use either.
Here's a link to a photo of Bobby Brown, Whitney Houston and Bobbi Kristina as a little girl. She never had a chance, but it's clear she's trying. We may see some kind of album coming out from Krissi in the near future. She tweeted "I'm following my mothers footsteps industry wise." And otherwise.