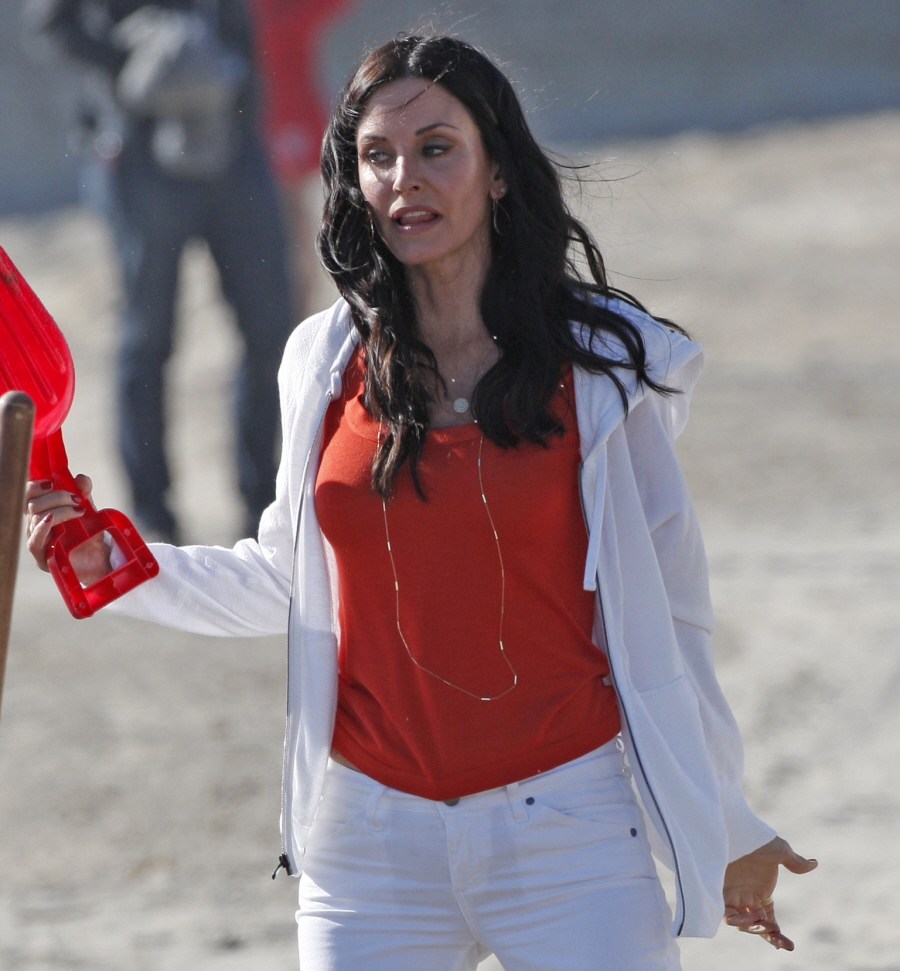 For the past few weeks, Courteney Cox has been in Hawaii, "filming". Wait, that's not fair. She actually has been filming episodes of CougarTown, but there's also been a lot of fun and relaxation with her daughter and her rumored jumpoff, Brian Van Holt. As such, some of the photo agencies have been getting photos of CC in various bikinis. In some of the photos, CC's boobs look… different. You can see the series of photos here, at The Superficial. Now, CC was never really flat-chested or anything. She was probably a B-cup while on Friends, and then I don't know what happened to her boobs after she gave birth to Coco. I wasn't paying any attention – my guess is that she probably went back to a B-cup or something. Anyway, in these recent bikini photos, Courteney's rack looks enhanced. Not anything major, and probably not anything more than going one size up. Still, people are wondering:
Courteney Cox is single and busting out all over! Cox revealed a red-hot bikini body while filming on location in Hawaii – and pals are wondering if her busty new look is the result of secret breast enhancement surgery!

Cox, who is newly single, has embarked on a new diet and fitness regimen to kick-start her dating life, say pals.

"Courteney wants her body in tip-top shape as she starts looking for a boyfriend," revealed one friend. "She is giving herself a post-marriage makeover – and is looking sexier than ever."

"Jennifer Aniston hooked her up with her yoga instructor Mandy Ingber, and helped Courteney devise a low-fat, high-protein diet… Jen is even giving Courteney tips on how to navigate the dating world. It's been well over a decade since Courteney was on the market. She's nervous but she's embracing single life."

While David Arquette accused Courteney of having an "emotional affair" with Brian Van Holt, pals say they were never in a serious relationship. Meanwhile, Courtney's friends are whispering about whether or not she'd seen a plastic surgeon.

"Courteney is playing coy about the boobs," added the friend. "She isn't opposed to a few nips and tucks to make her look more youthful."
[From The National Enquirer, print edition]
Yeah, as I said, there are photos of Courtney and Brian at the pool together with Coco. Brian and Courteney are dating. They are a couple. He spends time with her daughter. They were boning even when Courteney and David were married. Why the whitewash?
As far as the alleged boob job… well, if she did get it done, I applaud her plastic surgeon's subtle work. I don't really know if the ladies are fake, though. It could just be a push-up bikini top – they make those, right? Of course, considering that Courteney messes up her face on a semi-permanent basis now, I guess she really is up for various nips and tucks.
The photos where CC is wearing the red shirt & the white hoodie are from February, presumably post-alleged-boob-job. The other photos are from last year.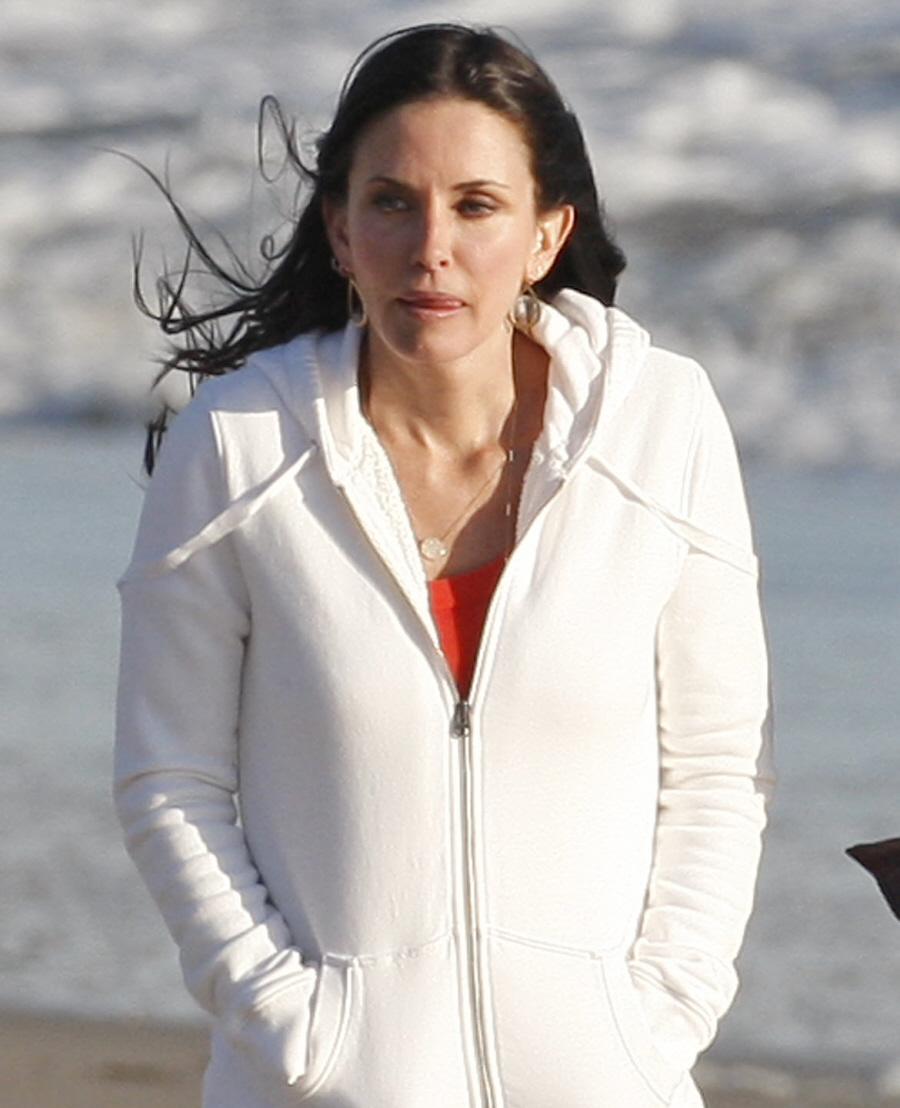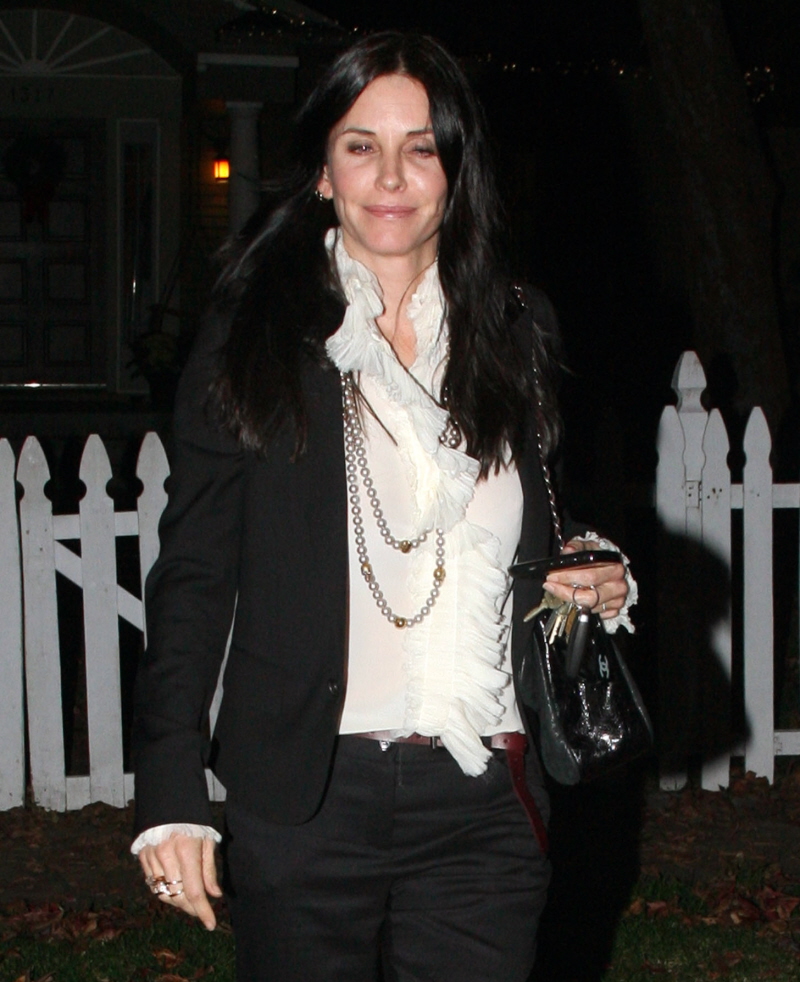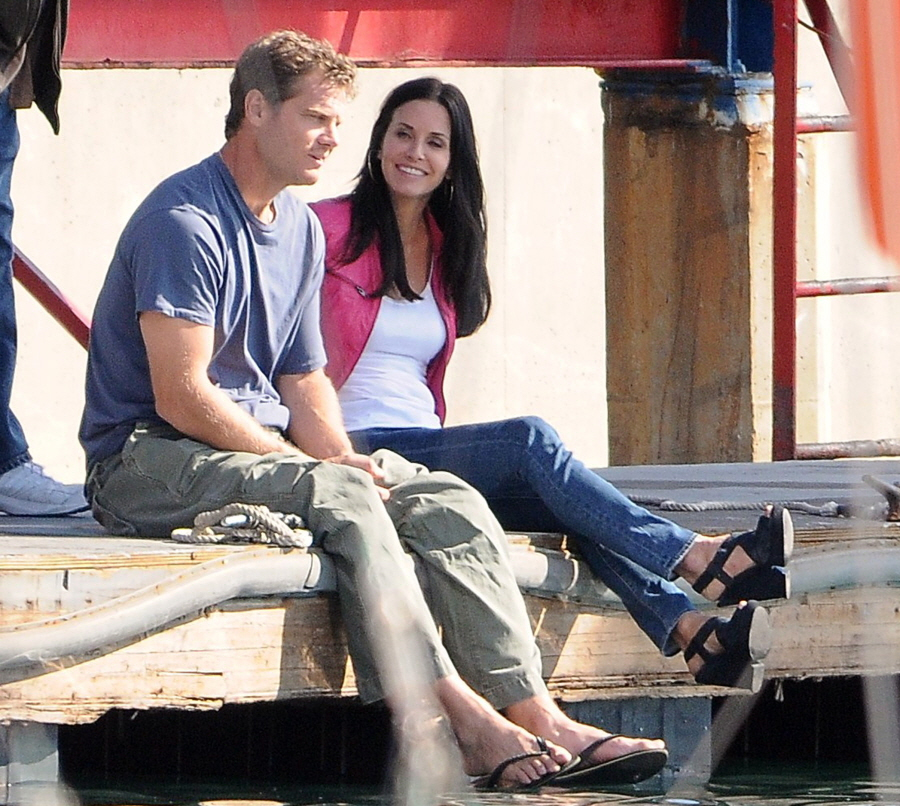 Photos courtesy of Fame.