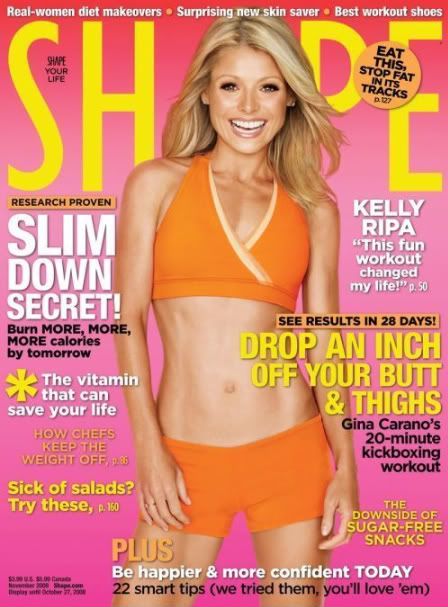 I have to admit, I spend a lot of time thinking about Kelly Ripa's belly button. To be frank, it haunts me. So I was really relieved to find out that someone over at the Huffington Post is clearly just as obsessed as I am. One of their writers has pointed out that Ripa's navel has got quite the split personality. Sometimes it's an innie, sometimes it's an outtie, and other times it's a halvsie. You can see how this would be haunting.
And I guarantee you that after you see the photographic evidence, you're probably going to become obsessed with the state of Ripa's belly button too. Wondering if it's poking out boldly or curled up inside itself like a scared turtle. So you've been warned.
Kelly Ripa, 38 on Thursday and a mom of three, graces the November cover of Shape magazine in an orange bikini. Look familiar? She was also on the cover of Shape last May in a orangey-red bikini. In between, she broke up the Shape orange bikini covers with a gold bikini on the cover of Fitness. But, she only shared three top workout moves with the readers of Fitness, according to the cover. Shape reader got SIX the first time around.

Also of note: across the covers, she has three different belly buttons. Ripa, an outspoken outtie who jokes about getting her belly button stuck in zippers on "Live with Regis and Kelly" had it airbrushed off completely for last year's Shape, but this time they just softened it on the cover. Below are the three covers and an un-airbrushed picture of her bellybutton while on a family vacation.
[From the Huffington Post]
I'm pretty upset too. While I am personally an innie and do not fully understand the struggles an outtie must live with in an innie world, I respect anyone who embraces their body for what it is. But now Ripa's just sending out mixed messages. "Ooooh, I'm belly button proud! Oh wait, no I'm not, photoshop that bastard down!" I mean pick a position and stick with it. I cannot even imagine how this kind of back and forth is going to mess with Ripa's children. Scratch that. How it's going to mess with America's children.
I really hope she makes some kind of formal, regretful statement and issues a sincere apology to the other outties. And then learns to love her flawed, flawed stomach.
Here's Kelly's ever-evolving belly button. The first image is from the November Shape; the second is from the May 2007 Shape; the third is from the Dec 2007 Fitness; and the last is an un-retouched photo of Ripa in a bikini.