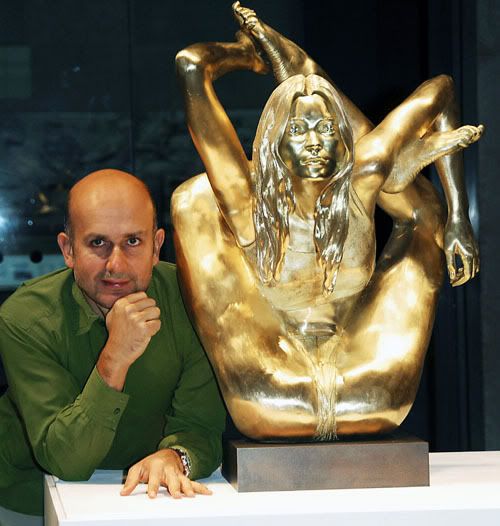 Sculptor Marc Quinn revealed his solid gold statue of supermodel Kate moss, 34, at the British Museum today. It is featured as part of a special Statuephilia exhibit that runs from Saturday, October 4 until January 25 of next year and also includes works by Damien Hirst and Noble and Webster. The statue features Moss in a yoga pose with her legs behind her back. It's doubtful that she's able to contort herself so well in real life. The statue's thong-clad crotch is tipped up as she grasps her legs and it somehow becomes just as captivating as the statue's face, like they're competing for your attention.
The statue, called Siren, weighs 50kg, or 110lb, and cost £1.5 million pounds to make, or $2.67 million USD by today's conversion rates. £1 million pounds of that cost was in gold. It is the largest gold statue created since ancient Egyptian times. Earlier reports had the sculpture made of solid gold, but that's incorrect and it's hollow, which is why it weighs about as much as 5′ 6″ Moss. It is thought to be worth up to £10 million pounds and will be auctioned off after it's run at the British Museum ends next year.
The artist calls Moss "the ideal beauty of the moment," and says "The sculpture is really about whether we make images or they make us. It's about trying to live up to impossible dreams and immortality."
Some of the British papers are cutting out the statue's nether region, either by showing a sideview or just the top of the statue. You really don't get an idea of what it looks like without that key part.
Details from Telegraph and Times Online.
Photo Credit: WENN