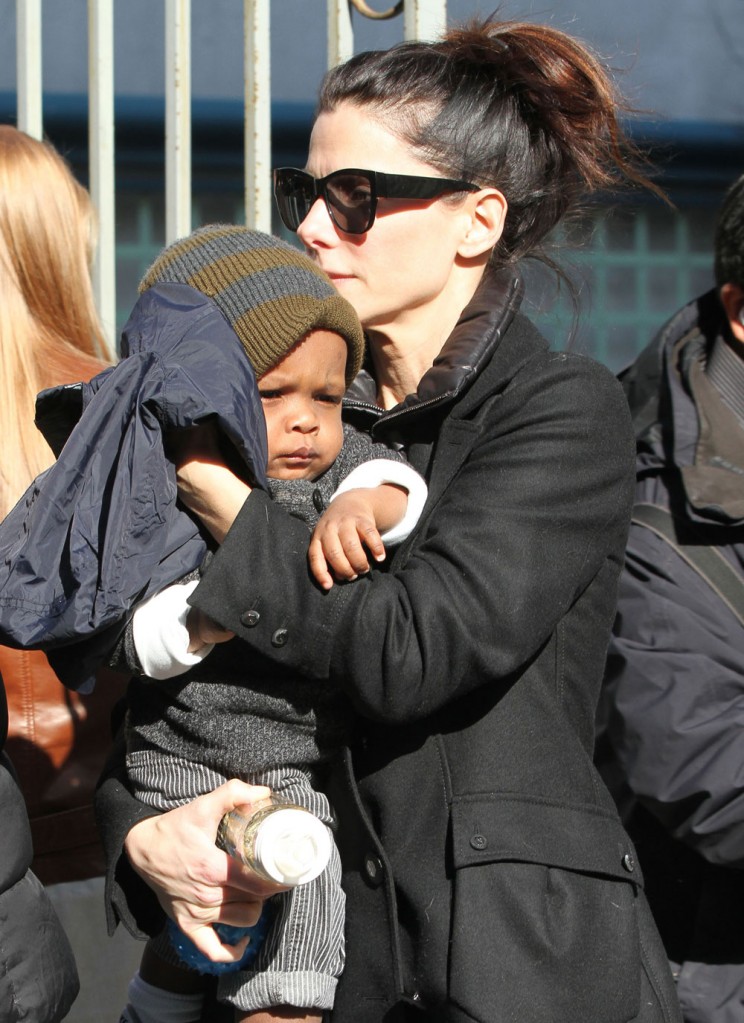 Sandra Bullock rarely goes out with her cute son, Louis, without covering his face. We've seen some photos of him in transit but nothing as clear and well documented as these pictures of Sandra and Louis at the park on Sunday.
Sandy is in New York filming Incredibly Loud and Uncomfortably Close, and we just saw photos of her wearing a wig on set. She was looking a little pinched and/or freshened-up, but it wasn't extreme and will probably settle nicely and look subtle like her previous injections. (Unlike Kaiser, I'm not decided on the issue of future plastic surgery and/or injectables and think that you can get some minor work done and still look normal. That's just the work you don't notice.)
Now that there are rumors that Sandra may have been involved in Bradley Cooper and Renee Zellweger's split, we just happen to see her at the park with her son. Maybe she wanted to go out and is hounded by photographers no matter what she does, or maybe she decided that she would get some more positive PR to counteract the bad. I can't blame her for it, and it's not like she pulls this constantly. Plenty of other celebrities do it, and it does help remind us that they have adorable kids.
Louis is so over it, though, he's got that grumpy kid look like "when is naptime already?" I always think that I'm done having kids now that I'm on the other side of 35, but then I see photos like this.
Photo credit: Fame Pictures