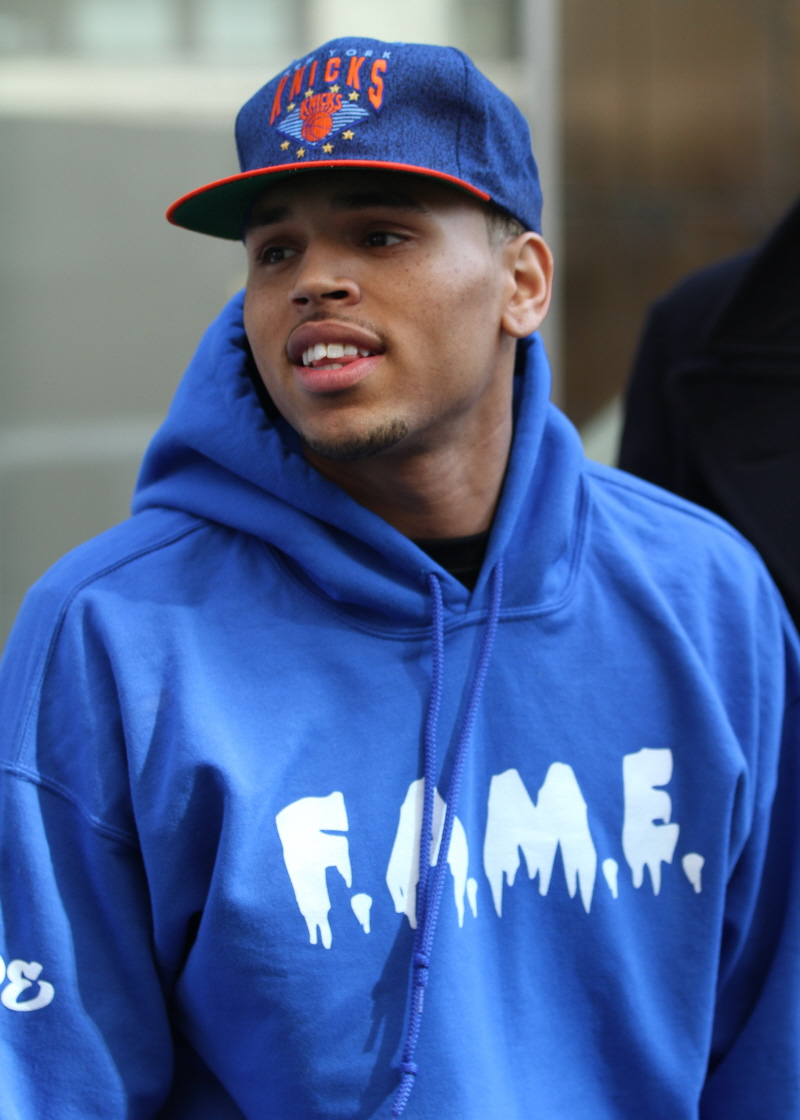 Here's what happened yesterday: Chris Brown came to the GMA studio early in the morning, and GMA producers and anchor Robin Roberts talked to Chris and his people and they got the okay to talk on camera about how Chris Brown beat the hell out of Rihanna, and everything after that. The interview – a brief affair lasting less than five minutes – went forward, and it was obvious that Chris began to tense up as Robin continued to ask questions relating to the incident. Some might even say that Chris looked like he might want to punch Robin in the face, although she's not scared of him – she said later that she's "pulling for the guy." Anyhoodle, after the interview, Chris stormed off the set, started screaming at his people and the GMA people and then he smashed a chair into a window. Glass fell onto the New York street, security was called, but Chris wasn't done. He was supposed to do one more performance, but when a producer tried to remind Chris, he faced off with the guy. At some point, Chris ripped off his shirt and left it off, walking out of the studio shirtless to the delight of the one paparazzo who snapped pics.
So… what does this all mean? Chris is still on probation for the Rihanna beat down, but there is a lot of confusion as to whether this incident will affect his probation whatsoever. Radar claims that GMA staffers didn't get the NYPD involved, so because there was no police action, it won't affect Chris. TMZ has a source who claims that the cops were called, but they also have a NYPD source who says that no officers were dispatched. In the chance (however small) that there was some police action, TMZ guesses at the possible charges: vandalism (for the window and the trashed dressing room) and assault on the passersby(s) on the street who might have been hit by falling glass.
Beyond the small chance, the remote possibility that there could be some longer-term repercussions for Chris, what does this incident mean? Well, it's given him yet another forum to act like a whiny little bitch. People Magazine (celebrity bible) has an article up using quotes from a source close to Chris. The source has the same delusions as Chris, so you be the judge:
Chris Brown's latest album F.A.M.E. may signify a new beginning for him, but the singer can't seem to avoid questions about pleading guilty to felony assault against ex-girlfriend Rihanna almost two years ago.

Brown, 21, who lost his temper Tuesday morning after an interview on Good Morning America with Robin Roberts in which she asked about Rihanna, "is upset" by what transpired on the show, a source tells PEOPLE.

"He's been trying to move on from his past and focus on his music, and he's finally putting out an album," the source says. "Why can't we focus on that? He makes great music and he loves his fans. He's a good kid."

Even before the live GMA segment, another source says rehearsals were "tense," at one point causing Brown to "flip out" even before his appearance.

But his tone shifted later, and Brown took to Twitter to talk up his album and praise his fans. "Thank you to everyone who supports my music!!!" he wrote. "Key Word (music) !!! Love y'all."

This came in response to an outpouring of support from fans. "The media is just trying to bring you down," one Brown devotee Tweeted. "DON'T LET THEM!!!!!"

Brown, who continued the promotional rounds and continued Tweeting on Tuesday afternoon, also received Twitter love from fellow hip-hop artists, including Diddy and Keri Hilson.

"Yall go out & get my boy @chrisbrown's new album 'F.A.M.E' in stores TODAAAAY!!!" Brown's "Superhuman" collaborator Hilson wrote. "His talent is undeniable. I'm proud of you, CB!! Love you!"
[From People]
That made me sick. "He makes great music and he loves his fans. He's a good kid." NO. He's not. Good kids don't beat the hell out of their girlfriends. Good kids don't throw violent temper tantrums and smash windows.
At some point, however, my absolute loathing for Chris has become less about the one incident with Rihanna, and more about everything that came after: his raging ignorance, narcissism, his lack of remorse, his insensitivity, etc. Look at the characteristics of a psychopath and tell me you aren't wondering if Chris will one day, probably very soon, kill someone. And I'm sure that when he does, it will be somebody else's fault.
UPDATE: TMZ reports this morning that ABC isn't pressing charges against Chris. TMZ's NYPD sources say that because there is no "complaining victim," there is no investigation to conduct. What the hell, ABC?
By the way, these are photos of Chris several hours after the GMA incident. Yeah, I know. He looks all broken up.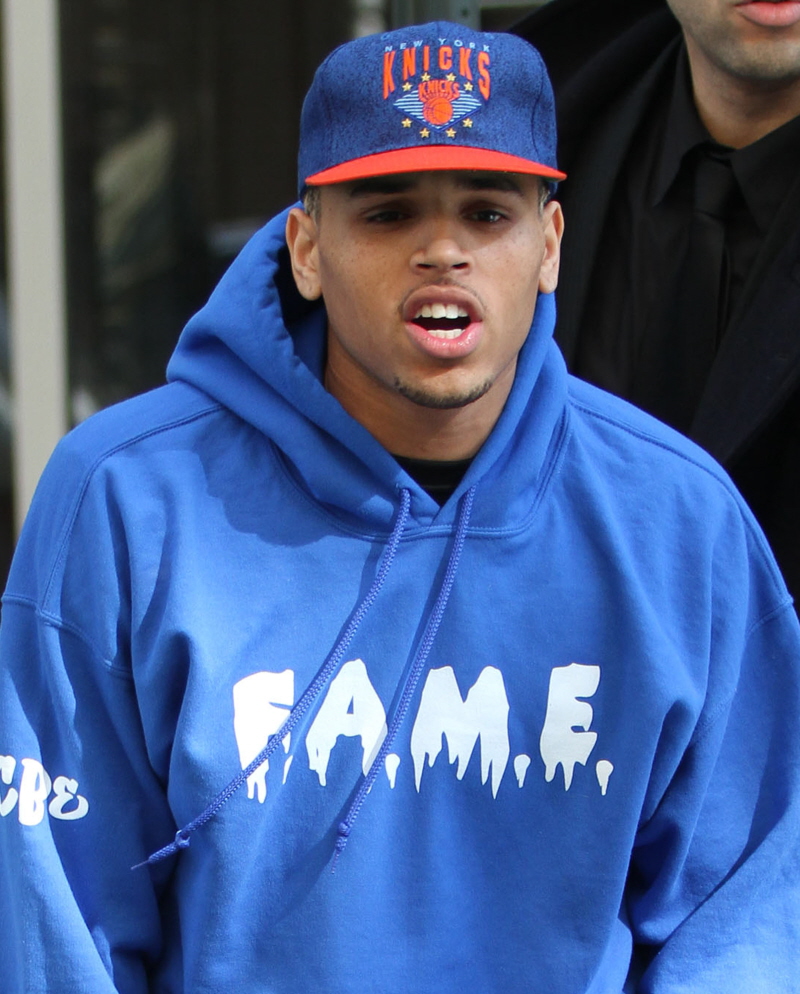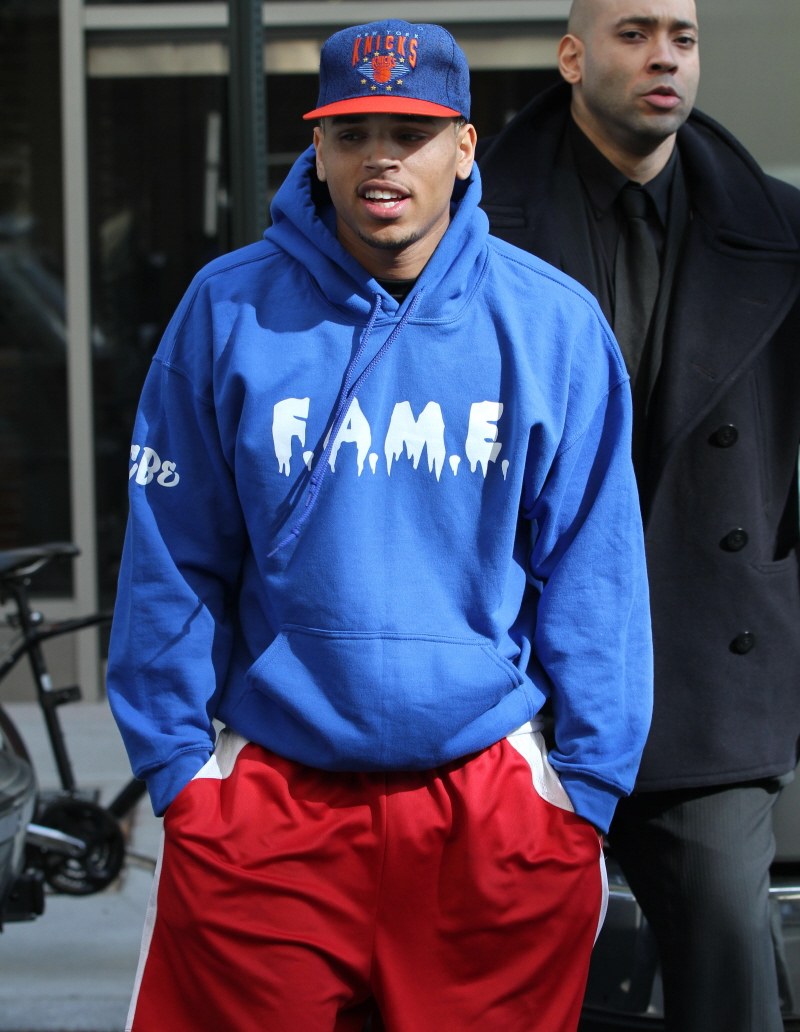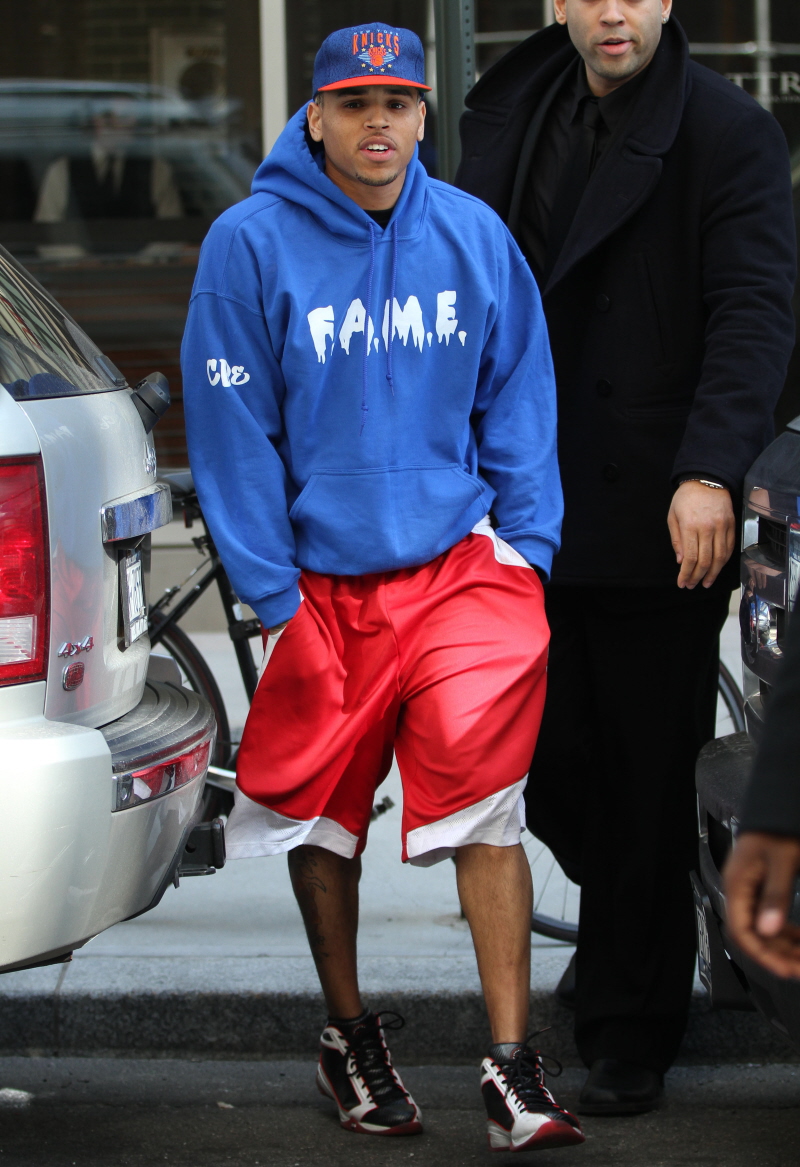 Photos courtesy of Fame.