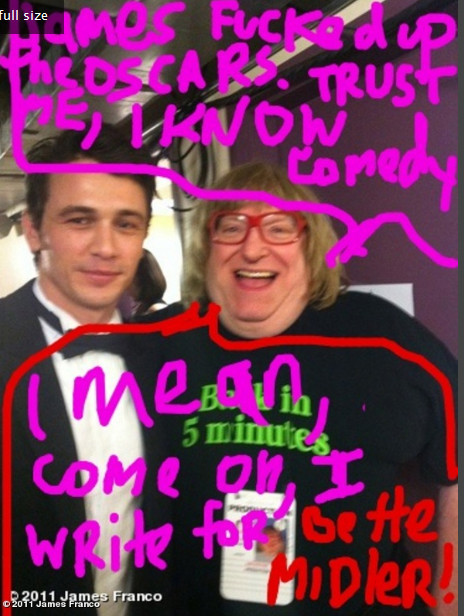 James Franco got a lot of press yesterday for a bitchy photo he posted responded to some mild criticism from Oscar writer Bruce Vilanch on his poor turn at hosting the Oscars this year. Instead of ignoring it as he should have done and realizing that responding would only bring more attention to the fact that he blew it as a host, he posted a photo on Twitter with a scrawled caption for Vilanch mocking him. Well Vilanch responded to Franco's response to his criticism, and basically said that he wasn't just ripping on Franco out of the blue and that his words were taken out of context. Then Franco put up a photo of Vilanch's response wrote "Thank you" with MS Paint on top and added "sorry for reading stupid blogs," as if it's the bloggers' fault that he's a petulant bitch.
Following what seemed to be an attack on his hosting performance by longtime Oscar writer Bruce Vilanch, a vengeful James Franco tweeted out a graffiti'd photo mocking Vilanch's career.

The photo can be seen here; the crux of Vilanch's comments is:

"I don't think he realized how big a deal it is to do it until he was actually confronted with it. I think he thought he would kind of … I don't know what he thought. I thought maybe it was a performance-art prank, and then I realized he sincerely wanted to do it. But it's outside of those guys' comfort zones. The only people who know how to host those shows are people who get up onstage every night and say, 'Good evening, ladies and gentlemen. A funny thing happened … ' Or people like Bette [Midler] who get up and sing all night and tell stories."

Turns out, Vilanch didn't quite mean what he said maliciously; in a message to Franco, he claimed that he actually defending his host. It reads, in part:

"i was JOKING with this guy on the red carpet about all the sleeping jokes about you. he then got vehement about how bad you were and i was trying to DEFEND you. i don't know what version, what context you read these remarks in, but believe me, i would never diss you. that's not my style."

It was an apology that Franco accepted, and he tweeted a photo of the message and his response, which calls out dumb blogs. Breathe easy: all is right with Hollywood.
[From Huffington Post]
At first I thought Franco's response was nice, but then I thought about it and realized that he wasn't taking responsibility at all for being a whiny baby about it. He has reasoning skills, he can read someone's comments and decide whether to be offended or not without taking the editorial part at face value. He didn't even bother to write any kind of explanation when he took offense or later when he tried to apologize and is instead scrawling on photos like the passive aggressive dick that he is. I used to like James Franco and I forgave him for screwing up the Oscars, but he's on my sh*t list now.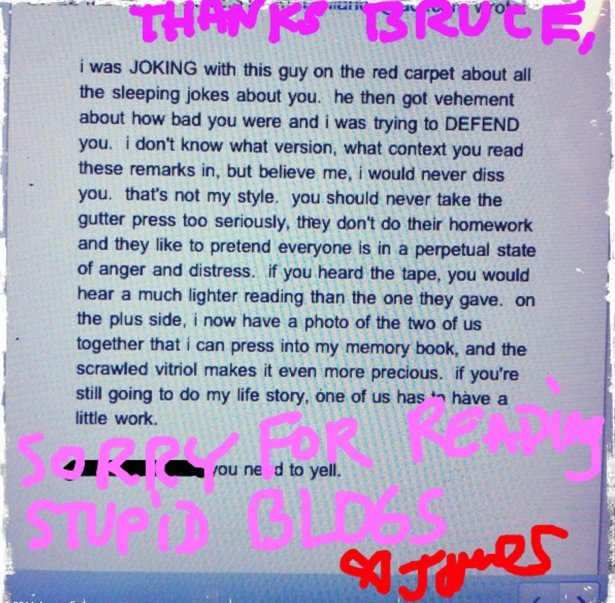 Photos of Franco from the Independent Spirit Awards on 1/26/11. Credit: WENN.com