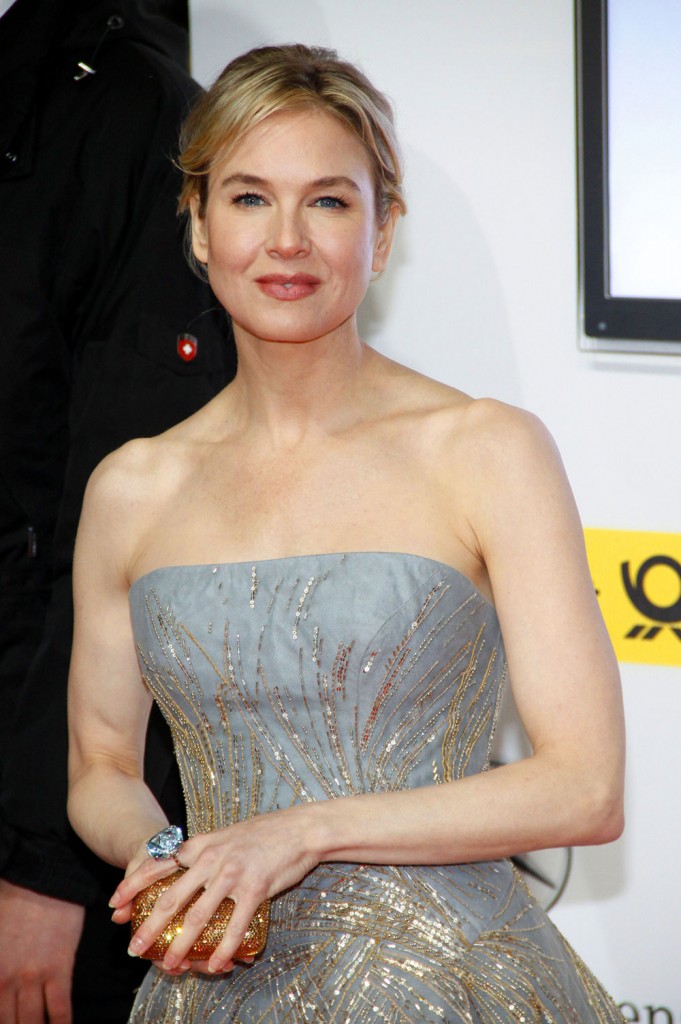 The news of Renee Zellweger and Bradley Cooper's split is all over the tabloids this week. They made the announcement last Friday, conveniently right before his new movie came out. Cooper's Limitless, with Robert DeNiro, was top at the box office last weekend and he's trying to cement his status as a leading man. Meanwhile Renee is trying to save face and spin the breakup like she's fabulous and couldn't be better, thank you very much.
I had the chance to read US Weekly's full article on Renee and Bradley's breakup. We saw a teaser last week, in which Renee's PR people emphasized how "hot" she is and how men are falling all over themselves to get to her. The main story was more of the same, with the added detail that they broke up because Bradley's "mistress" was "his career." Give me a break. Here's more:
Their relationship seemed rock solid, so what pushed Bradley Cooper and Renee Zellweger to their limit? Despite rumors to the contrary, a source close to 36-year-old actor tells the new issue of Us Weekly (on stands now) it wasn't another woman.

"If I had to pick any possible mistress it would be Brad's career," says the source. "He worked really hard to get into leading man status."

And it appears his efforts have paid off. Limitless, Cooper's first stint in a headlining role, took the top spot at the box office last weekend, taking in $19 million.

"Renee had to take a backseat," says the insider. "She traveled with him to make it work."

And an insider close to the Academy Award winner says that Zellweger, 41, was more than willing to try out the supporting role, even moving from New York to be closer to her man.

"She's accomplished a lot of her professional goals," says the source. "So Renee took some time out to be a great girlfriend and see if this is what it took to make a relationship work."

Despite their concessions, the couple, who met filming Case 39 in 2006 and began dating three years later, couldn't keep things together.

"She stopped fighting," says the Zellweger insider. "It was just not working out."
[From US Weekly]
The print story opens with that crap US already reported online about Renee she "looked smoking hot" at a party and got hit on by waiters. They tried to bring their point home at the end with this quote. "Renee is going to be fine. Everywhere she goes, she gets hit on. She's the life of the party."
Meanwhile Jezebel has a recap of the other tabloid stories on these two.
ITW: The Bradley/Renée story here alleges that he is a player and not a good partner, and that dating Bradley was "the worst mistake she ever made." Also: Sweatpants ruined the relationship. The text actually blames Renee for dressing so comfortably around her man. "She may have unwittingly taken the spark out of their romance… One can only wonder if the right low-cut dress might have changed Bradley's mind."

Star – Last week, Star's cover story involved Bradley Cooper cheating on Renée Zelweger with Sandra Bullock. This week, Star notes that Renée recently showed up on Sandra's doorstep in New York. When Renée asked Sandy about Bradley, Sandra gave her a big hug and reassured her that nothing happened. Then Renée "cracked from all the stress" and started bawling her eyes out.
[Star and ITW, recaps by Jezebel]
We know that Renee visited Sandra Bullock as a show of good will after those stories came out that Sandra cheated with Bradley. All that business about how Renee broke down crying when she saw Sandy was made up by Star.
I buy that Renee is doing fine after the breakup. She's rich, runs in Hollywood circles and it's not like she was married to the guy for years or anything. I don't buy that she's strutting her stuff around town and getting hit on all over. That's not really her style. As much as she's been posing hard on the red carpet and trying to act like a confident star she stil comes across in interviews as shy and insecure. From what I know she's a very nice person, but this "life of the party" story that her people are selling is a little too much.
Bradley Cooper is shown at the airport in LA on 3/18/11. Renee Zellweger is shown in Berlin on 2/5 at the Goldene Kamera awards. Credit: WENN.com