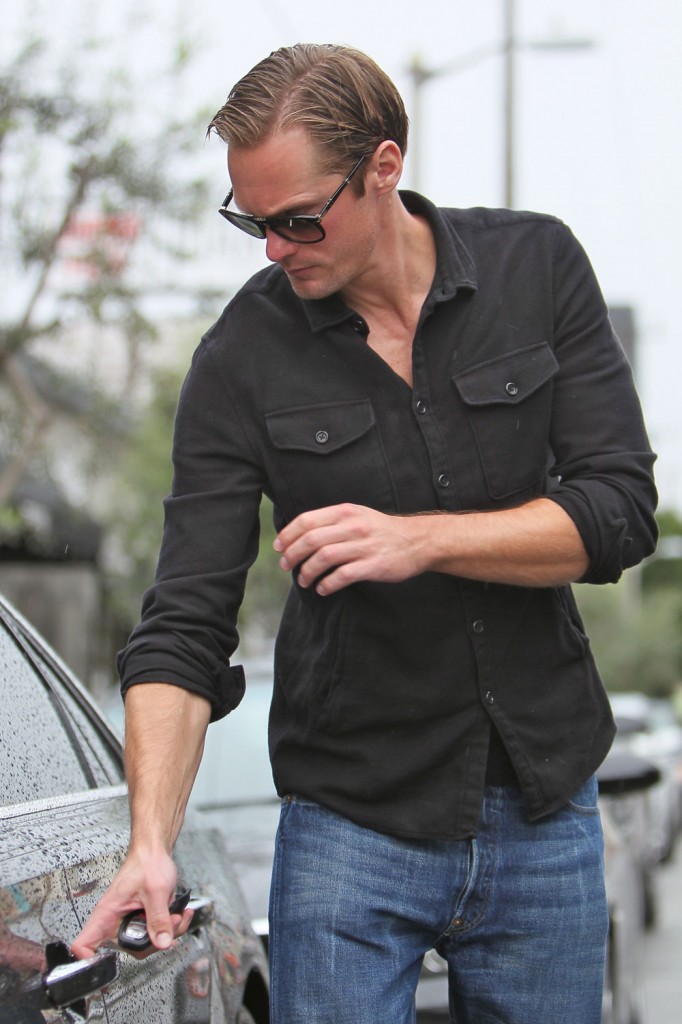 Kate Bosworth is shown out on 3/3/11. Alex Skarsgard is shown out in LA on 3/23/11. What a beautiful man he is. Credit: WENN.com
Kaiser's going to love this story, and I hope she doesn't shank me for taking it. US Weekly, aka The Bos' publicist via US Weekly, is claiming that Kate Bosworth and Alex Skarsgard have "hit a rough patch" and that "things are not going well" between them. I think this is code for "he dumped her and she's waiting until she has something to promote before she makes the announcement that it was mutual." We've heard plenty of split rumors for these two before. I suspect they have an on-off relationship in that Skarsgard tries to get out of it, Bos throws herself at him, makes announcements about it to the press and spreads engagement rumors.
There are True signs of trouble for Kate Bosworth, 28, and Alexander Skarsgard, 34. "They've hit a rough path," a source says of the couple, who split in September 2010 and reunited one month later. "They've been fighting a lot about stupid stuff. They are still together, but I don't think for much longer." (In fact, at a West Hollywood party in February, she told Skarsgard's dad, "I love him!") The pair hardly looked harmonious during a March 10 Nylon dinner with her folks at Hemingway's Lounge in L.A. Bosworth, who stars in the upcoming Another Happy Day, and the brooding True Blood hunk "barely spoke the entire night – he just kept talking to her parents and other people," says a witness. "You could feel the tension." Seconds the source, "Things are not going well."
[From US Weekly, print edition, April 4, 2011]
Bosworth is really pushing this one hard – she's taking Skars out to dinner with her parents, and is gushing about how much she loves him to his dad. Meanwhile he's been keeping one foot out the door and has probably already bolted. I bet she's hoping to stage a "let's talk" lunch for sometime in the next month. She'll call her pap friends to document that outing, and will delay the breakup news until her next movie is out. There's no release date for that Another Happy Day movie, so I bet it will only be in limited release anyway. She also stars in a thriller with Skarsgard, Straw Dogs, that's out in September. If we hear about their breakup right before it comes out I'll have to give Bos props for playing the hand she's been dealt as well as she can.
Skarsgard is shown on 3/23/11. Bosworth is shown on 3/11/11. Credit: WENN.com