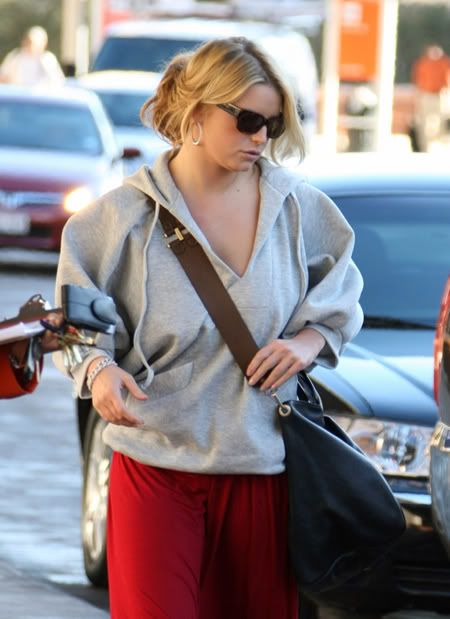 Is Jessica Simpson putting on weight again? Perhaps the engagement rumors just went to her head. Though Simpson adamantly swears that she and Tony Romo are not engaged, she seems to be proving that long-running joke true about women letting themselves go once they secure a man. Simpson looked shockingly ragged last week in Dallas. So much so you'd think she were a regular person instead of one of the most photographed celebs in the world.
Simpson also confirmed to People that she is not in fact engaged to Tony Romo, but her football curse is stronger than ever. After breaking Tony's finger yesterday… um I mean after Tony broke his finger during a Cowboy's game yesterday, it was rumored (by me) that Jessica planned to sedate him using some painkillers and drag him down the aisle before he could run away. Until someone pointed out that fingers are on the hand, not the foot.
Jessica Simpson says she could have never dragged her NFL star boyfriend Tony Romo shopping for engagement rings. The same can now be said for pinky rings.

Romo, a quarterback for the Cowboys, busted the little finger on his right hand Sunday in an overtime loss to the Arizona Cardinals. Romo, 28, who throws with his right hand, will be out for four weeks.

The injury came as Simpson, 28, shot down rumors she checked out engagement rings with Romo.

"We are not engaged!" she tells Entertainment Tonight. "Tony and I have not gone to Neiman Marcus – somebody said we bought a ring there. I couldn't drag Tony in to Neiman Marcus if I tried."
[From People]
Here's Jessica in Dallas on Thursday. Images thanks to Fame.