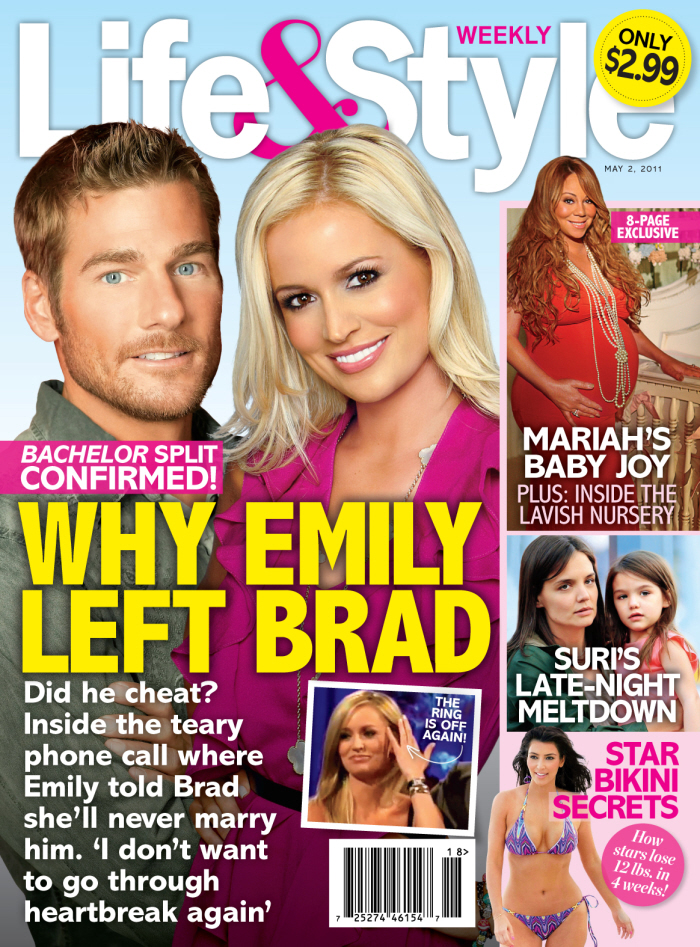 If you couldn't tell by now, neither CB nor I watch The Bachelor. I remember seeing the last few minutes of this past season, because it came on right before Castle, so I did get a general vibe from Brad Womack. My vibe: He's a total skeeze, he's pretty stupid, and he's not really looking for a commitment. Real men who are looking to settle down don't pull those kinds of moves. Anyway, since Brad chose Emily Maynard (SPOILER!) in the finale, there have been rumors that Brad and Emily fell apart very quickly, and that they were close to breaking up already. Now it's happened, according to Life & Style.
Life & Style has exclusively learned that over the weekend of April 9, Emily Maynard made a phone call to her fiancé, Bachelor Brad Womack, to tell him it's over.

"Emily told Brad that she can't picture them getting married," an insider reveals to Life & Style. "Brad's not acting like a fiancé, and she knows that he's not going to change. Emily knows in her heart of hearts that the relationship is finished."

A second insider confirms that the relationship fell apart in recent days. "Emily was very close to moving with her daughter, Ricki, to Austin, Texas, just weeks ago, but that's not true anymore," the insider says. In fact, a friend tells Life & Style that Brad put an offer on a new home — without even consulting Emily or asking her to come to see it first. "She obviously feels that it isn't the behavior of someone who plans to be with her."

The reason for the split stemmed from Brad's hurtful and erratic behavior. Emily became fearful he was cheating on her. "Brad seemed very complacent all of a sudden," says the insider. "He did everything he could to woo and charm Emily on the show, and then it just slowed. Emily knows he likes Texas, he likes his bars and booze, so she's just wondering if he likes someone else. It started to really worry Emily. She felt like, 'If he's not wanting to see her, who is he with?'"

So why hasn't Emily simply announced a split?

Her contract with ABC prevents her from speaking out about the relationship without the network's permission — and Life & Style has learned ABC called her on April 13 specifically to remind her of that point. Though the network can't force them to stay together, a source says they have encouraged Emily to try to work things out with Brad, because they want Bachelor couples to make it down the aisle. "In the end, they try to control it," Deanna Pappas — who competed on Brad's first season and went on to star on The Bachelorette — tells Life & Style.

The friend, who has spent time with Emily recently, confirms Emily has taken off her Neil Lane engagement ring. "She doesn't wear the ring anymore.
[From Life & Style]
I just don't see why people get involved with these storylines, but yeah… the guy sounds like a douche. You should have figured that out when he was making out with all of those other chicks in the hot tub. I'm sorry that Emily fell for his line of BS, but if my Douche Meter pings when I'm only catching 2-minute pieces of the show, you know that Emily's not that bright. But she'll rebound. She's pretty and blonde and dumb and wholesome, and most men eat that crap up.