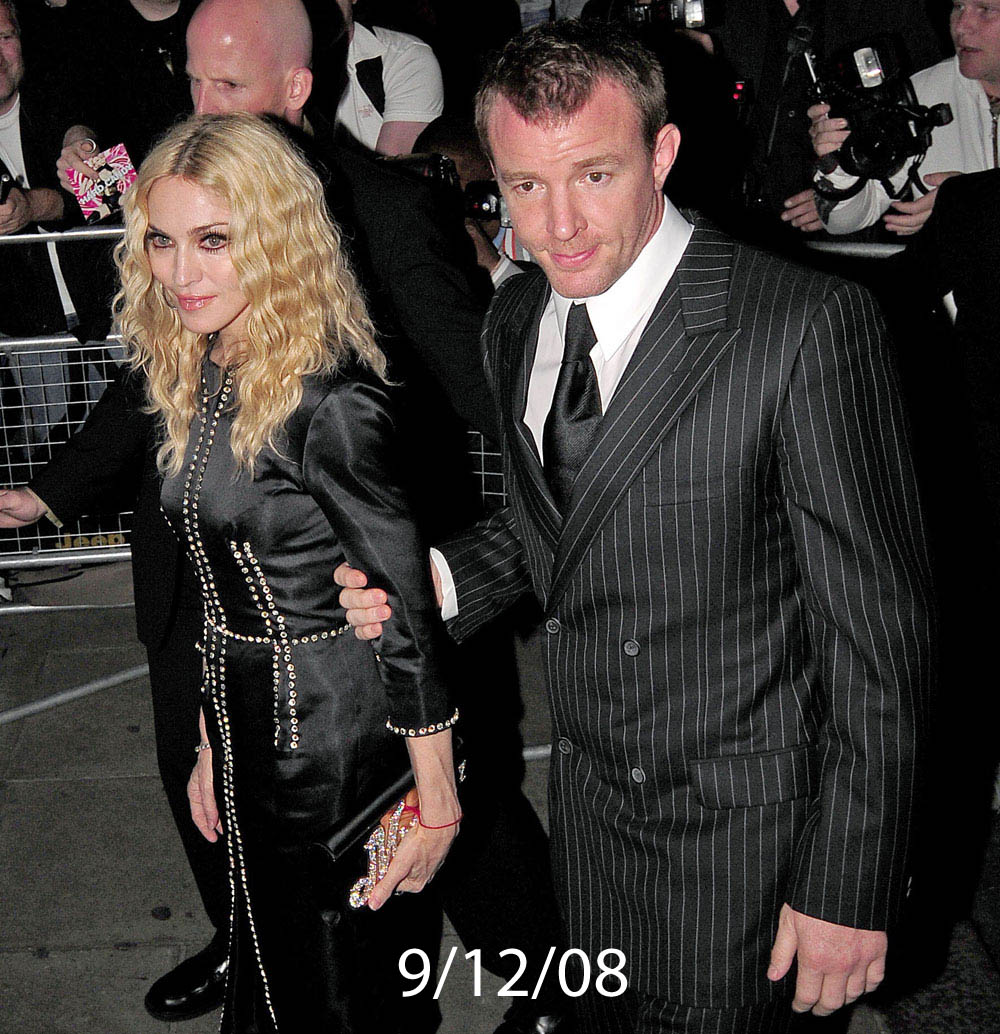 The rumor mill is working overtime around the Guy Richie/Madonna divorce, but the one I find most interesting is the speculation that there is no pre-nup. Did the woman with the reputation of being incredibly controlling, forthright and an excellent business manager actually marry for love? And forget to protect her not inconsiderable assets?
The New York Daily News says that Guy is after a chunk of money from his former Mrs.
Madonna didn't make Guy Ritchie sign a prenuptial agreement – and now he's going after a chunk of her massive fortune, a friend of hers told the Daily News Wednesday.

The pop icon and her director hubby are said to be worth $521 million, but the Material Mom brought most of that to the marriage.

"Guy wants to make himself out to be a gentleman who's above money," the Madonna pal said hours after the couple confirmed they're splitting.

"If only that was the case. The truth is he's looking for a nice piece of the pie."
But Australian and British news outlets report that Guy won't ask for a single penny.
This fact that Madonna married for the same reason us common folk do could actually be an excellent chance to show a new, softer side of Madonna. In recent years her body has hardened along with her reputation, but the fact that she truly marries for life (well, she thought it was going to be, don't we all?).
Madonna also supposedly told friends that Guy is the cause of the break up. Again, revealing a softer side of her. Speculation has been that her desire to adopt another child, as well as how much time she spends in the United States, was responsible for a rift in the relationship that they could not heal:
The superstar singer told pals she had decided to end her seven-year marriage to film director Guy, 40, because he:

REFUSED to dip into his own £30million fortune to pay for their lifestyle — while sponging off her massive wealth;

IGNORED her pleas to spend more time in New York and shunned her love of the Kabbalah faith;

FAILED to support her emotionally over child adoption plans, and;

MOANED about her being in the limelight as his career disappeared.

Madonna, 50, was also furious about Guy's involvement in a London pub he bought with her and pals — telling friends that he put it before his family.
Of course, Madonna also has a reputation for being a master of media manipulation, for all we know she's about to release an album of tear jerking breakup songs, and this is warming us up for it.
Madonna has apparently hired divorce lawyer Fiona Shackleton, who represented Paul McCartney in his divorce. These rumors have surfaced previously in the past few months, which gives credence to another bit of talk – that the divorce will be finalized in short order, and that it has been underway for some time.