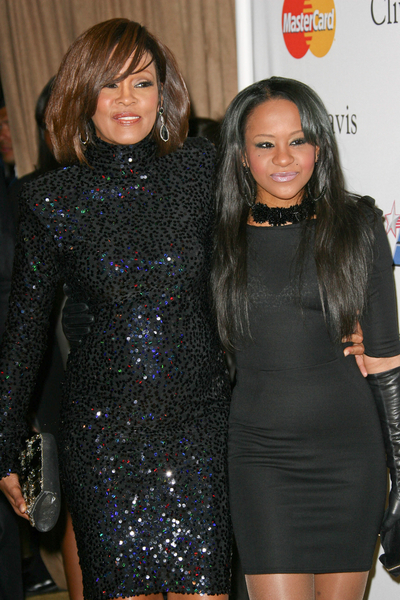 We've heard that Whitney Houston is in "outpatient" rehab for a crack addiction that she's trying to spin as much less serious than it really is. Well the good news is that Whitney's off the rails daughter, Bobbi Kristina, 18, is also said to be doing outpatient rehab at the same time as her mom but in a separate facility. Apparently Whitney told Krissi she needed to get her act together and Krissi was all "what about you, mom?!" So now they're both in rehab. Bravo, sort of.
A few months ago The National Enquirer posted photos of Krissi doing lines of coke at two separate parties, and she's since been cited by cops for underage drinking. She'll only benefit from rehab and from trying to get her addictions under control at a young age. Somehow I don't think this is the end of her issues, but I hope it's a start for her and that I'm wrong. It can't be easy to grow up with Bobby Brown and Whitney Houston as parents. Here's more:
"If I go to rehab, you're going, too!" In a brutal mother-daughter showdown, longtime substance abuser Whitney Houston threatened to send her troubled teenage daughter Bobbi Kristina to rehab. But Krissi… shrieked back that she wasn't going alone!

Now both women have checked into separate rehab facilities in Malibu, CA, to get treatment for their addictions.

"You're ruining the family name!" Whitney screeched during the recent blowout. "Whether you like it or not – you're going to rehab!"

But Krissi, who knows all about her mother's struggles with booze and drugs, yelled back angrily: "What about you? You're the one who's destroying us! You're the one who's a mess!

"If you can do drugs and booze, so can I! Now you're demanding I go to rehab. If I go, you're going too!"…

According to the source, mother and daughter are outpatients at rehab centers in Malibu that are 15 miles apart. The facilities allow Whitney and Krissi to go home at night instead of keeping them under continuous supervision.

When treatment is complete, Kirssi will continue working on a reality series that Whitney arranged for her, said the source.
[From The National Enquirer, print edition, May 23, 2011]
It's not inpatient rehab, but it's a definite start. I wonder if Krissi's reality show will even mention that she was in rehab, or if it will be as phony and manufactured as most all other reality shows and just leave it out. (I think I just answered my own question.) Krissi hasn't tweeted anything since May 3, so that tends to support this story.
There was news that Whitney Houston was banned from all Prince concerts after she made a drunken ass of herself on stage twice, once with opening act Chaka Khan and another time with Prince himself. Prince's people have issued a statement saying that's not true, though, and that Whitney is always welcome at his shows. They do acknowledge that she may have been banned earlier though, "but it did not come from Prince." ha!
Whitney and Krissi are shown on 2/12/11. Credit: PRPhotos. Whitney is shown performing in Copenhagen on 6/4/10. Leger dresses are only for the super skinny! Credit: Fame