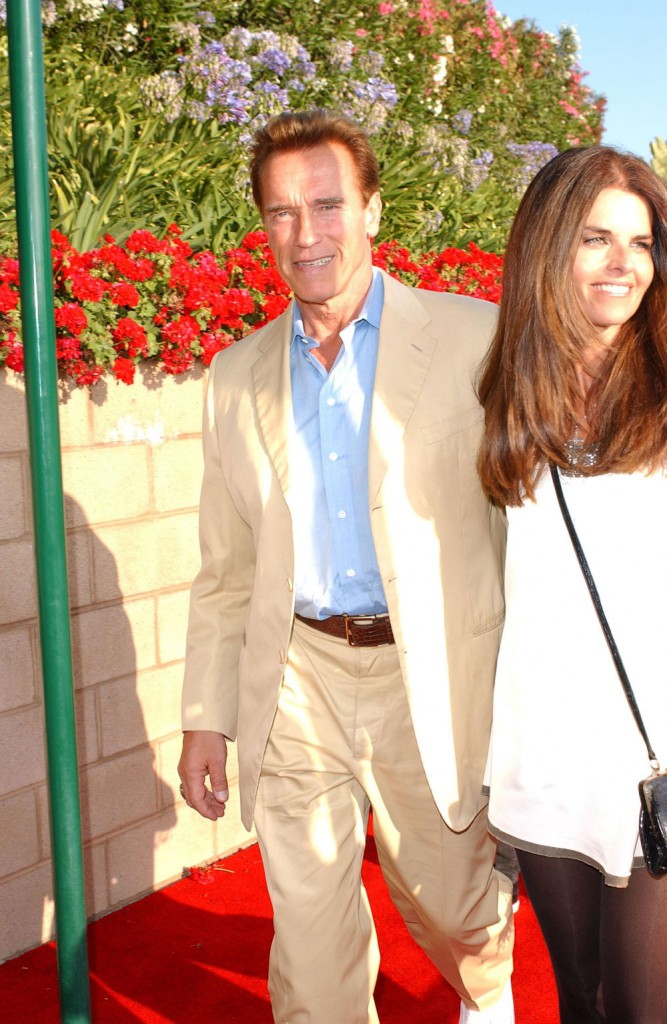 The Arnold mistress that got lawyered up with Gloria Allred, Gigi Goyette, has gone to the National Enquirer and given a very detailed account of her affair with Arnold Schwarzenegger, which began when she was just 16 and was rekindled many years later when he was newly married to Maria Shriver. They supposedly had a seven year affair, with sex sessions that sometimes went down right under Maria's nose. Gigi says that Maria had no clue, and that she met her and Maria was very nice to her. Plus Gigi had a female friend who confessed to sleeping with Arnold too, and she suspects he was sleeping with at least one other woman. Goyette gave the Enquirer some cheesy bikini photos of herself and she looks pretty trashy and fame-hungry. She also has photos with Arnold to support her side of the story. She's probably the second in a long line of women we're about to meet. As we heard earlier today she's also told the British press she knows of at least a dozen other women that Arnold slept with during his long marriage to Maria.
For all of you who have questioned what Maria knew – I believe that she could have been in the dark this whole time. Smart women have been fooled by sweet-talking cheating husbands since the beginning of time. It's our tendency to trust the men we love and there is no reason to trash Maria because of her famous political family and misplaced loyalty. (In hindsight.)
However, I do have to mention that the Enquirer's source claims to have secondhand knowledge that Maria found out about Arnold's affair with a friend of hers. That detail is near the bottom of the quoted text below. Maybe she thought it was an isolated thing and that he'd gotten it out of his system. Who knows what kind of lies he fed her.
Here's part of The Enquirer's story, with more in their print edition with Oprah's love triangle on the cover:
On when she was 16 and hooked up with a then 28 year-old Arnold
"I'd made love before, but never with anyone like Arnold. He was a perfect Adonis – he had the most amazing body I'd ever seen in my life!"

On how they had sex again in 1989 in the same hotel where Maria was staying
Arnold had been married to Maria… three years at the time, but he still made a beeline for Gigi…

"He leaned over to me and, in a whisper, asked if I wanted to come up to his room for a nightcap." It was the start of seven years of secret sexual trysts. But that night Arnold didn't want the type of sex they'd enjoyed when Gigi was 17.

Arnold tried to pull a Clintonian "it's not sex sex"
"I gave Arnold a massage, and then we had oral sex. Arnold explained that he couldn't have full intercourse – just what he called 'outercourse,'" Gigi recalled.

All that flew out the window the next year
Gigi returned to the same event the following year and checked into [a hotel]. Her heart sank when Arnold arrived not only with his wife, but his in-laws…

"I was in the lobby when they walked in, and Arnold introduced me to all of them. Maria shook hands with me. She was polite and friendly, but I was dying!"

Later that night, the group met in the bar and smoked cigars, Gigi said.

"Finally, Maria left and Arnold whispered to me. 'Go to your room. I'll see you there,'" Gigi recalled.

When he showed up, Gigi expressed her worries and meeting in the same hotel where his wife was staying.

"But Arnold took me in his arms and neither of us could deny our strong attraction," she said. "He stayed with me for an hour and we had the most amazing sex session. Then he went back to Maria."

On how he invited her to the Total Recall set but was screwing an actress there too
Arnold invited Gigi to Mexico City where he was still making "Total Recall," she said.

She flew down with her mother, and after they had a sushi dinner with Arnold, he called Gigi in her hotel room and invited her to his room for another "nightcap."

"I gave him a massage and we made love for two hours until he made the excuse that he had an early call on the set."

But the trip ended badly when Gigi suspected that Arnold was having an affair with an actress.

"I was supposed to have dinner with Arnold one night, but he canceled at the last minute. I found out later that he was having a 'private rehearsal' with an actress instead."

Her friend was sleeping with Arnold too and Maria found out
Gigi claims she got hit with a huge bombshell while having dinner with a new pal…

"My friend said she'd made love with Arnold in a car. But somehow Maria found out. Arnold then got rid of the woman," Gigi said.

Gigi ended her affair with Arnold in 1996 after falling in love with another man.
[From The National Enquirer, print edition, May 30, 2011]
This is a small glimpse into Arnie's M.O. He introduces a lover to his wife like she's just a friend and then screws her for an hour and goes back to his wife. He invites a mistress to join him in Mexico even though he's married, and then proceeds to ignore the mistress for some actress he's screwing on the side too. It's all really skeevy and underhanded, and there's no reason to blame his poor wife for sticking by him and believing him. We don't know how he acted behind closed doors or what he told her.
Update: As Roma pointed out in the comments, the mistress claims that she suspected Arnold was having an affair with an actress in his 1990 film Total Recall, with whom he had a "private rehearsal" session one night. His costars included Sharon Stone and Rachel Ticotin, who is now on Law and Order: LA. He seems to have a preference for brunettes, not that it matters, and Sharon is a blonde. Ticotin was single at the time.
Here's a picture of the woman from the Enquirer cover. She looks pretty trashy, but she was cute when she was younger. You can see another photo of her with Arnold here.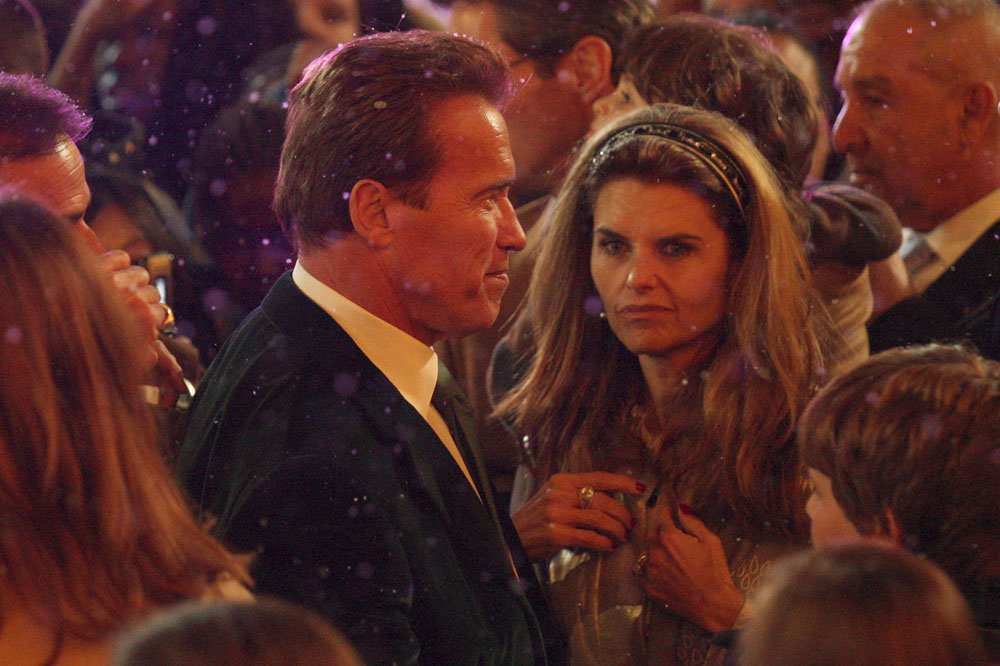 Header photo from 2007. Photo above from 2009. Credit: WENN.com