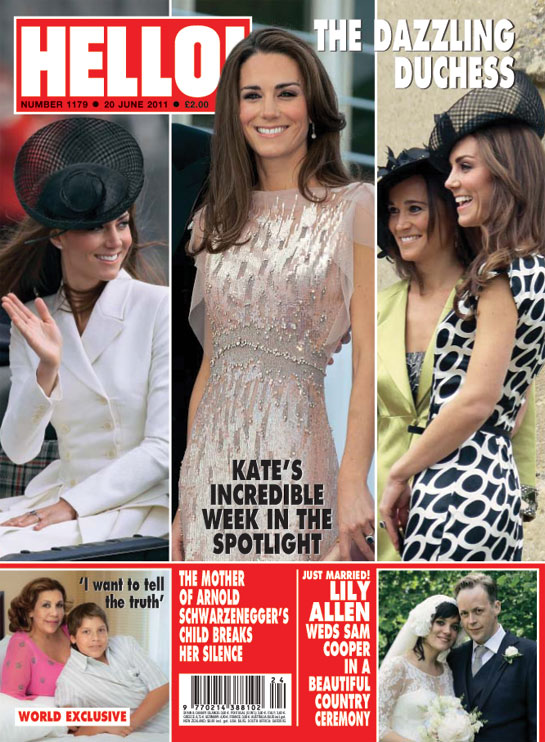 Arnold Schwarzenegger's former housekeeper mistress, Mildred Beana, has an interview and photo spread in the upcoming issue of Hello! Magazine. They have multiple photos of her posing with her and Arnold's now 13 year-old son, Joseph. Mildred has been in hiding to date and as far as we've heard she hasn't even returned to her home, where the press were camped out waiting for her after the scandal broke in mid May. (It's possible they've all moved on by now, though.)
Hello! has some details online of Mildred's interview along with a larger photo of her with Arnold's son. (It's the small photo to the bottom left on the cover and you can see a larger photo on Hello!'s website.) I'm surprised she's coming out now and assumed that Arnold would throw a bunch more money at her to ensure that she never spoke to the press. We've already heard most of the story, though, and Mildred confirms the detail that Star Magazine reported – that Maria had her suspicions and was the one to confront Mildred. She also claims that Arnold never heard it from her that he was the boy's father, and that he didn't find out when the boy was just a toddler, as was reported. The way Mildred tells it, she figured out that Arnold was Joseph's father, Arnold never figured it out and may have suspected but didn't say anything to her about it, and Joseph didn't know Arnold was his dad until his grandmother told him about it a year ago. So if Arnold never knew, why did he put a down payment on Mildred's house, give her $10k a month over her salary and lavish gifts on her family? Was it just because she was giving him some on the side? It sounds like she's lying to me.


Here's what she said, and I've added bolded headers:
When it was revealed that Arnold Schwarzenegger had a 13-year-old child with a trusted member of the family's domestic staff, the world let out a collective gasp.

The mother, housekeeper Mildred Baena, has since been in hiding.

But with fictitious stories circulating in the media, she has decided to set the record straight, and is giving what will be her first and only interview exclusively to HELLO! magazine.

She is joined by the other protagonist in this distressing drama, son Joseph, who has dealt with the events of the past few weeks with a maturity way beyond his years.

The boy found out a year ago that Arnold was his dad
When his grandmother sat him down one year ago to explain that Arnold Schwarzenegger was his father, he exclaimed: "Cool!".

And his mother said the young boy is looking forward to building a relationship with the former Hollywood star.

Guatelaman-born Mildred revealed that she realised the truth once her son started to resemble the former Governor of California.

"It was as Joseph grew and I started to see the resemblance that I wondered – but It became more apparent as time went on," she said.

She claims to have never told Arnold he was Joseph's father
"I knew Arnold was the father, and maybe as Joseph got older and began to look like him, he [Arnold] wondered. But he never said anything to me."

On how she told Maria afer Maria confronted her about it
She also revealed that Marie [sic] Shriver, Arnold's now ex-wife, had started to put two and two together when she heard whispers in the household about the pair's similarity.

"She would say things like, "I'm here if you need to talk." I sensed something was up. I have so much love and respect for Maria.

"Finally, she asked point blank."

But it was Maria's actions that shocked Mildred.

"She was so strong. She cried with me and told me to get off my knees. We held each other and I told her it wasn't Arnie's fault, that it takes two."

Finally, she expressed her sympathy for Arnold and what he must be going through: "He's a good man and I know he's suffering too. He loves Maria. I hope with time they work things out."
[From Hello!]
So how much did this lady get paid for this exclusive interview? She kept her silence for about a month, so she was probably in negotiations for a while. I really think she's lying about Arnold not knowing. It sounds like she's just trying to cover for him. She should have kept her silence. It was bad enough for this kid before his mom sold him out to Hello! along with the story of how he was conceived.
I bought this issue of Hello! on Zinio to see if there are any more details that aren't in the preview. She swears she never told Arnold that Joseph was his son, saying "I never told him. I never told anyone except my mother." On how Maria figured it out, Mildred finally brought Joseph with her to work, other staff started whispering, and then Maria got word of it. As for whether her affair with Arnold was ongoing, she says "It was a few times [with Arnold], 14 years ago." She also confirms that she's been in hiding, and says "I want to bring my son home so he can get back to a normal life." As for her home that Arnold put the down payment on, she says "Just recently I asked for his help to buy a home and he said 'sure,'" but adds that "I pay all the upkeep myself." She concludes "A choice was made many years ago that I kept secret for 14 years, but now it's known and I'm hoping people just leave it alone and we can get on with our lives." Then why did she do a high profile interview like this?