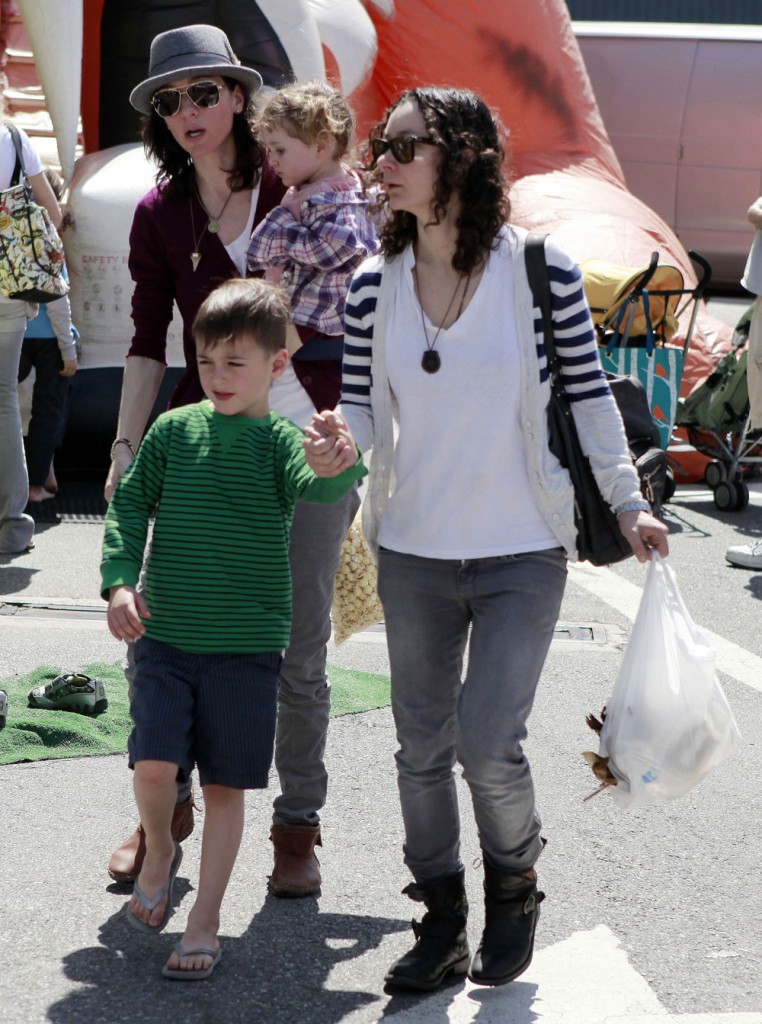 Sara Gilbert, 36, has been with her partner, producer/writer Alison Adler, 44, since 2002 and they have two children together: son Levi, six, and daughter Sawyer, who turns three next month. They each gave birth to one of their children: Levi is Alison's biological child and Sawyer is Sara's daughter. According to the National Enquirer, these two have sadly broken up due in part to busy work schedules. (I know it's the Enquirer, but they usually get these stories about lesser celebrities right.) That means that things could get complicated working out custody, since each of their children has just one of them as their biological mother. I can't figure out if their children have the same biological father, but that probably doesn't matter at all in this case.
Sara Gilbert and her longtime partner, writer-producer Allison Adler, are splitting due to the demands of their thriving careers, sources say.

"Sara and Ali got so consumed with their work that their relationship crumbled," and insider told the Enquirer.

"They have two children and were incredibly happy, but their careers got in the way. Ali was just hired as a writer and co-executive producer on the Fox show 'Glee,' while all of Sara's time is taken up by 'The Talk.'

"They don't want to split the kids up, bu it's an unusual situation because each of them is a biological mom," explained the source. "They're trying to work out a schedule to share custody."

Besides their work issues, Ali was also said to be uncomfortable about Sara sharing details of their lives on "The Talk."

"Neither of them was really in the closet about their sexual orientation, but Ali didn't care for the fact that their private life was being gabbed about on national TV," noted the source.
[From The National Enquirer, print edition, July 21, 2011]
I did find a picture of Sara out with who I think must be Alison on 7/2/11. (In the photos with just the two of them.) It looks like she's the same woman in the photo with their kids (that's from March, 2010) and she's wearing the same glasses and everything. So maybe their split came up suddenly, or maybe they're still together. Those of you who watch "The Talk" might be able to let us know if Sara has talked about her home life much lately.
If this is true hopefully they'll be able to work it out so their kids can still spend time together. I don't think they legally have any obligation to do that, and it's got to be hard on the kids.