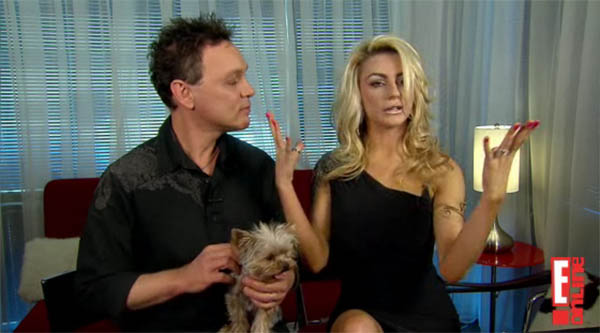 Late last week we saw the first televised interview with 16 year-old pop/country singer Courtney Stodden and her 51 year-old character actor husband, Doug Hutchison, on Good Morning America. It was cringe-inducing the whole way through, especially seeing Stodden's hyper-sexual mannerisms. She pursed her lips and looked like a cat in its first heat while gazing at her husband, who happens to be older than her father. (That video is below if you're interested.)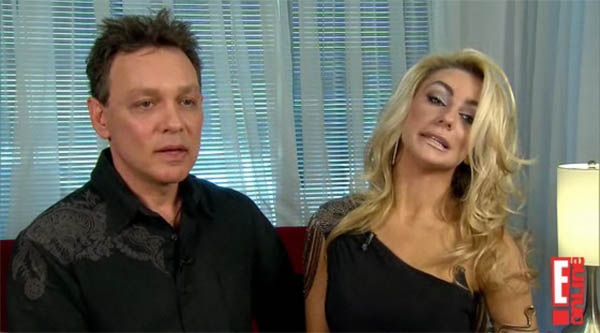 This stomach churning couple has a new interview on a talkshow called Father Albert, airing today. US Weekly has advance details of what they talked about and the stuff Stodden said particularly bothered me. She said that Hutchison was her "college, her acting coach" and a "dream" that so many other girls have. A lot of old perverts have her husband's dream too. Hutchison also said Stodden, whom he met and pursued over the Internet, was a blessing sent to him by God. I don't know any Christians who would agree with that at all
Actor Doug Hutchison's marriage to his much-younger wife Courtney Stodden has been controversial from the start. In an appearance on Father Albert which airs Wednesday, Hutchison, 51, and Stodden, 16, say they were brought together by a higher power.

"God connects us," the Green Mile actor tells host Albert Cutie. "When you meet that someone you love, there's something inside that's leading you towards that person."

So did the aspiring actress remain a virgin until marriage for spiritual reasons? "Yes," she says. "And God blessed me with a beautiful gift. He blessed me with my soulmate."

Another reason the couple didn't partake in physical activity before they were married (with Stodden's parents consent), was that she was a minor; if they were to have had sex prior to saying "I do" in May, it would've broken the law.

The young newlywed adds that she's not missing out on anything by settling down at such a young age. "[Doug] is my college. He's my acting coach. I have a built- in acting coach!" she gushes. "How many girls [would want that]? That's their dream, and I fell in love with my dream."

And how does she respond when other women call her a slut? "It's kind of funny, because if a woman doesn't call me that when I walk by, I think I need to go home and redo my hair because I don't look as good as I did when they call me that," she admits.

But Hutchison doesn't see his wife as immature. "Courtney is ageless," he says. "And she's right when she says she's an old soul. And I joke around with her, I say, one of the reasons we work is because Courtney is 16 going on 36, and I'm 51 going on 21. So we conversely sort of meet somewhere in the middle."
[From US Weekly]
Well I guess we should blame this poor girl's parents for marrying her off to such a creepazoid and sanctioning this relationship, which she somehow connects with fame. The last we heard about these two they were hoping for some kind of reality show, and all I can say is that I hope that whichever network picks it up is heavily boycotted. It's one thing to show polygamist marriages and people who have freaky sex or weird eating habits. It's entirely different to showcase a guy who would be a registered sex offender if he hadn't married his target.
For those of you wondering if this woman is actually 16 and not mid 30s, E! uncovered her birth certificate and I was able to independently verify (via someone on Facebook who made fun of her before she was famous) that she's just 16.
After I wrote all that I saw this interview with these two on E! news describing how they met. If you just try and think this girl is 32 instead of 16 it's just annoying instead of disgusting. E! has the highlights. I can't even.

And on Good Morning America:

Update: thanks to HotLatino for this gif from Gawker which illustrates what I was just saying about this chick.