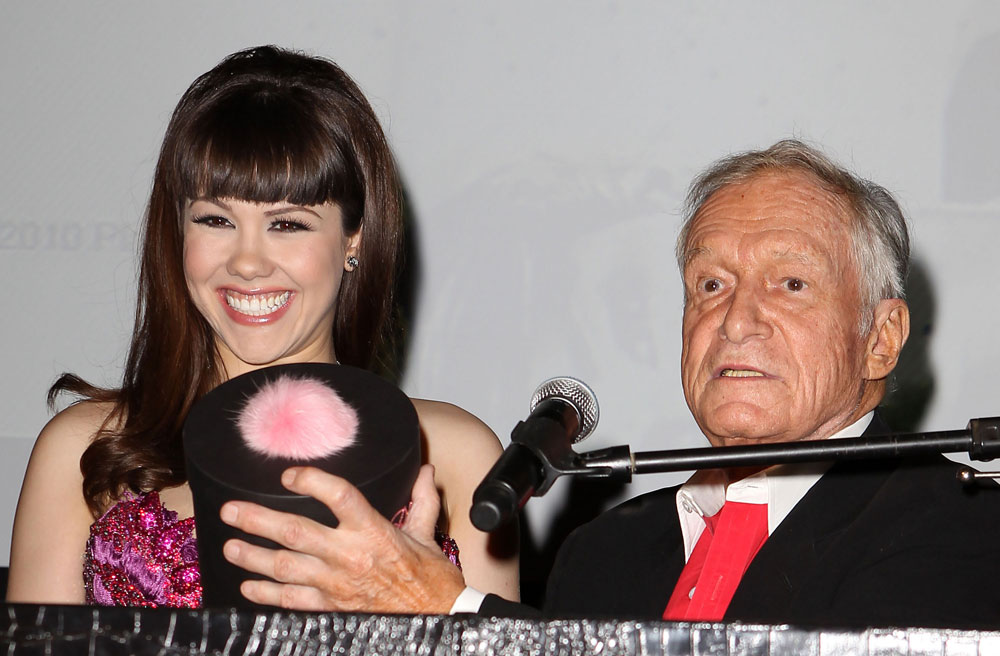 Hugh Hefner is shown with the playmate of the year, Claire Sinclair, on 5/6/11
Last week Hugh Hefner's runaway bride Crystal Harris went on Howard Stern to say that she'd never seen Hef naked, that they only had sex once and that it lasted 2 seconds. "He isn't half as sexual as you'd think," she added. Hef then went on Twitter to deny that was the case, tweeting in part that "The sex with Crystal the first night was good enough so that I kept her over two more nights…. Crystal lied about our relationship on Howard Stern but I don't know why." He later wrote that he loved her but that he "realized she really didn't love me."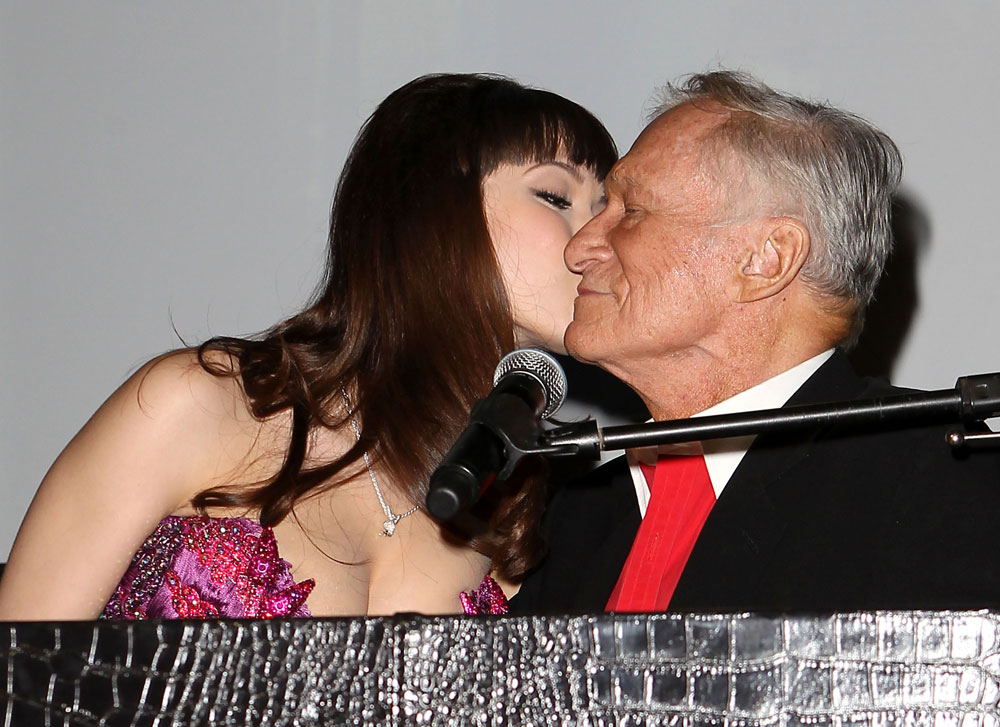 Well Crystal has apologized on Twitter without fully taking responsibility. She wrote "The Stern interview scared me, he's harsh. I was unprepared and blurted out things I shouldn't have said, I'm sorry." Anyone who is surprised by Stern questioning them about their sex life is either truly clueless or lying.
Hef then defended himself on Twitter, yet again, to give more specific details of his sexual prowess. He first diplomatically responded to Crystal's apology, writing "I don't blame Howard. Crystal shouldn't have been booked on the show at this sensitive time." Then he wrote "For the record, I have sex on a weekly basis, and did throughout my 2-and-a-half years with Crystal." He followed up with "My sex life involves more than one partner & has since the end of my marriage in 1998." (This was probably in response to Crystal crying that she was "not the only woman in Hef's life," to which he previously countered that she loved.)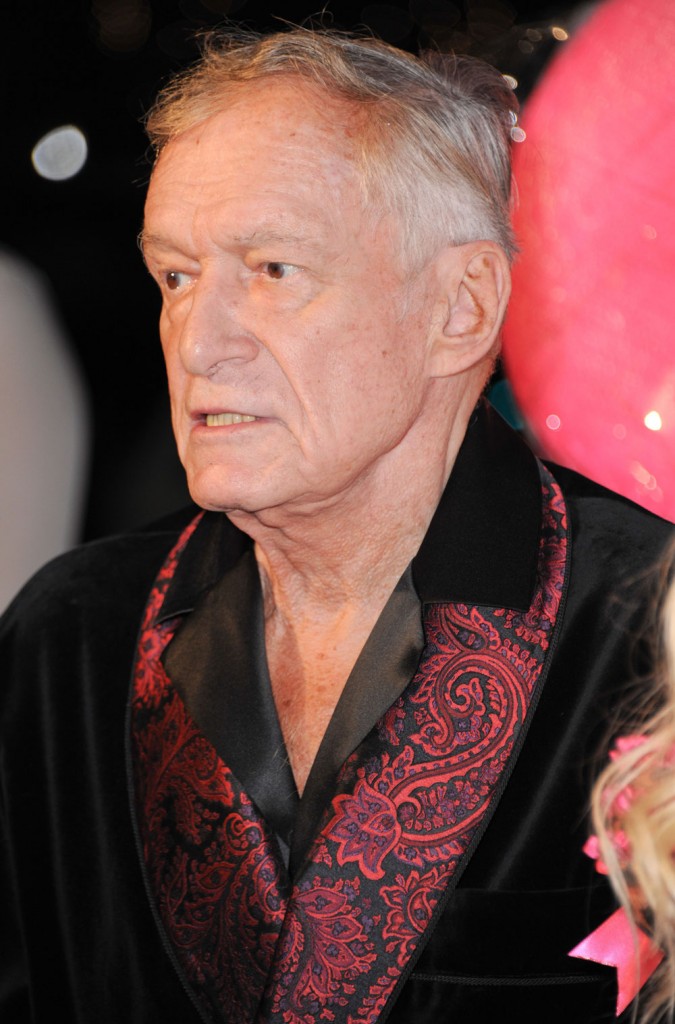 We didn't need that visual, but that's pretty much what all the other women he paid to live in his house have said over the years. Hef is slowing down, though. He used to have sex parties twice a week. In an interview with the Daily Beast earlier this year, Hef confirmed a former bunny's account that he has unprotected sex, but claimed that it was no problem since the women were tested for STDs. "One of the ways that you resolve that problem is to have sex with people who don't have sexually transmitted diseases." This guy's money and influence have allowed him to be stuck in a 70s bubble he's built in which the women never age and he can maintain the facade of a sex god who doesn't have to get with the times and wrap it up. It's clear that he's upset that anyone would call him on that illusion. It's probably one he works hard to maintain in his own mind too.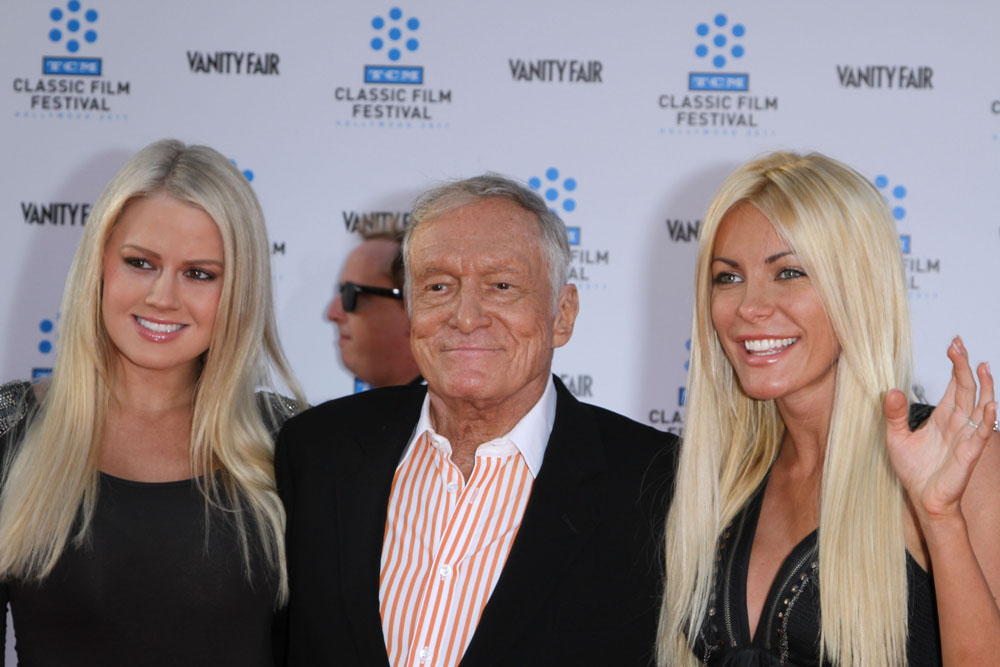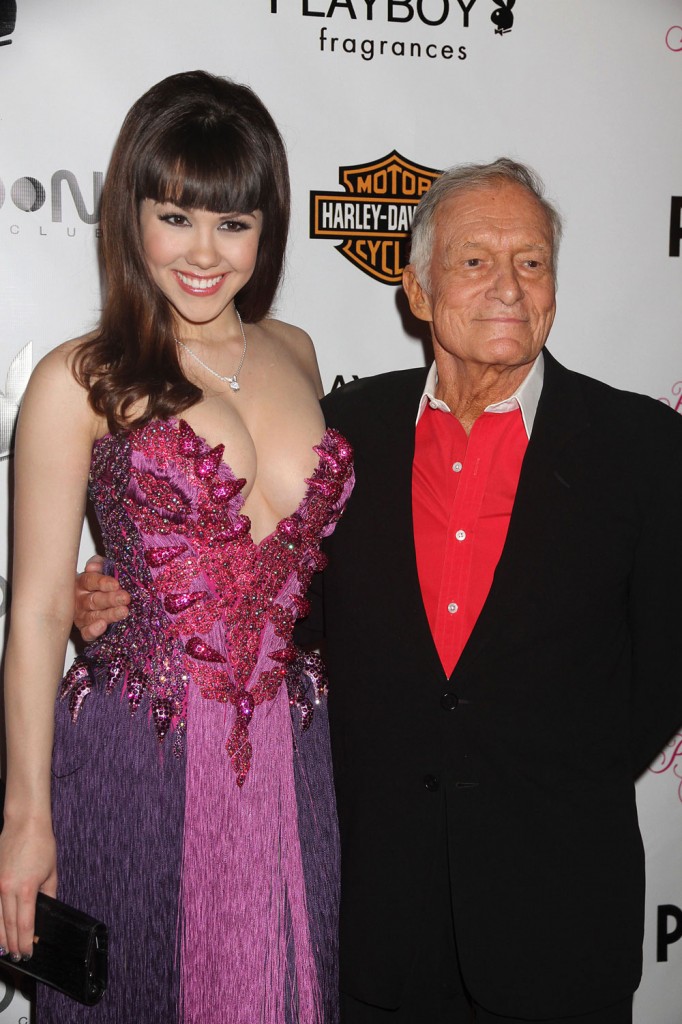 Hugh Hefner is shown with the playmate of the year, Claire Sinclair, on 5/6/11. He's also shown on 6/25/11 and with Crystal and Sophia Berglund on 4/28/11. Credit: WENN.com