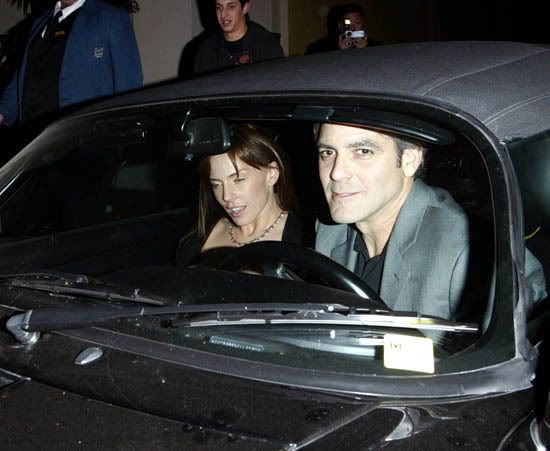 George Clooney and Krista Allen in the old days: 12/18/03. Credit: Bauergriffinonline
There's an age old dating question that asks what it means if you are the woman (or man) someone keeps coming back to everytime another relationship ends? Are you a lap dog? Desperate? To quote Amy Winehouse, "his same old safe bet"? Or are you their true love that they're just too scared to make that lifelong commitment to and patience will pay off?
One should ask Krista Allen how she would categorize herself. After the media frenzy that was George Clooney's relationship with the cocktail waitress/stripper from Vegas, Sarah Larson, George has scuttled back to the patient arms of Allen.
According to the Daily News, friends say the two have been quietly seeing each other again. Krista, 37, and George, 47, began their long-running on-again-off-again romance in 2002, when Clooney cast Allen in Confessions of a Dangerous Mind. They were soon seen zipping around town on his motorcycle and dated for two years until Krista broke things off in 2004. Clooney then moved on to model Lisa Snowden, before he and Krista reconnected again in 2006. When things didn't work out, Georgie began dating waitress and Fear Factor winner Sarah Larson and the rest, as they say, is history.

"Krista has always been there for him," a friend says. "She admits she just can't get over him….George really loves her."
[From OK! Magazine]
I don't have a secret photo album under my bead with cut-out pictures of George Clooney's head pasted on the body of grooms in magazine wedding photos or anything, but Clooney has always been kind of a romanticized figure to me. He's got a great old Hollywood thing going on that I can't help but be a little drawn to. But just like so many of the old Hollywood types, he seems like little more than a playboy and eternally confirmed bachelor. The only serious thing about commitment and family I've ever heard him say is that he's not into it.
Allen has a son from a previous relationship that OK! says their source claims Clooney adores, but that means they know each other pretty well so it's not just Krista's life George keeps hopping in and out of. Krista must be pretty devoted to let him keep coming back, and sometimes, persistence gets results. Third time's a charm, but keep in mind, Krista, there's also three strikes, you're out.
Here are some photos of George Clooney taken in Lake Como, Italy for a golf magazine photo shoot at the Menaggio golf club. He is shown with the club's president Vittorio Roncoroni. Credit: OLYCOM/bauergriffinonline.com