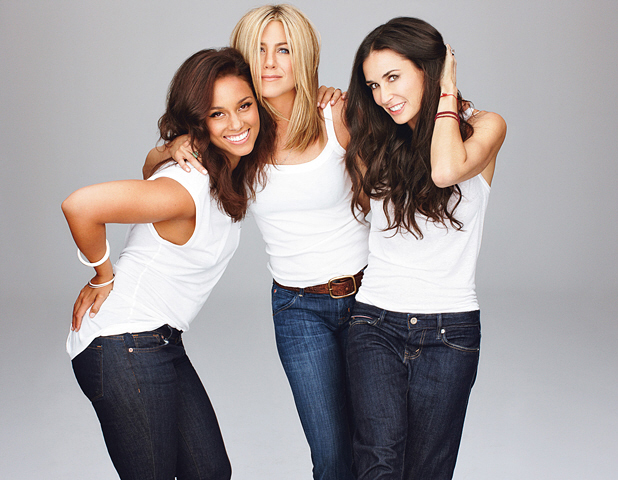 Oh, THIS is interesting. The October issue of Glamour Magazine features Jennifer Aniston, Demi Moore and Alicia Keys. The point of getting these three women into a photo shoot together is so that they can raise awareness about breast cancer, and promote their Lifetime project, Five. Five is a two-hour movie which is really five short films directed by these women on the theme of breast cancer.
But the idea of these three women in a room together… it's fascinating. You know that both Aniston and Keys are homewreckers, right? And Demi… well, she's just in a sucky marriage to a sucky person. Demi also looks very uncomfortable that she's sharing the same lighting as Aniston and Keys, two younger women with much less "work". I wonder what Alicia and Jennifer have to say to each other? Well, both of them are pretty New Age-y and "the spirit of the goddess compels me to Speak the Universal Truth"-like. The full Glamour piece is here, and here are some highlights:
Aniston is "interviewed" by Kristin Hahn, one of her closest friends, and executive producer on Five. Aniston talks about how she and Hahn got involved: "Well, about a year ago, Susan G. Komen for the Cure approached you and me with the idea. We were intrigued by the challenge of creating short stories that would defy audiences' expectation of the subject. We wanted to balance the drama with humor and irreverence because that's what's helped our friends who've faced this get through their treatment…we wanted stories that were informative without being heavy-handed. Oh, and they needed to be brilliantly written. Other than that, our goals were small."

Aniston on raising awareness: "Because we don't yet have a cure, and cancer has grown 30,000 snakes out of its head. We need to go at this Medusa with all the firepower we've got, from research and legislation, to awareness and early detection, to support groups and compassion for everyone who walks through this. We need to show up for them, to talk to them, to not be afraid. We want people to walk away with hope and information but feel incredibly entertained. Cancer affects all of us, whether you're a daughter, mother, sister, friend, coworker, doctor, patient. These films touch on that reality. The film I directed is called Mia, and it's about a woman who takes her diagnosis as a death sentence and gives up—only to discover she's gone into remission. We want people to know it is very possible to conquer breast cancer."

The last time Aniston was "giddy": "Putting my feet and handprints in cement in front of Grauman's Chinese Theatre [on the historic Hollywood Walk of Fame]. That got me giddy! It was a milestone in my career, which was surreal because I still think I'm at the beginning of it. I remember when they told me about the honor, I thought, Really? I mean, I just did Ferris Bueller [the TV show]. I just did Leprechaun! I don't understand! I thought, I just had a year of failures. [Laughs.] I've never lost that feeling of "Oh God, I hope I get this job!" I don't want to get too used to any of this because then entitlement sets in, and that's the kiss of death."

Aniston on being 40, and remembering her 20s: "Being this side of 40 feels like what I should have felt being this side of 25: in my body, in my heart, happy with my life, and OK with whatever bumps in the road present themselves. Honestly, whatever angst-y times I've had came after fame, which we both know was after 22. When I was 22, I was having a ball! I would have nothing to say to myself. [Laughs. ] I was living in Laurel Canyon with my best friends, including you, and we were dreaming of creating things like Five.

Aniston on wearing the same bikinis year after year: "…and I'll wear it for as many years as the strings still tie! Bathing suits now have so much hardware on them that they singe your skin. When you take your bikini off, it looks like you've been branded with crop circles and lightning bolts and words like Gucci!"

Aniston: "I couldn't be in a relationship without … A human being! OK, in all seriousness, I would say I couldn't be in a relationship without equality, generosity, integrity, spirit, kindness and humor. And awesomeness."

Aniston on setting the record straight: "There's not enough space in this article. Not even enough pages in this magazine! The truth is, most celebrities are doing the same things most other people are doing every day…work, have dinner, hang out with your friends when you can, try and keep up with the crazy world we're living in and squeeze in some zzz's. There's not nearly as much stealing and obsessing and middle-of-the-night secret calls to ex-boyfriends and scheming and cheating [as they lead you to believe]. Most of it's just bulls—t, however entertaining."

Demi Moore on how she started on Twitter: "Originally, Ash and I were just playing, seeing what it did and what it meant. I'm intensely private, and I've openly shown annoyance at the paparazzi. That's served in the past to create an image of me where I'm always frowning or looking angry. I saw Twitter as this opportunity to connect with people and actually show a side of myself that is much lighter. And all of a sudden people were getting to know me, and I was connecting with people. At its core Twitter is about sharing, and I think that in life we never feel better or more energized than when we're giving to someone else."

Demi on what makes her "giddy": "I'm an old-school romantic, so I get giddy when Ashton shows me another way of saying "I love you"—any little thought or gesture that's playful or sweet. We leave Post-it notes for each other; some have been sticking up for five or six years! For me, it's the small things. The first day of filming Charlotte, Ashton sent this bouquet of soft blue flowers with a card that said, "I believe in you." I put them in this little room that I parked myself in while we were shooting in the rest of the house, and that was the room that we shot my movie's final scene in. "

Alicia Keys on reality singing competitions: "I used to watch American Idol a little bit. My grandmother sucked me into it, and I was like, "Why am I watching this, Nana?" Initially, I felt like it was showing people that to be an artist you're just supposed to get on TV. But as time passed, and the industry changed, I started thinking of it as an outlet for people who otherwise wouldn't have any opportunity to be heard. Now I think it's a good thing. When you're talented, you're talented."

Alicia calls her relationship a "blessing": "Yes. It's beautiful because rarely, I think, do you find a relationship where you can experience things equally. In fact, I think that's my favorite word and the most important word when it comes to relationships: equality. And that's what we've been able to find. We encourage each other equally. We're excited for each other."

Alicia remembers the exact moment she fell in love with Swizz: "I do remember the exact moment. If I told you, I would have to kill you, but it was something that he planned, and he planned it so beautifully and thoughtfully that in that moment I remember thinking to myself, Oh my God, I'm so in love with him."

On baby Egypt: "My son, Egypt, makes me super giddy, especially when he laughs. His laugh makes me laugh like a maniac! I do think about [what kind of man I want him to be] a lot. He's going to be a man in this world. It's a beautiful blessing that I get to help raise a man. And I want to show him as much as possible."

Why she named her kid Egypt: " It was a time of transition. There were certain people [I was working with] who weren't right. I had friends who weren't right anymore. I was tired and I had overworked myself and burnt myself out. So I went to Egypt by myself. When I saw what was built there, it made me understand how powerful we are, that we can create anything. And I felt like I needed to create things that were timeless too."
[From Glamour]
There are lots of interesting parts to the interviews (which were conducted separately, because I guess Aniston, Moore and Keys didn't want to spend that much time together) that I didn't get to, but you can read the whole piece if you're interested.
My favorite moment, the part that made me LOL? It was Demi! When she was talking about Twitter and she said, "I'm intensely private, and I've openly shown annoyance at the paparazzi. That's served in the past to create an image of me where I'm always frowning or looking angry. I saw Twitter as this opportunity to connect with people and actually show a side of myself that is much lighter." Intensely private? The paparazzi took some photos of her frowning? Poor, poor baby. And now look at her – a famewhore who tweets bikini photos of herself after her husband bones randoms.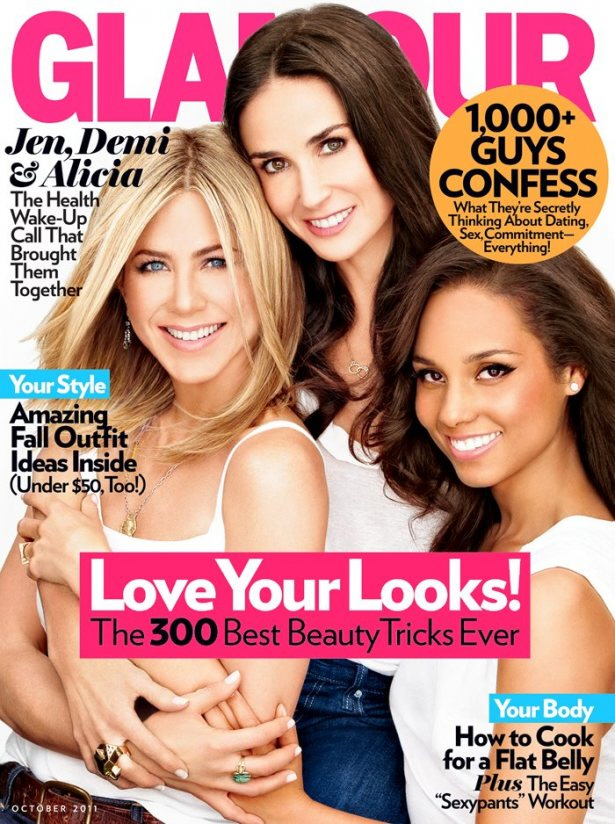 Photos courtesy of Glamour.