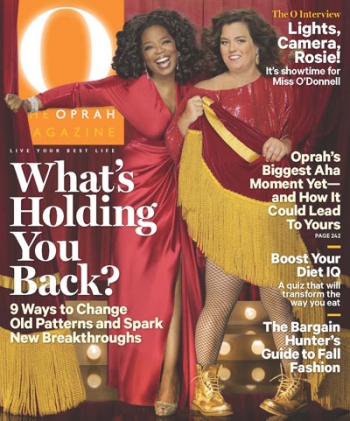 Rosie O'Donnell is the co-cover girl on Oprah's O Magazine this month (because Oprah never lets anyone get the cover unless she standing right next to them as they lick her ass). Rosie is attempting to remake her image after seeming so pissed off at the world when she stood her ground against View co-hostess Elisabeth Hasselbeck, quit that job and then later mildly trashed her then-employer, Barbara Walters. (Who deserved it, but still.) She's got a new show on the OWN network and Oprah has to present Rosie as reformed and back to her old '90s koosh-throwing self. I think that ship has sailed, but admittedly I haven't listened to Rosie on satellite radio lately. Many of you have commented that she's got a great show despite the dumb sh*t she often says.
So here's how Rosie explains away her breakup with her longterm girlfriend, and her anger issues. She tends to place blame on external factors instead of taking personal responsibility, but it sounds like she understands that she needs to change her image.
Rosie O'Donnell opens up to Oprah Winfrey in O, The Oprah Magazine about her split with Kelli Carpenter, how she calmed her rage, why she takes to being a mother-of-four, what led her to the OWN network and more in an in-depth Q&A between the talk show legends.

In the interview, O'Donnell opens up about her 2007 split from ex Kelli Carpenter, calling it "humbling" and "humiliating."

"In the O'Donnell family, no one had ever been divorced," the Exit To Eden star explained.

O'Donnell told a story about their conflicting lifestyles that ultimately led to their split.

"She wanted to play tennis at the country club, and I don't do country clubs. I tried," O'Donnell said. "They made an exception for a gay family, and we joined. It was a big thing: 'They let in a gay family – whoo!'

"So I show up to play with her, and somebody comes out and says, 'You can't play unless you have tennis whites.'"

O'Donnell told Winfrey that receiving estrogen treatments has helped her stop seeing red all the time.

"I had, like, zero estrogen. And since I got some, I've been able to function more normally," O'Donnell said. "I've stopped being so angry. You know, I think I had a lot more rage than I was aware of.

"But I've gotten back access to my other feelings. I'm not cut off from my emotions anymore."

O'Donnell held little back in discussing her four children, admitting that she often connects better with the young'uns than she does adults.

"The truth is, I'm a little socially awkward — with adults, I still need Relationship 101. But I was always comfortable around kids and always wanted a family of my own.

"I would die for any of my children, and, more importantly, I would live for any of them."

O'Donnell returns to the air with the debut of The Rosie Show on OWN next month; Winfrey gave her prize acquisition huge words of praise, saying that "in 25 years of doing my show, only one competitor ever seriously challenged me in the ratings: Rosie O'Donnell.

"From the day Rosie took her place among the crowded field of talk show hosts, I knew she had the 'It' thing," Winfrey said.

O'Donnell returned the praise, admitting she passed on a network deal to hitch her wagon onto Oprah's brand.

"I was actually on the verge of signing a new deal with NBC, and — this probably sounds kiss-assy, but it's true — just before I was about to sign, I remember saying to my agent, 'Doesn't Oprah have her own channel? Can we call there?'

"If I was going back to entertaining, I wanted to work with you," O'Donnell said.
[From Radar Online]
I find it very hard to believe that Rosie was on the verge of signing a deal with NBC. She had a live variety show on NBC in the fall of 2008 that was absolutely unfunny, awful, and completely tanked in the ratings. Oprah kind of says it all when she explains that she's never had competition from any other talk show hostess. Now she's Rosie's boss, and I'm sure she's relishing that.
As for the estrogen stuff causing mood problems, I've heard that before. It must be really tough to go through menopause. US Weekly has some more quotes from the interview in which Rosie says that hormone shots changed her life.
There's a promo clip for Rosie's new shown on the OWN website. It's kind of disjointed and annoying.
Oh and the cover is just so fug. Rosie is holding a stage curtain over her front, but it looks like she's lifting up her dress to reveal fishnets and gold combat boots with her toes pointing inward. It's awful and they made her all clownish while Oprah got to look glam. Typical.