Rosie O'Donnell: hold Robin Roberts responsible for Chris Brown's freakout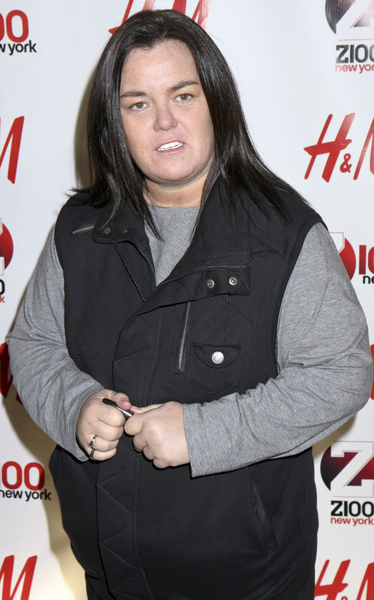 Chris Brown currently has the number one album on the Billboard Hot 200. He's not doing as well on the iTunes charts, where his CD is at number 79, but I think it's safe to assume that his career has recovered despite the fact that he choked, bit, punched and left Rihanna for dead about two years ago and still speaks about it as if he was the victim of some negative event that happened to him. Still, radio hostess Rosie O'Donnell thinks that Brown is "held to a different standard," and that it has to do with his race. She also said Robin Roberts should question whether she's responsible for Brown freaking out and throwing a chair through a window after she asked him about his abusive past during an interview on Good Morning America two weeks ago.
Rosie: I can name 25 stars who trash dressing rooms, who trash hotel rooms. I just don't know why this kid seems to be held to a different standard than anyone else.

Producer: Is there a racist thing here?

Rosie: I totally think there is. I also think that's why he felt he was safer with Robin Roberts.

Producer: Is it because he's a rapper? [sic] I'm thinking of Kanye West… Black rappers are not allowed to be angry and then recover from it.

Rosie: I do think that there is a societal paradigm in which you have to be an angel or a thug if you're a black male… Tupac Shakur there's a whole series of books written on the fact that he struggled between his image of a poetic angel or a drug dealing thug.

I actually felt bad for Chris Brown during that interview, and I felt mildly angry at Robin Roberts. I wish I had her email… I feel like going 'can you take a look at this again and see if maybe you find in any way your responsibility in this at all?'

The next day she's like 'We invited him to come back, but he said no.'

I would not blame him. Part of me wanted to take a chair and throw it through The View after all that happened.
[From Rosie's show, video below, via Popeater]
First of all, how stupid are Rosie and this producer woman for calling Chris Brown a rapper? He's an R&B singer and he does pop music. I've never heard him rap up to this point, but I googled it and he does have a recent song with Lil Wayne and Busta Rhymes where he attempts to rap. Still, that's not what he's known for at all. That's like calling Usher a rapper.
Second, I think it's safe to assume that Rosie identifies with Chris because she has anger issues too. That's all I can take away from this. I'm not saying she's physically abusive, we've never heard that about her, but I would bet that she's flown off the handle in her day.
It ridiculous to say that the pressure is coming down on Chris Brown because he's black. First of all, the kids' career isn't suffering at all and he got to go on Dancing With The Stars, also on ABC, after he trashed their GMA studio. People are still questioning Chris because he keeps acting like a little bitch and refusing to take responsibility for his actions. If he never would have thrown that chair through the window we wouldn't be talking about him, but the dude did it and he ripped off his shirt and ran around outside like Bruce Banner.
Also, how can Rosie ask Robin Roberts to take responsibility for Chris freaking out and throwing things like a bad toddler? Roberts very gently asked him about what happened with Rihanna, and her questions were approved ahead of time. Roberts wasn't accusatory at all, (you can watch that interview here) and it was a very typical interview about a high profile incident but somehow Brown couldn't hack it and he freaked out. How is that Roberts' fault in any way whatsoever? This just goes to show Rosie's line of thinking. If someone gets angry, it's the other persons fault for "provoking" them, and when people think it's inappropriate when someone freaks out and breaks things they're somehow biased against that person. It definitely sounds like she identifies with Brown.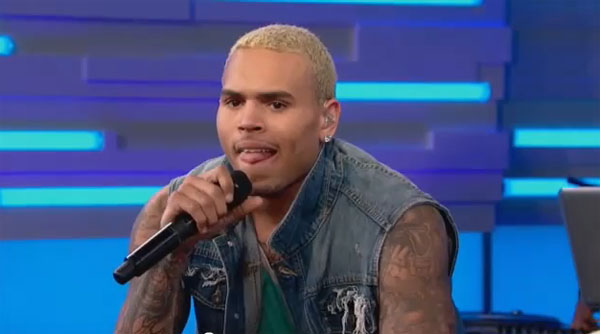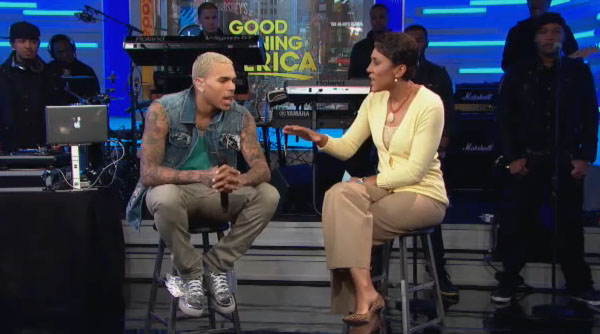 Header photo credit: PRPhotos
Written by Celebitchy

Posted in Abusive, Chris Brown, Photos, Robin Roberts, Rosie O'Donnell

- Mariah Carey lip synced on American Idol [CDAN]
- Colin Firth is looking good [Lainey Gossip]
- Internet celebrity charged with murder! [D-Listed]
- What is Paz Vega wearing? [Go Fug Yourself]
- New bachelors on The Bachelorette [Reality Tea]
- Goodbye to The Office [Pajiba]
- Bachelor Sean's fiance cheats on him [Evil Beet]
- Britney Spears out with her man [Popsugar]
- Nina Dobrev works it [Popoholic]
- Cindy Crawford needs to lay off the 'tox [Celebslam]
- Who said it: Carrie Bradshaw or The Dalai Lama? [Buzzfeed]
73 Responses to "Rosie O'Donnell: hold Robin Roberts responsible for Chris Brown's freakout"