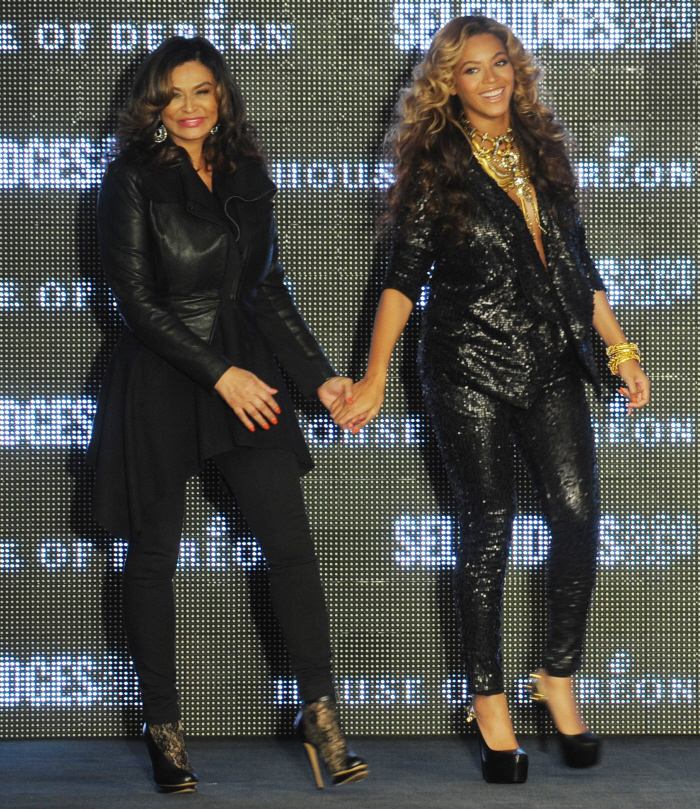 The more photos I see of Beyonce post-VMA-bump-debut, the more I think that Beyonce was actually wearing a prosthetic bump for the VMAs. I know I'm throwing shade on the Bey-bump, and I know this makes me a Bey-hater, etc. But it just doesn't add up – in photos last week, Beyonce seemed to be accentuating her barely-there bump with a weird little puffy babydoll, and now, in these photos from London Fashion Week, Bey's bump once again seems smaller than at the VMAs. Bey is pictured with her mom, Tina, as they debuted their latest line for the House of Dereon. Bey wore this sequined "suit" with a deep V-neck that… is kind of a weird choice for a pregnant lady. Still, Beyonce sounds beyond thrilled to be knocked up:
Beyonce hit up London Fashion Week this past weekend to launch the latest House of Deréon line. The line was described as "global nomad," and according to B, anyone — even pregnant ladies like herself — can wear the clothes.

"What I'm wearing today is part of the collection and it's not supposed to be, but it actually is really good for … maternity," the singer, dressed in a sparkly black pantsuit, told CNN.

B explained that she and her mom, Tina Knowles, started working on the line at least six months before her pregnancy, so they hadn't planned maternity clothes specifically. "But we do have some things that I am still trying to rock," she admitted.

"Actually, I am having so much fun, it has been the most fun time now that [my pregnancy] has been announced and I don't have to, you know, it was really difficult to conceal," she continued. "But now that I can be proud and excited about it, I'm having so much fun shopping. It's great."

Beyoncé has always been a trendsetter in the world of fashion, and that isn't going to change just because she's going to be a mom. "I just feel like it is often within," she said. "My mother has always told me that beauty comes from within and what's exciting about being a woman is you can say, 'Today … I feel really conservative, today I'm feeling classy. Today, I am going on a date and I want to just be a showstopper.' And you know there is this variety of beautiful clothes that can bring out whatever you feel inside," she added. "But it comes from here and you should wear your clothes, they shouldn't wear you."

The singer also shared that she isn't sure whether to buy pink or blue clothes as she doesn't know the baby's gender yet. Her mom, however, is just happy about the news. "I am so delighted. I'm over the moon," she gushed.
[From MTV]
Beyonce isn't saying anything about the gender, but Media Takeout is. They claim, "We spoke to someone affiliated with Christina Louboutin and learned that Jay Z's sister ANNIE placed an order for some CUSTOM Christan Louboutin booties. The bootie, which are a HOT COMMODITY among celebs, take approximately 6 months to receive." The booties were ordered in pink! Here's the thing about gender speculation: the parents can't come out in favor of one gender because it will be rough if they get the other gender. The other problem with gender speculation: I don't even think Beyonce is far enough along for a competent doctor to identify gender.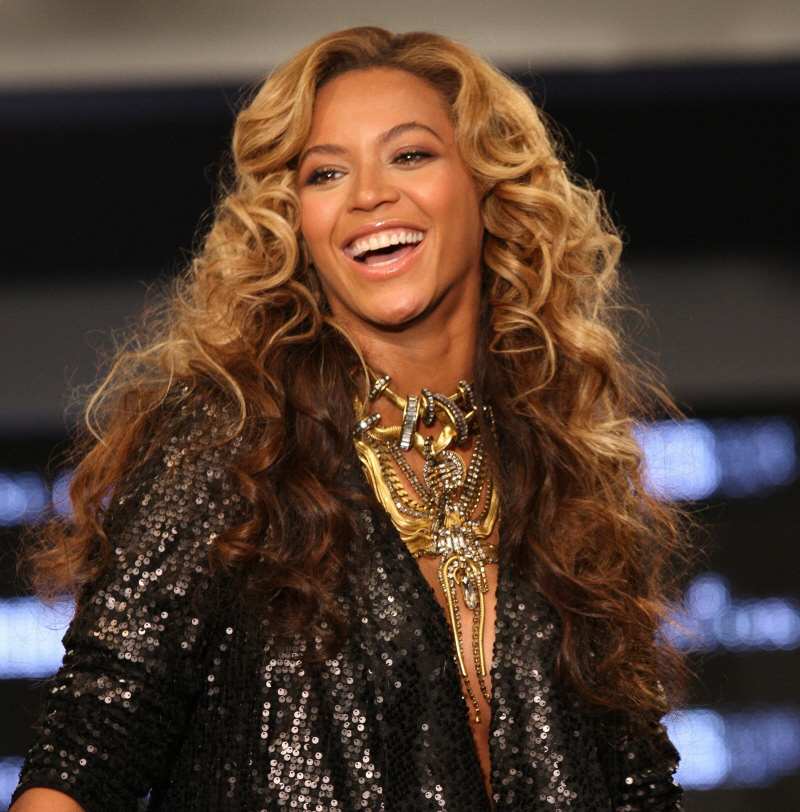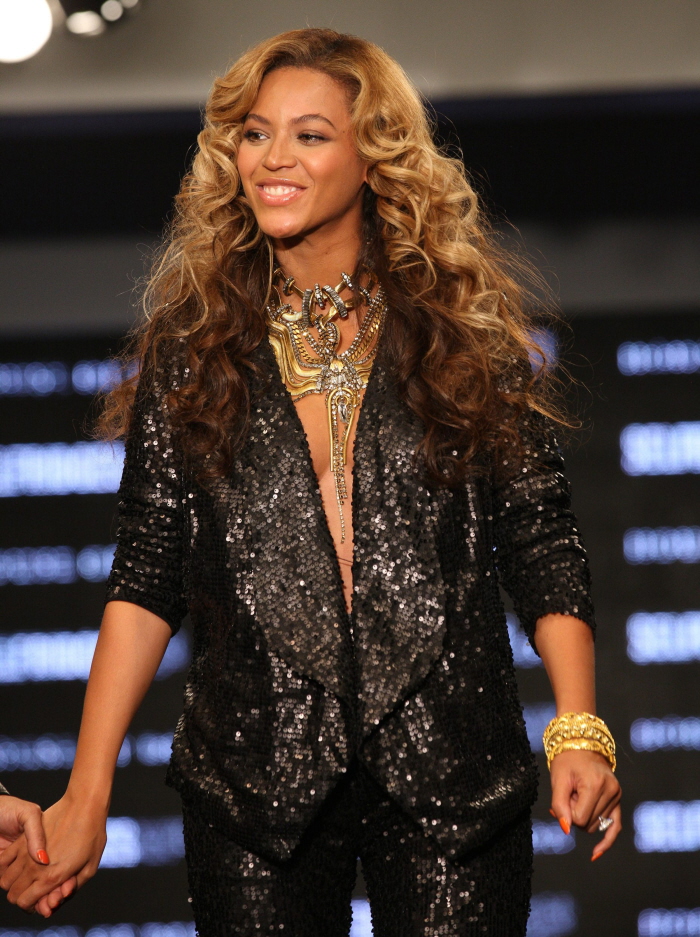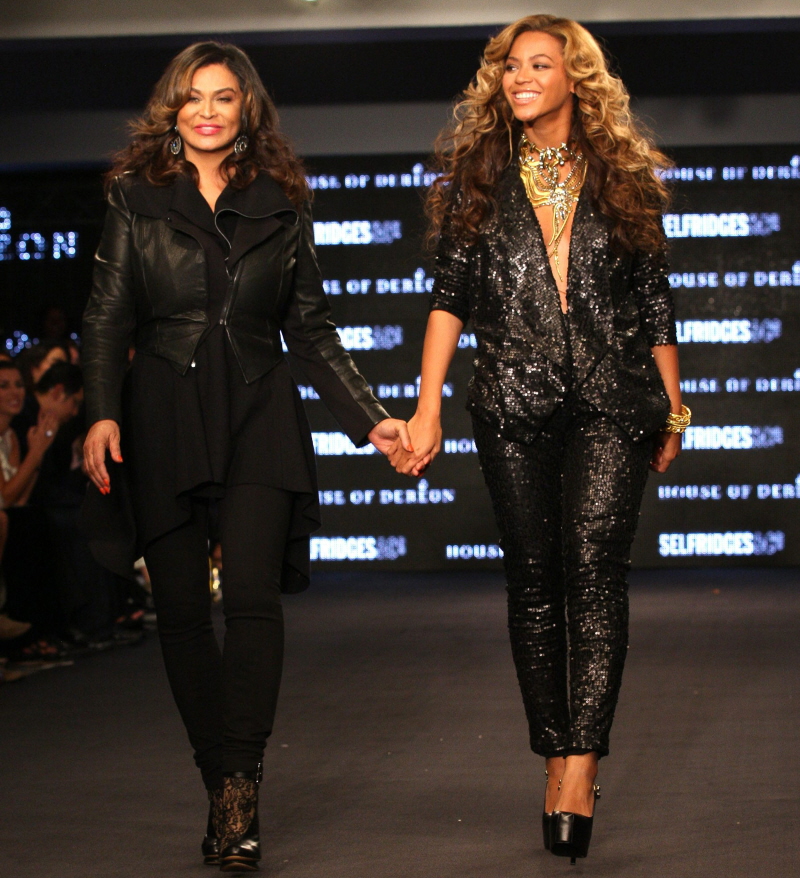 Photos courtesy of Fame & WENN.