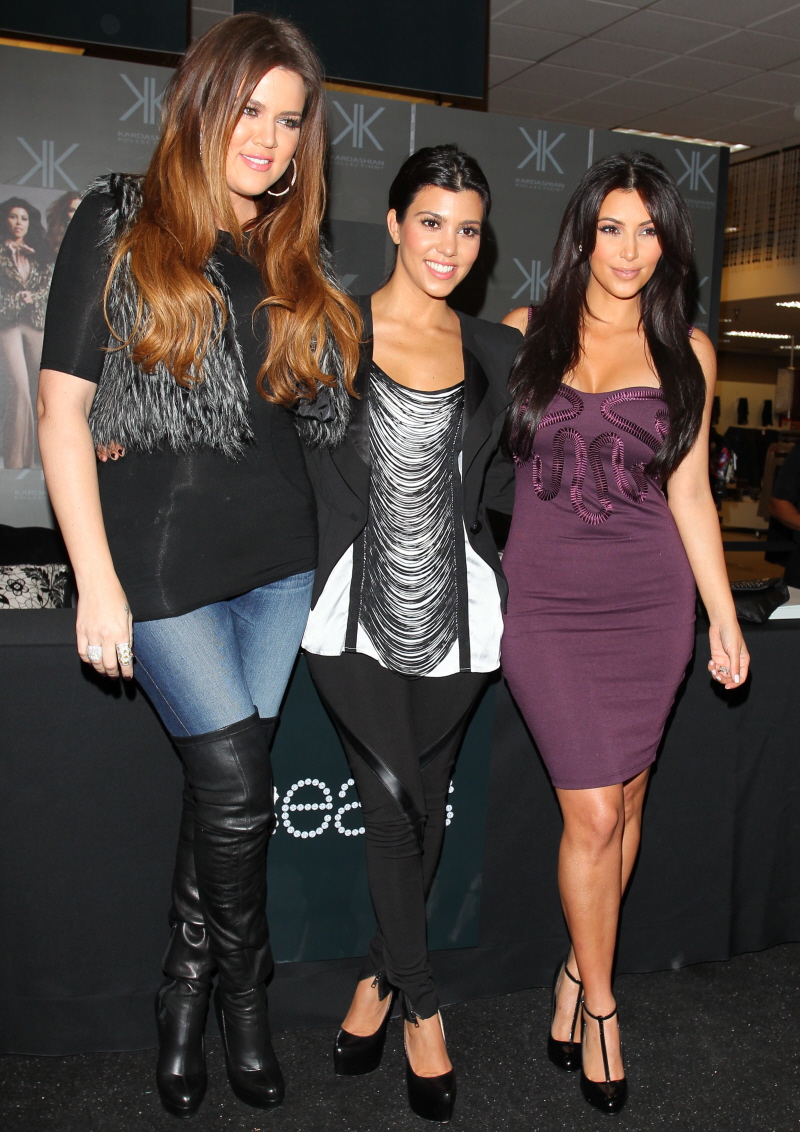 We've been covering a lot of Kat-face Kardashian lately, and ignoring the other Kardashian/Jenner ladies. To be fair, I hate even discussing the Jenner girls because they're so young and I dislike how they're being pushed into the public sphere. But Kourtney and Khloe have purposefully taken more of a backseat lately, I think because of Kim's wedding and her subsequent post-nuptial catastrophe (wherein Kim and Kris Humphries realize that they don't even like each other). So… here's a story about all three of the Kardashian girls. They did a radio interview with xoJane that got slightly raunchy and completely gross. It involved which of their men was/is well-endowed, bromances and who doesn't wear underwear (hint: he's a serial killer).
Jane: Oh you want go with that one?! I was going to go with is Chris well endowed? But okay. All the gay guys in our office want this to be true. Rob and Scott.
Kourtney: Like — did they ever hook up?
Khloe: Only on Wednesdays.
Kim: I wouldn't be surprised if they did. I always say that.
Kourtney: They're, like, obsessed with each other. (to her sisters) What IS that double kiss they do?
Kim: They love to kiss.
Kourtney: Rob and Lamar kiss. They kiss each other on their cheeks, this is so awkward, I don't know what it is about them. But I will say, Scott and Lamar are both only children, and Robert is basically an only child because he is a boy and we, like, don't talk to him. So maybe they're all so desperate for affection that it's like their own little ménage a trois.

****

Jane: We're getting the hook — they're telling us we're out of time! Okay, wait — is Kris [Humpries] well endowed? They all think he is.
Kourtney: I would think he is.
Kim: (decidedly not feeling us) I don't really like questions like that.
Khloe: We got all of the preview of Scott at his parents'.
Kim: Even today. Honestly, it's way too much. He has to start wearing some tighty-whities.
Khloe: He was wearing pajama pants and no undies and you could see it all.
Kim: So inappropriate.
Kourtney: It's like an elephant's trunk.
Kim: You guys!
Khloe: He kept going, "I'm trying to compete with Lamar" and I was like "Oh, stop it, you two."
Kourtney: I just got a Google alert, because Scott and I just had our date night.
Kim: You have your own Google alerts? We have that on record: Kourtney has her own Google alerts and checks them.
Kourtney: We went on a date night in the Meatpacking last night, so the story said, "The Meatpacking District isn't the only thing packing meat!" Scott was wearing a suit with no underwear last night, so you could see, like, something.
Kim: What?! Like, that's NOT normal. We have got to by him some underwear for his birthday or something. This is freaking me out.
Kourtney: He never has any!

Jane: So I'll just extrapolate: you are all dong fine in that department. So we don't need to say anything more about it.
Khloe: We are all doing fine. But we need to buy Scott some underwear.
[From xoJane.com]
Gross. It never would have occurred to me that Scott Disick might be packing. I've never even let my eyes go lower than his douchey face… okay, that's not true, I've often checked out his shoes. But I've never done a bulge-watch of Scott. Ew ew ew.
As for the bromance between Lamar and Rob… well, that's very real. I've seen enough of Khloe and Lamar's show to know that those two men/boys are tight, and… it seems genuine. They're just two dudes who love each other. It's sweet.
Recent photos of Scott and Kourtney and the "elephant trunk". *shiver*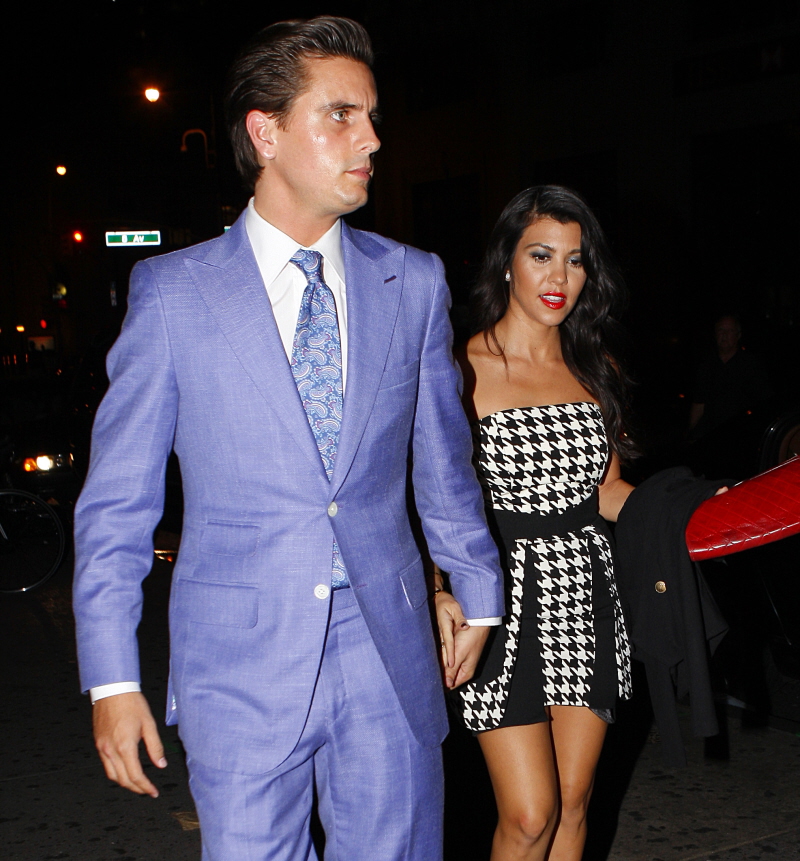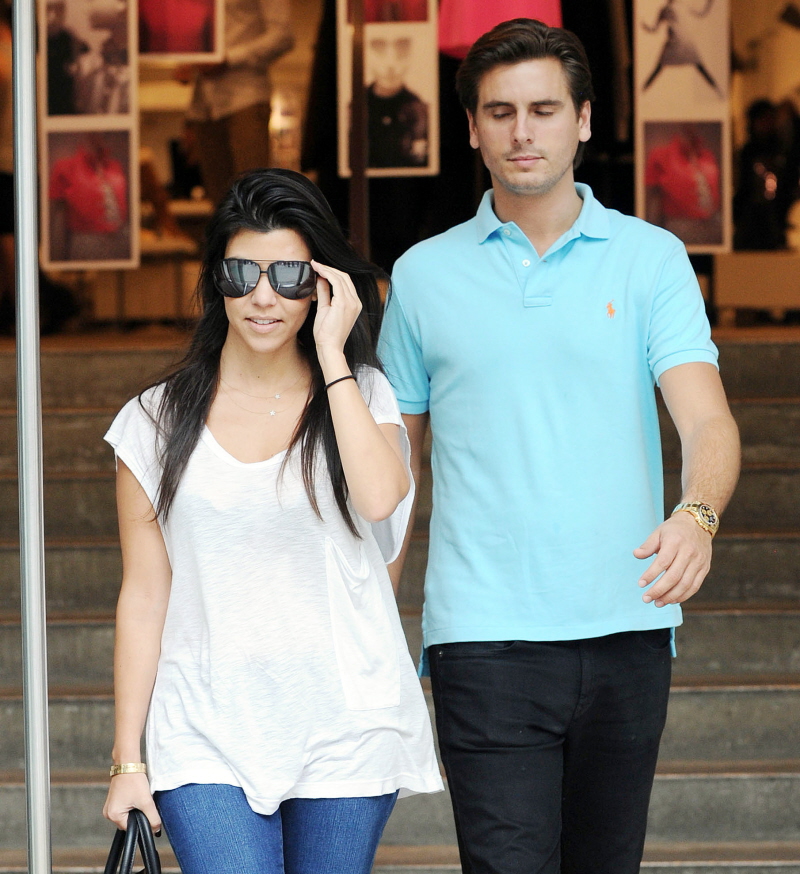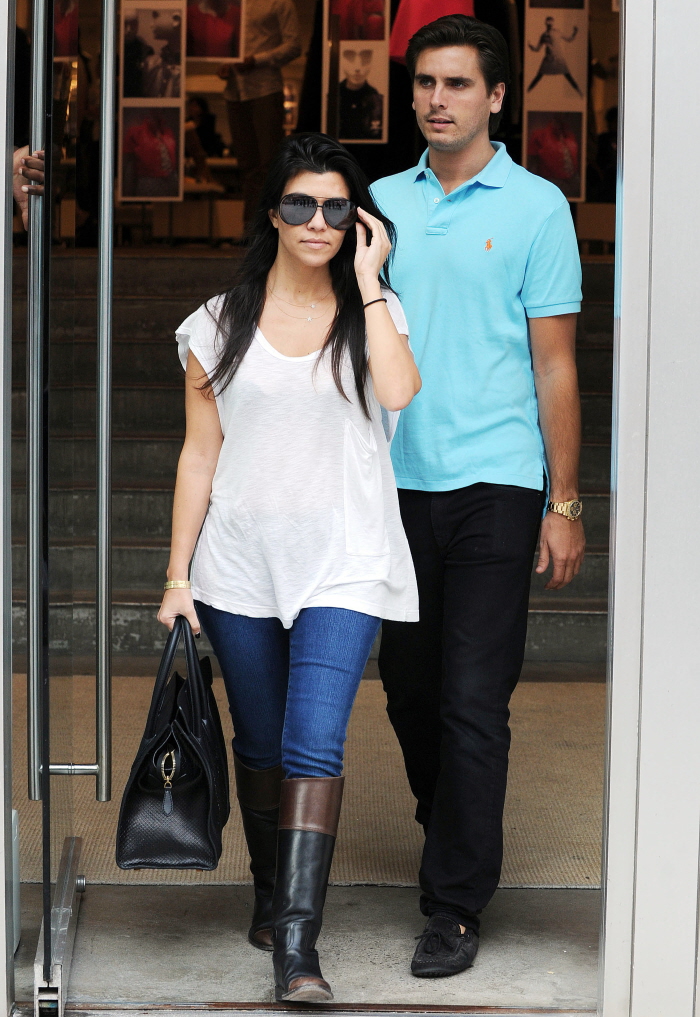 Photos courtesy of Fame.