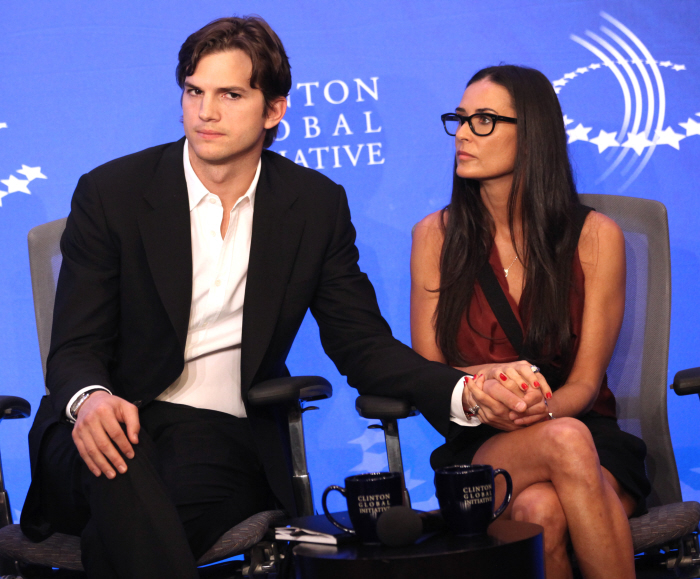 I know CB has been covering this ongoing scandal, but things are really starting to heat up. To recap our stories so far, early this week, Star Magazine's cover story began leaking out. The story is all about how Ashton is generally a womanizer, and how he's been screwing around on Demi for a while, but there's one specific girl that he recently slept with, and she's already contacted a lawyer and sources say she wants money. Do you want more from Star's cover story? Here you go:
Oh no! Hollywood super-couple Demi Moore and Ashton Kutcher are reportedly ending their six-year marriage, at least according to Star magazine, following 23-year-old Sara Leal's allegation that she slept with Ashton in San Diego, Calif., on Sept. 24 — his wedding anniversary! A source tells the mag: "Ashton and Demi have separated and the marriage is over."

RadarOnline reported yesterday, Sept. 27th, Sara Leal slept with Ashton Kutcher last Friday, Sept. 23, in San Diego, after his boys' night out.

An employee at San Diego's Fluxx night club confirms to HollywoodLife.com that Ashton was there Sept. 23, celebrating his That '70s Show co-star Danny Masterson's birthday, and that he left around 1:30 a.m.

"They had a VIP table," the employee tells Hollywood Life. "It was right on the dance floor, conjoined with another table, and all the guys were drinking. I didn't notice him talking to any girls."

Star's eyewitnesses claim "he was checking out all the girls" and he apparently told a friend that "none of the girls were hot-tub worthy." But the drinks kept flowing and Ashton became less picky and chatted up a "stunning blonde" named Sara Leal. Ashton and Sara had sex at the Hard Rock hotel, and Ashton told her he and Demi were "separated, but the public just didn't know yet."

A public relations manager for the Hard Rock Hotel also confirms Ashton was there.

"I can confirm that he stayed both Friday and Saturday nights," the manager tells us. "He was staying at the hotel with a group of friends."

And this isn't the first time Ashton has allegedly cheated on Demi. Last year rumors swirled that he slept with 21-year-old aspiring chef, Brittney Jones. The story eventually disappeared (partly because it was widely reported Demi and Ashton have an "open relationship") and they have appeared to be without problems ever since.

After that initial cheating accusation, Ashton took to Twitter to refute the rumors: "I think Star magazine calling me a 'cheater' qualifies as defamation of character," he tweeted in Sept. 2010. "I hope my lawyer agrees. STAR magazine – you don't get to stand behind 'freedom of the press' when you are writing fiction."

According to Star, it's been "obvious to everyone around them" that the marriage is over. Earlier this year, Ashton visited his wife at a hotel in New York, but was seen "in the lobby for hours several days in a row, as if he didn't have anywhere else to go or anyone to hang out with."

An insider says "Ashton really misses the bachelor lifestyle." Anyway, if Ashton and Demi split, they will have to divide $300 million in assets. Ashton is worth $140 million and makes $700,000 PER EPISODE on Two And A Half Men.
[From Hollywood Life and Jezebel]
Eh. Sex at the Hard Rock Hotel. How cheesy. If that's not bad enough, both People Magazine (!!!) and Us Weekly are piling on, running "the marriage is full of DOOM" stories. I find it very telling that People is piling on – if they had gotten a wink and a nudge from Demi or her publicist, you know they would have run a "everything's fine, Demi and Ashton are happy" story. Instead, they ran this:
Just how telling are 140 characters? Amid new tabloid reports of infidelity by Ashton Kutcher, and trouble in his marriage to Demi Moore, the two – who are currently on different coasts – have curbed their prolific Tweeting in some possibly telling ways.

On Sept. 23, Moore shared a quote from Greek philosopher Epictetus, writing, "When we are offended at any man's fault, turn to yourself & study your own failings. Then you will forget your anger."

The pair also spent their sixth wedding anniversary – Sept. 24 – apart.

Kutcher arrived in San Diego on Sept. 23 for a weekend of partying with his former That '70s Show costar Danny Masterson. Among their stops: Fluxx nightclub, where they had a VIP table. The actor also refrained from Tweeting anything on his wedding anniversary.

Moore, 48, has been in New York City to promote the short film she directed as part of Lifetime's TV anthology, Five. The actress attended the premiere along with Jennifer Aniston, who also directed a short, on Monday night.

Kutcher, 33, who recently returned to TV in Two and a Half Men was in Los Angeles, where he presented an award to Ryan Seacrest Tuesday night during L.A.'s Promise Gala 2011.

The actors' reps have not commented yet.

The couple, who began dating in 2003 and married in 2005, dealt with rumors of infidelity and marital trouble a year ago. At the time, they took a trip to Israel for what the actor described as a spiritual journey.
[From People]
That's pretty much People Magazine telling Demi Moore to confirm her split or GTFO. The Us Weekly report was pretty much the same, only they noted that Demi has been tweeting, just not about her marriage. Apparently, she tweeted the photo below with the message, "I see through you." Also, even though Demi was out and about on Monday to promote Five, she pulled out of an appearance at a West Hollywood art show on Tuesday. A source tells Us Weekly, "She pulled out of the event last minute."
So… in my opinion, it's a matter of WHEN not IF they announce their split. My guess is that they'll wait until Friday…? If they do it at the end of business on Friday, I'm going to be super-pissed.
UPDATE: Fresh off of this morning's Page Six, an actual confirmation of the lawyer this side-piece hired, and a vague amount she's trying to score:
Ashton Kutcher is being asked to pay a six-figure sum to a blonde who claims she had sex with him on the same day he and wife Demi Moore celebrated their sixth wedding anniversary.

Sara Leal, 23, is preparing to tell the story of how she hooked up with "Two and a Half Men" star Kutcher, 33, at the Hard Rock Hotel in San Diego last Friday, following a boozy night with his guy friends, according to a report on thedirty.com.

Now Leal has met with Beverly Hills lawyer Keith Davidson, who represented former Betty Ford worker Dawn Holland after she complained Lindsay Lohan attacked her. Holland dropped her claim after settling with Lohan's camp, reportedly for $25,000.

A source told us, "Sara is talking to multiple media outlets for a deal. She wants $250,000, but the offers haven't been as high. What she really wants is to get a payoff from Ashton. She has reached out to Ashton's team."
[From Page Six]
Yeah… we'll be hearing something soon. The silence speaks volumes, but I'm not completely convinced that Ashton and Demi won't try to sweep this under the rug, just like last time. I'm also not ruling out a Tiger Woods-style bimbo implosion where more women come forward, claiming that they boned Ashton and looking for a payout. We'll see.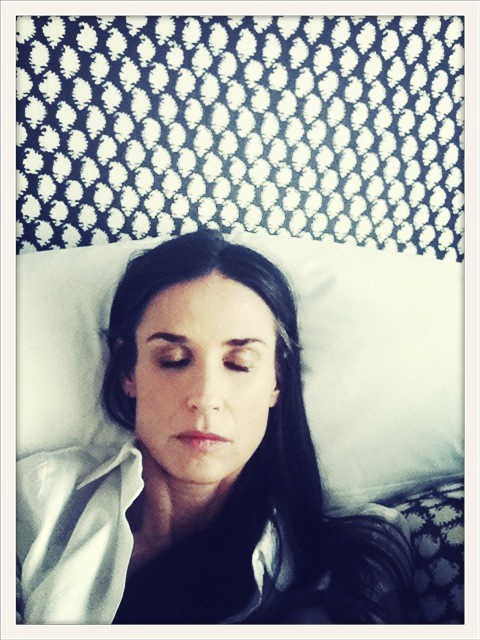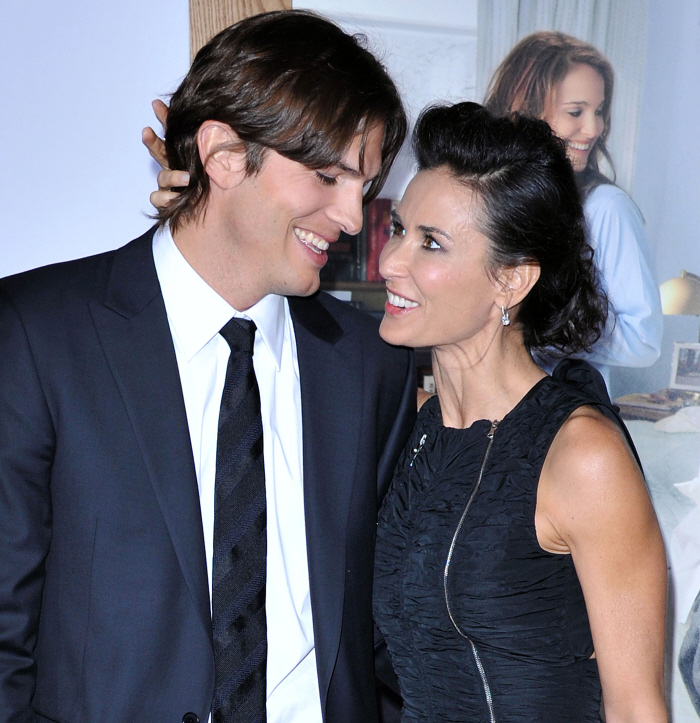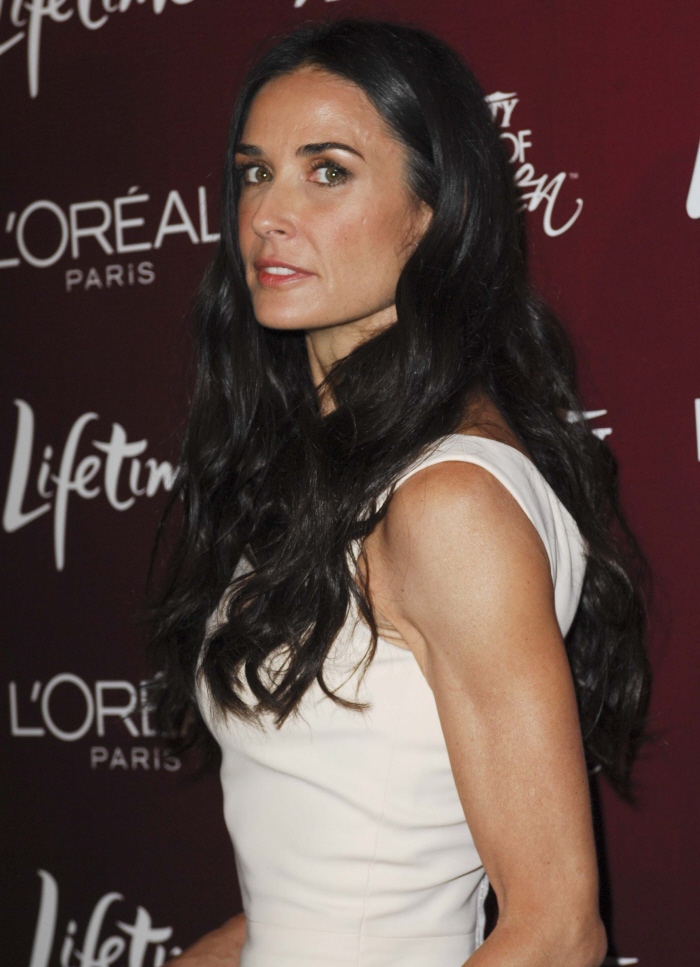 Photos courtesy of WENN, Demi's Twitter.