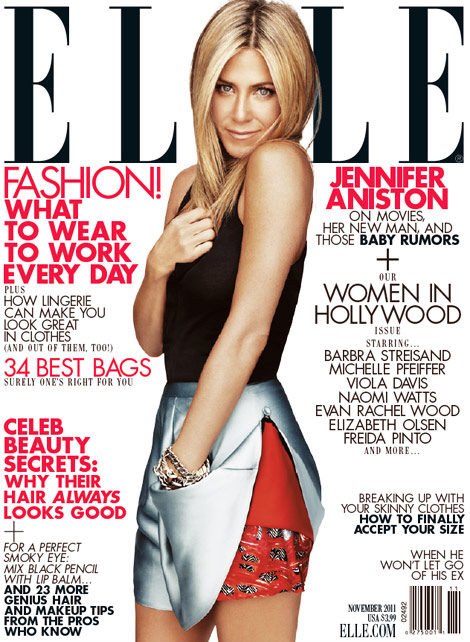 True and funny story: People Magazine's online excerpt of this Jennifer Aniston Elle Mag profile was tagged "Naomi Watts" at first. I guess because the photo looks kind of like Naomi? Jennifer was profiled for Elle Magazine's "Women In Hollywood" annual issue. I feel like Jennifer was just on the cover of Elle – the editors over there love her and put her on at least one cover a year. As for the cover shot… I don't have any strong opinions about it one way or the other. The skirt is fug and Jennifer's hair is in her face too much, but it's a more interesting photo than just a typical smiley head shot. Enough about the photo, though. Because Aniston is talking 'bout babies (and no, she's not confirming or denying that OK! Mag story). Here are the two quotes that Elle has released:
On the baby rumors: "But it's not what you read. There's no desperation. If it's meant to be, it's meant to be. I'm at peace with whatever the plan is. But will you hate me if I say I don't want to talk about my relationship?"

On a time when she stood up to a male director: "I threw a chair at a director. It wasn't my proudest moment. He was treating a script supervisor horribly… When the director walked in, I threw a chair at him. I missed, of course. I was like, 'You can't speak to people like that.' I can't tolerate it."
[From Elle]
On one side, I admire Aniston's laissez faire attitude about babies, especially in the face of a decade and a half of wild speculation about her womb (even though some of the womb speculation was self-inflicted by Aniston). On the other side, the attitude of "There's no desperation. If it's meant to be, it's meant to be" seems strangely aloof for such an important decision in a person's life. I mean, it's whether or not you become a parent, not whether or not you should order Chinese food. Shouldn't you have strong feelings about it? Shouldn't you accept some responsibility in the decision-making process instead of throwing your lot to the Fates?
Aniston's decision-making process, also known as her publicist, does involve Justin Theroux for the foreseeable future. People Magazine ran a very "cute" story about Justin and Jennifer in Washington, D.C.:
At least one thing is working right in Washington, D.C.: Jennifer Aniston and Justin Theroux's hot new romance The new couple got cozy over dinner Monday night at Fiola, a restaurant on Pennsylvania Avenue, where the pair were "very, very cute together," a source tells PEOPLE.

And Jen and Justin were not alone. They were joined for the meal by a Lifetime executive, as well as Jeanne Tripplehorn and Patricia Clarkson, all of whom were involved with the TV channel's film anthology, Five (premiering Oct. 10), for which Aniston directed one of the segments.

Calling Aniston, 42, and Theroux, 40, "very cutesy," the witness also says, "They were paying attention to each other. They ate the same thing."

Their dinner order? A salad, plus the tagliatelle with Alba white truffle, a $65 pasta entrée. For dessert, they ordered the bonboloni pastry made with ricotta cheese.

"They loved those," says the source, who was "surprised – in a good way – they would eat all that."

As for the dinner party, which went on until about 11 p.m., "They had a great time, all of them. They were laughing. It was like a group of friends," says the source.

But most eyes in the place were focused on Jen and Justin, who had been "talking and smiling to each other, like any couple would do," says the source.
[From People]
Ugh, I hate cheesy desserts. I'm not a cheese person, though. I prefer desserts with chocolate or some kind of ice cream. But you did get the "cute" memo, right? Jennifer and Justin are "cute" now. "Cute" is the new "hugging him from behind." I do wonder what Justin is feeling right now – where's his hipster cred? He's no longer hardcore. He no longer gets to front like he's 1970s-Al-Pacino-cool. He's just "cute". Almost sexless, right?
Speaking of Justin's transformation, Life & Style (via Jezebel) has a story about how Jennifer gave Justin a makeover. Even though Aniston "fell for him right away" (last year, when he was with Heidi, I'm assuming), she still felt "he needed some fixing up." She made him get a haircut, shave his beard, and get a spray tan. An acquaintance of Justin's tells L&S: "He used to be kind of negative, just critical and down on life. Now he's totally positive. Than God he met Jennifer!" WTF? Spray tans = positive energy?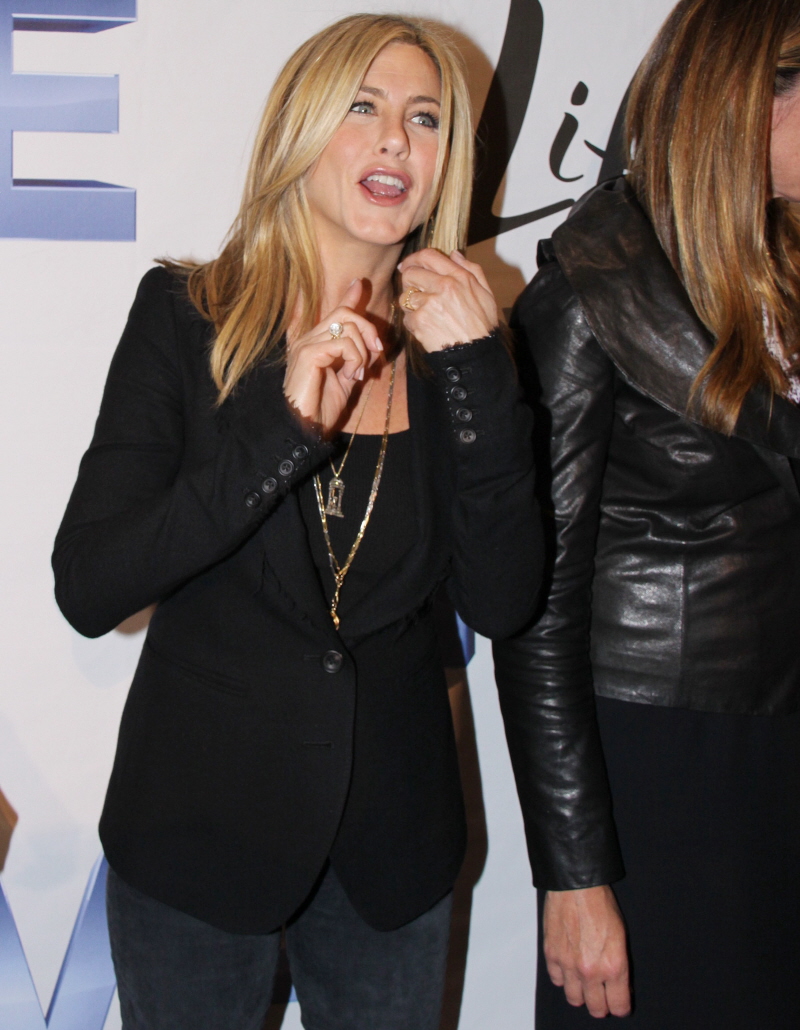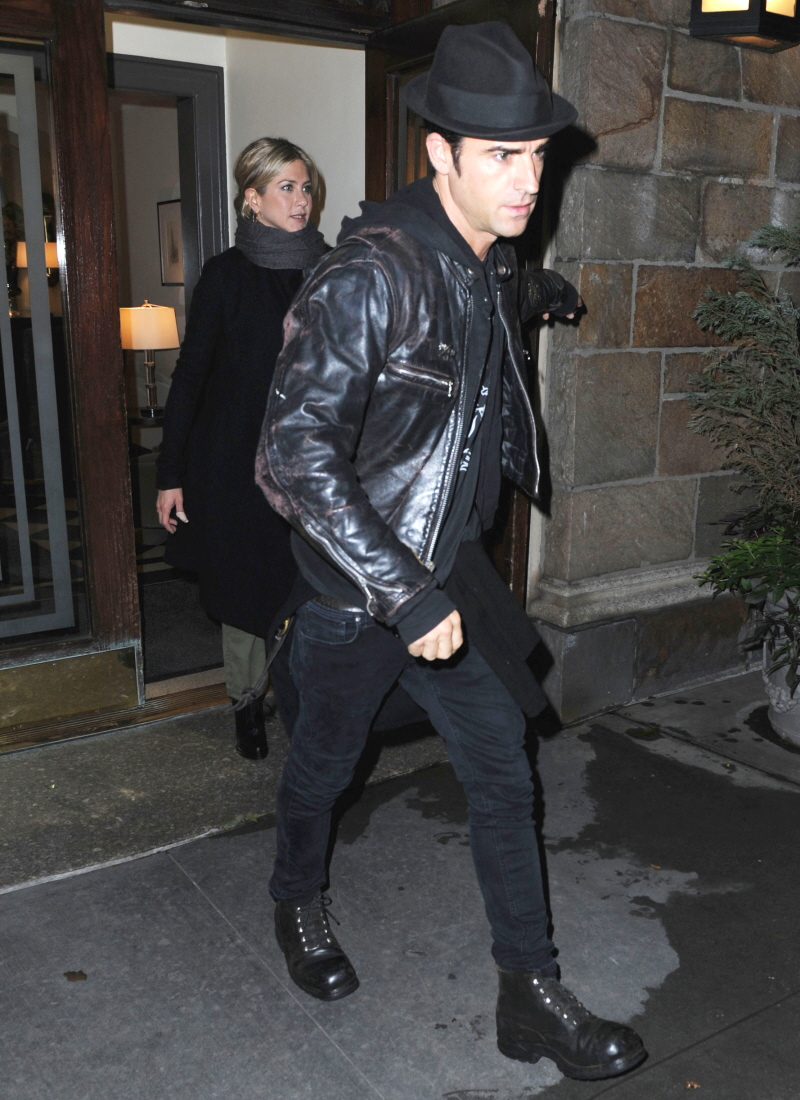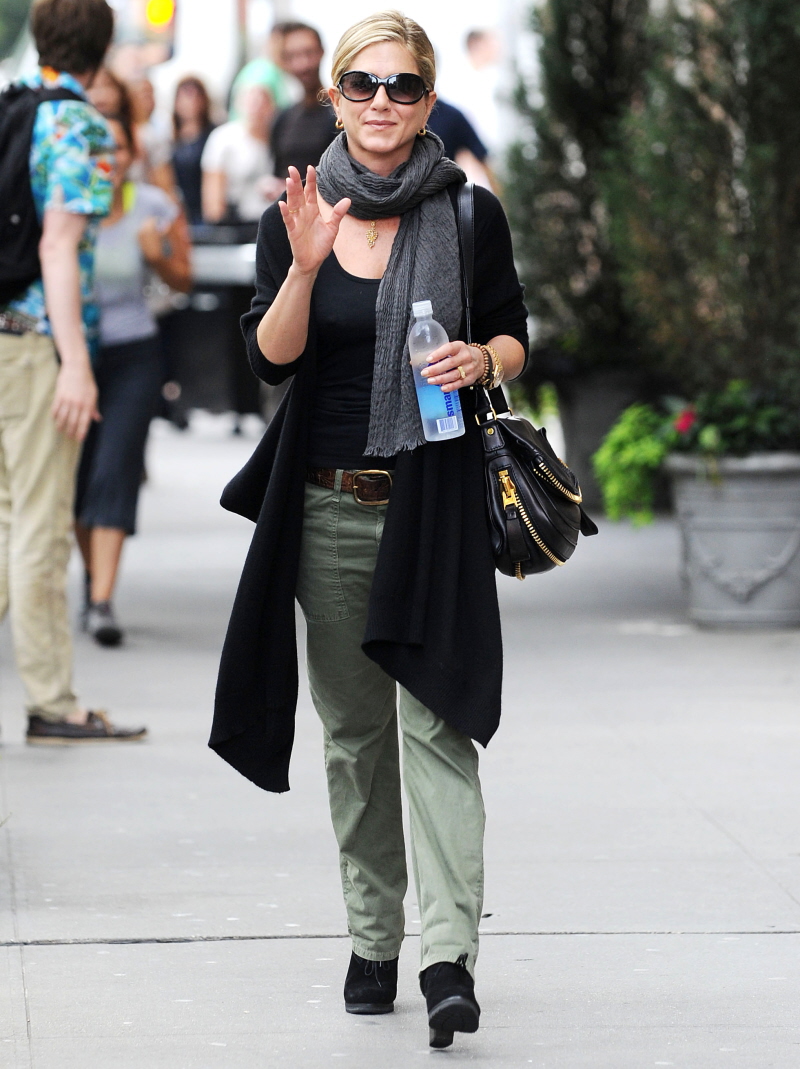 Photos courtesy of Elle, Fame.