Scarlett Johansson admits feeling "depressed" during divorce, hating "stagnation"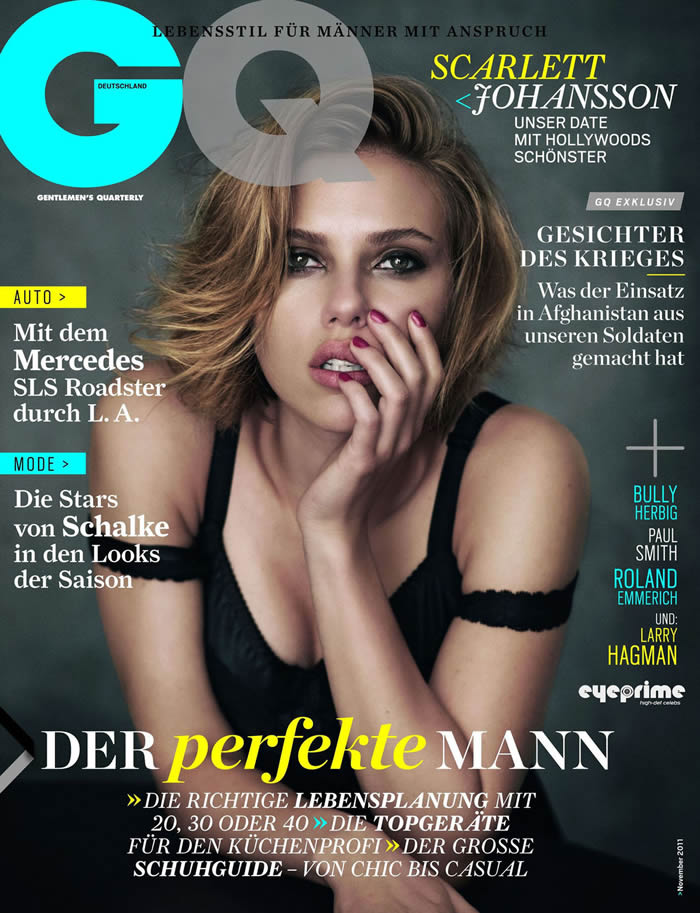 Scarlett Johansson has embarked upon a bit of a German PR extravaganza, although I cannot figure out what film project she could possibly be promoting other than We Bought A Zoo, but that movie doesn't come out in Germany until February (and in the U.S. in late December). Perhaps Scarlett is merely promoting her boobs, which are hanging out all over the cover of GQ Germany without any interview tidbits released thus far, so who knows?
In addition, Scarlett has done an interview with Germany's Gala publication, so some excerpts are available thanks to the power of Google Translate. Until now, we've only heard a few sparse details about the dissolution of Scarlett Johansson and Ryan Reynolds' two-year marriage, and those statements came from the dude perspective in the relationship. Now, Scarlett has opened up a bit about the depression she suffered after the split and who she turned to for support. Well, other than Sean Penn, who was only around for a few months before they broke up either because she's too clingy or he told her to go back to school. Anyway, back to the business of Scarlett and Ryan:
On Coping With Divorce: At first I was quite depressed. After about a week or so I pulled myself together and started to go to the gym all the time. Luckily, I've got a few very close girlfriends who have been by my side for 15 years now, who I can talk to about everything and confide in. I've got a close relationship with my twin brother Hunter as well. And then there's my grandmother Dorothy. She recently turned 89 – she's an incredibly sweet, lovely and wise woman.

On Her Relationship Flaws: I will only tell you this: I can be overcritical – with myself and with other people. And I don't compromise… I pass judgment on people quite quickly. If I don't agree with someone or if I'm annoyed I will tell people to their face – no matter how hurtful that might be. That can get me into trouble from time to time. When that happens, my friends have to hold me back and say, "Scarlett, you can't say that!" I'm also incredibly impatient – regarding my job, my family and men. I want things to progress. I hate stagnation!
[From Gala.de]
Now that part of hating stagnation is interesting. Was she referring to wanting to move forward with Ryan into making gerbil babies? I highly doubt that. Could she possibly have been referring to wanting a more serious relationship with Sean Penn beyond sex, toupees, and chain smoking? Quite possibly, but that ship has sailed since Penn has been dating Shannon Costello for the past several months.
At this point though, I think Scarlett is over both Ryan and Sean or, at the very least, she's distracted enough with filming The Avengers to take some much needed personal time for herself before jumping into another bad relationship. Scarlett's been photographed by herself a few times this month, including this snap taken outside the NYC Plaza hotel. Her awkward foot placement reminds me of the ankle-snapping pose at the White House Correspondents Dinner: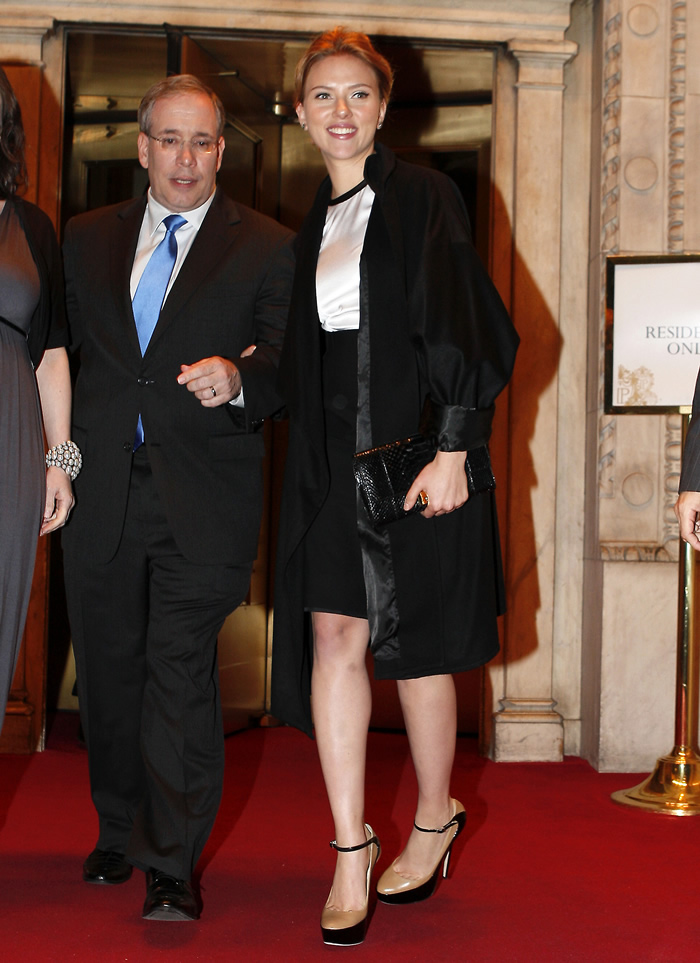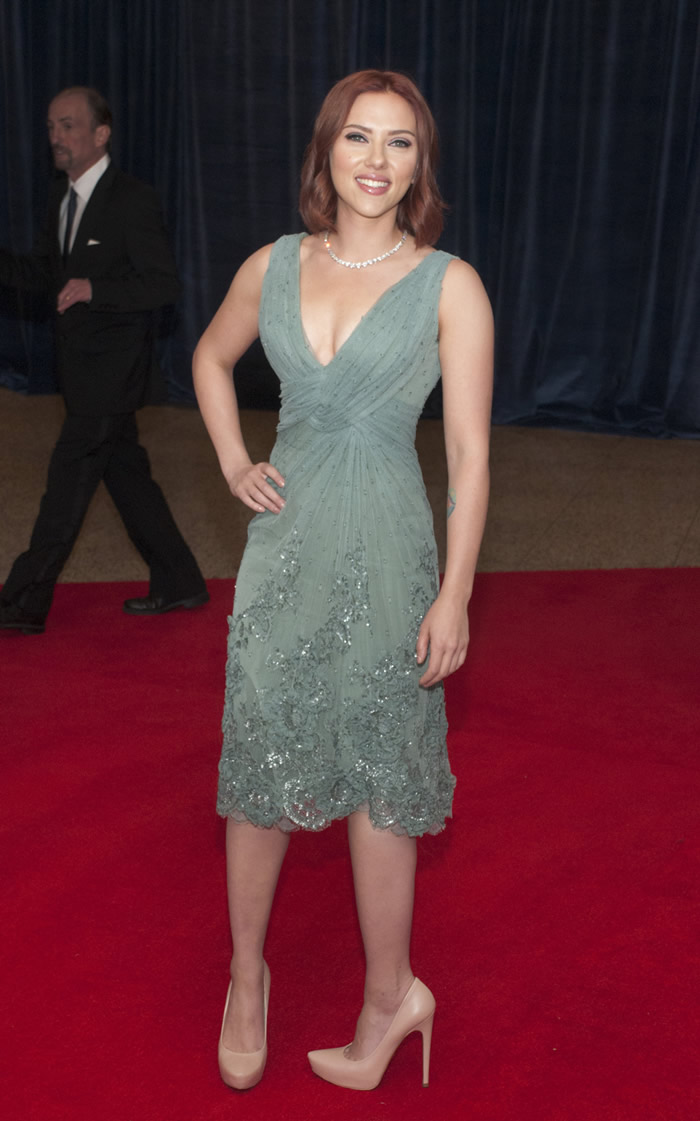 Here, Scarlett goes incognito with her iPhone and an apple. She sort of pulls it off, but her mouth is a dead giveaway.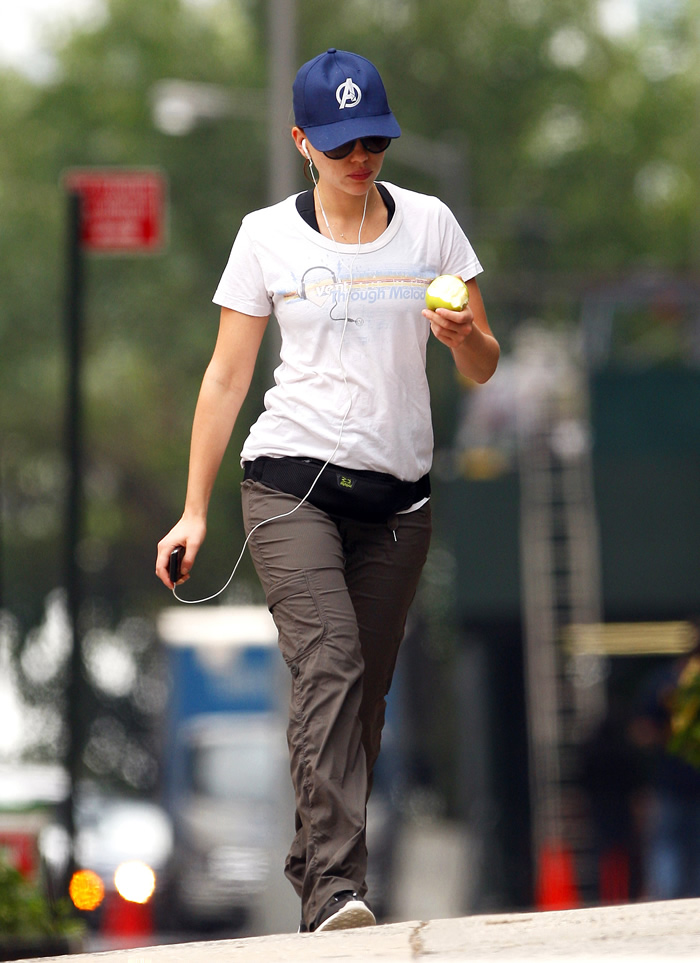 Photos courtesy of Fame
Written by Bedhead

Posted in Ryan Reynolds, Scarlett Johansson

- The Blemish interviews Carmen Electra [The Blemish]
- Rumer Willis joins Pretty Little Liars [Lainey Gossip]
- Morgan Freeman falls asleep during interview [D-Listed]
- Fug or fab: Isla Fisher [Go Fug Yourself]
- Tamra Barney confirms spinoff [Reality Tea]
- Movie franchises that rebounded [Pajiba]
- Why Dylan McKay is the perfect boyfriend [Buzzfeed]
- Saoirse Ronan could have been a Lohan [Evil Beet]
- GIFs from Cannes [Popsugar]
- Cat massages a dog [CDAN]
- Heather Graham is so pretty [Celebslam]
- What is Lucy Hale wearing? [Moe Jackson]
76 Responses to "Scarlett Johansson admits feeling "depressed" during divorce, hating "stagnation""