Adele covers Cosmo's December issue, cancels all of her remaining tour dates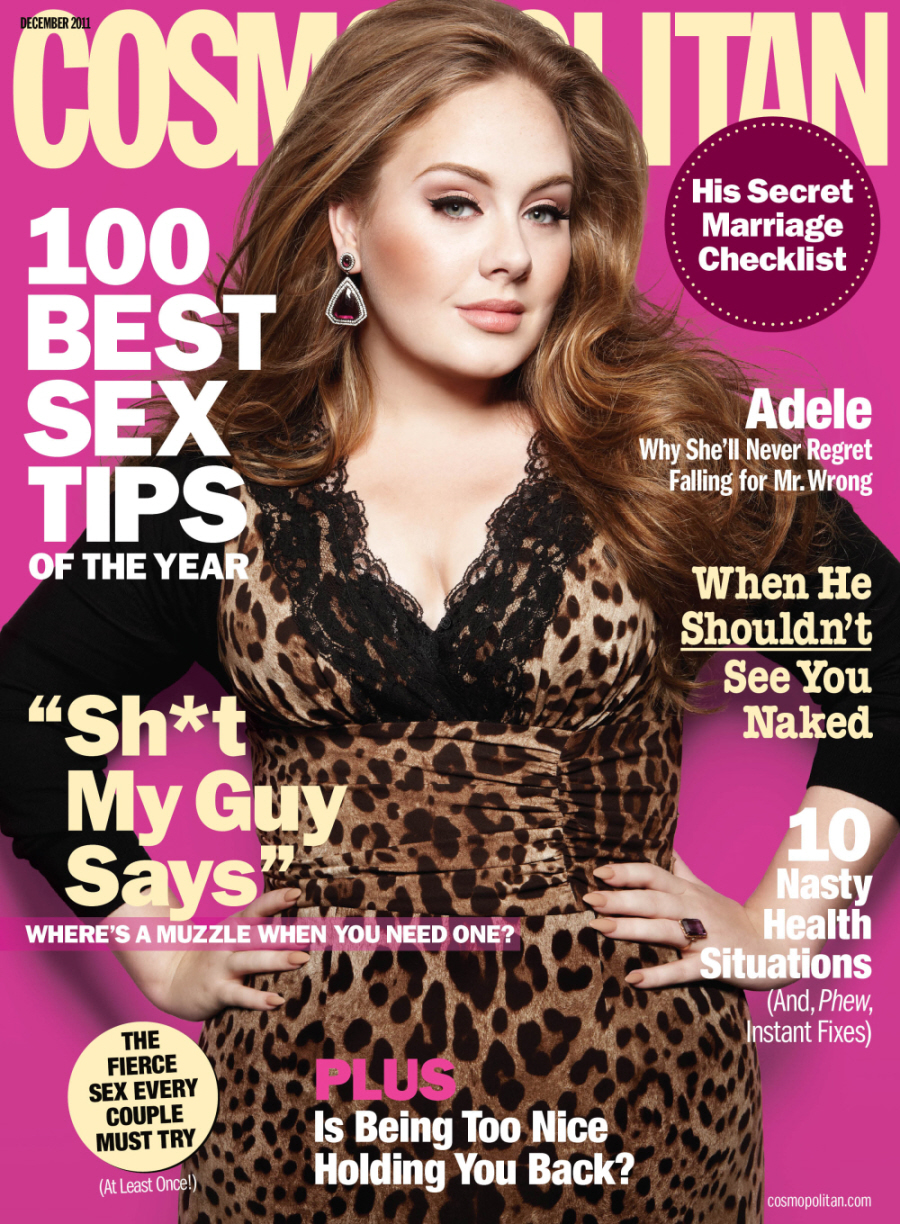 ADELE! Huzzah, she got another magazine cover, this time the December cover of Cosmopolitan. Thoughts on the cover? I know some of you hate on Adele's nails and her wonky fashion sense, but can you deny that beautiful face? She has such a lovely face. The animal print dress (with black lace details – ugh) is trashy, but it kind of suits her too. The only quote that Cosmo has released thus far is where Adele is humble: "My favorite singers are Etta James and Aretha Franklin. If you were to look up the word singer in the dictionary you'd see their names. Not mine." Nice.
Meanwhile, did you hear that Adele has now cancelled all of her concerts, worldwide? She has to undergo throat surgery for her vocal cord hemorrhage.
It may be some comfort to Adele that she seems certain to end 2011 as the world's biggest-selling artist, but the singer has been forced to cancel all her remaining live dates and promotional appearances for the rest of the year. Earlier this month the Brit award-winner scrapped a 10-date US tour because of a vocal cord hemorrhage and she will now undergo throat surgery.

A spokesperson said that a full recovery is expected but doctors have ordered the 23-year-old to rest her voice and completely recuperate before looking to schedule any work commitments. Six UK dates – two in Wolverhampton and one each in Blackpool, Bournemouth, Cardiff and Plymouth – have been cancelled. Ticket holders can expect a refund.

Announcing that she was cancelling her 10 US dates three weeks ago, Adele wrote on her blog: "Guys, I'm heartbroken and worried to tell you that I am yet again experiencing problems with my voice … I follow all the advice I am given and stick to regimes, rules and practices to the best of my ability, but it seems to simply not be enough."

One specialist doctor, Dr Steven Zeitels, a Harvard professor, told Rolling Stone magazine that he didn't believe the problem was serious. "It's very fixable, basically," he said. "This is not something that's a deal-breaker, even remotely."

The singer herself recently told the Sun that her problems were caused not by her vocal technique but by talking too much.

"I damage my voice offstage, not onstage," she said. "Onstage I am fine as apparently I am technically great, but when I talk I damage my voice big time. I have got screwed into giving up smoking. If I wasn't a singer I still would be smoking 25 a day."

Last month, a UK tour was blighted by cancellations and in June she cancelled a US tour because of laryngitis. Fans, however, can still watch the singer in action: next month, she releases a live CD and DVD, Live at the Royal Albert Hall, a recording of her London concert on 22 September.
[From The Guardian]
*Adding "Adele Live At Royal Albert Hall" to my Christmas list.
Anyway, after Adele announced the cancellations, everyone was like, "Oh, she has cancer!" She doesn't. Her publicist corrected the misconception, saying: "We would like to reiterate that Adele is to undergo surgery for a hemorrhaged vocal cord. All reports regarding any other condition are 100% false." I believe that Adele just has vocal cord issues and that the surgery will correct the matter. I also hope that she's back very soon, and that she learns to save her voice for all of the really important stuff.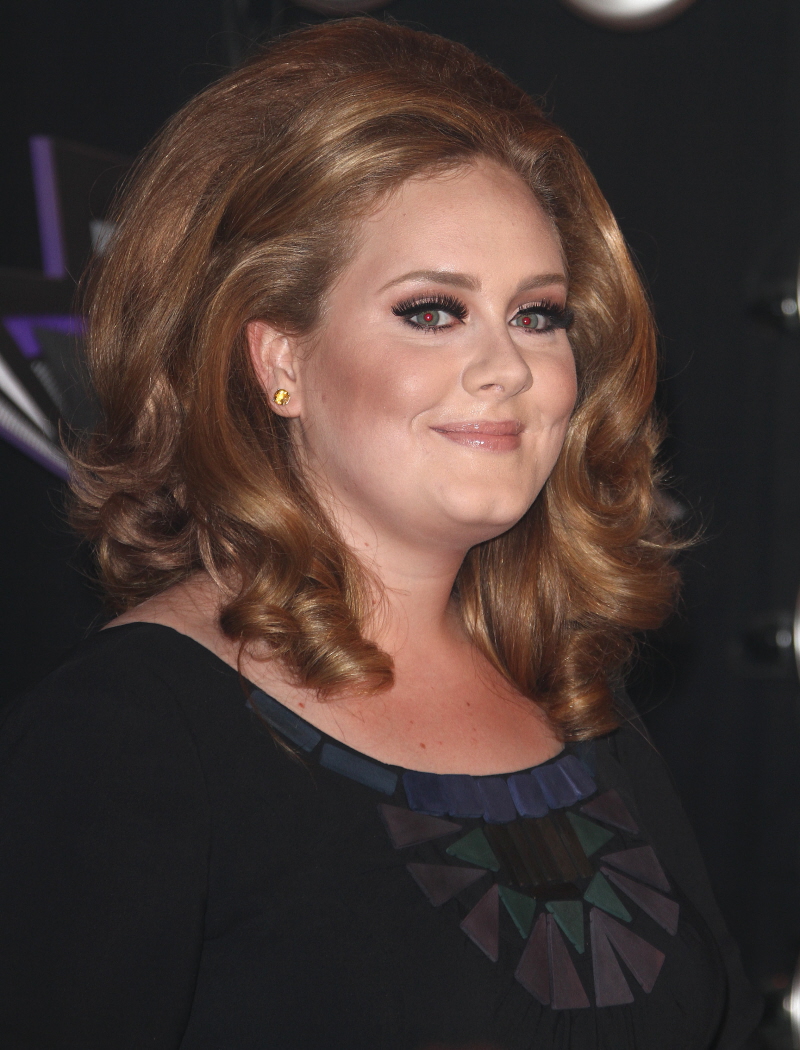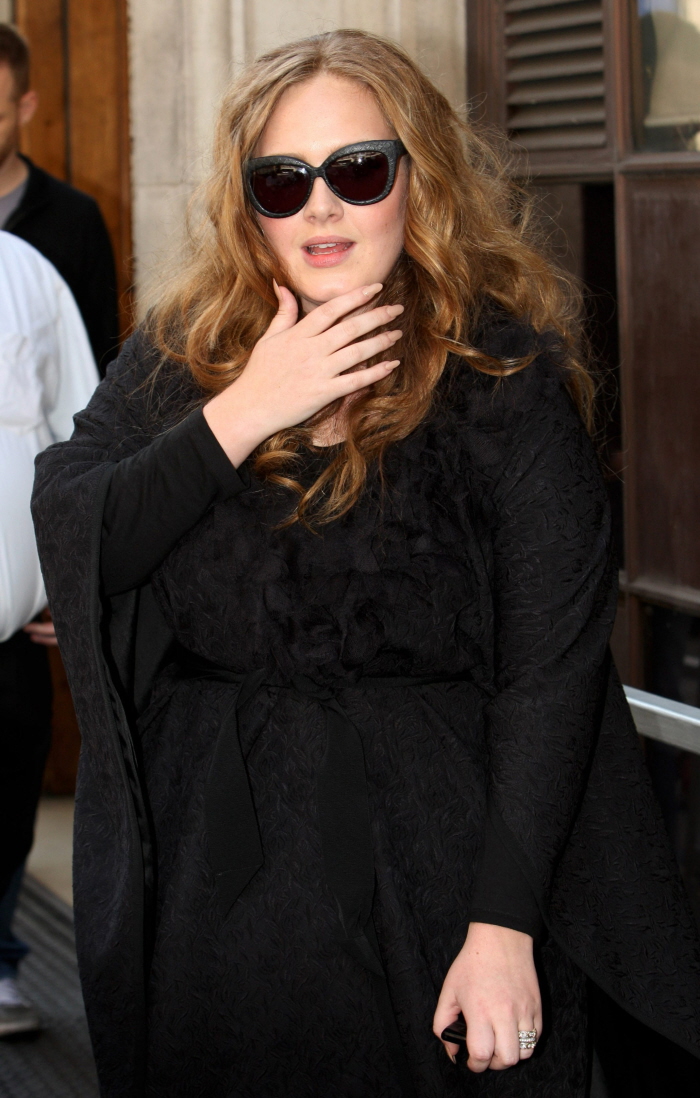 Cover courtesy of Cosmo. Additional pics by Fame.

Written by Kaiser

Posted in Adele

- Who butchered the National Anthem? [D-Listed]
- Rob Lowe never ages [Lainey Gossip]
- What is Vanessa Hudgens wearing? [Go Fug Yourself]
- Summer guide to reality TV [Reality Tea]
- Game of Thrones recap [Pajiba]
- Tan Mom's music video [Buzzfeed]
- Amanda Knox is broke [Starcasm]
- Backstage at the Billboard Awards [Popsugar]
- Miley is still stuck in the 90s [Popoholic]
- Blind Items revealed: Adam Levine [CDAN]
- Hugh Hefner bought Crystal Harris a house [Celebslam]
- What happened to Aimee Teegarden? [The Blemish]
34 Responses to "Adele covers Cosmo's December issue, cancels all of her remaining tour dates"