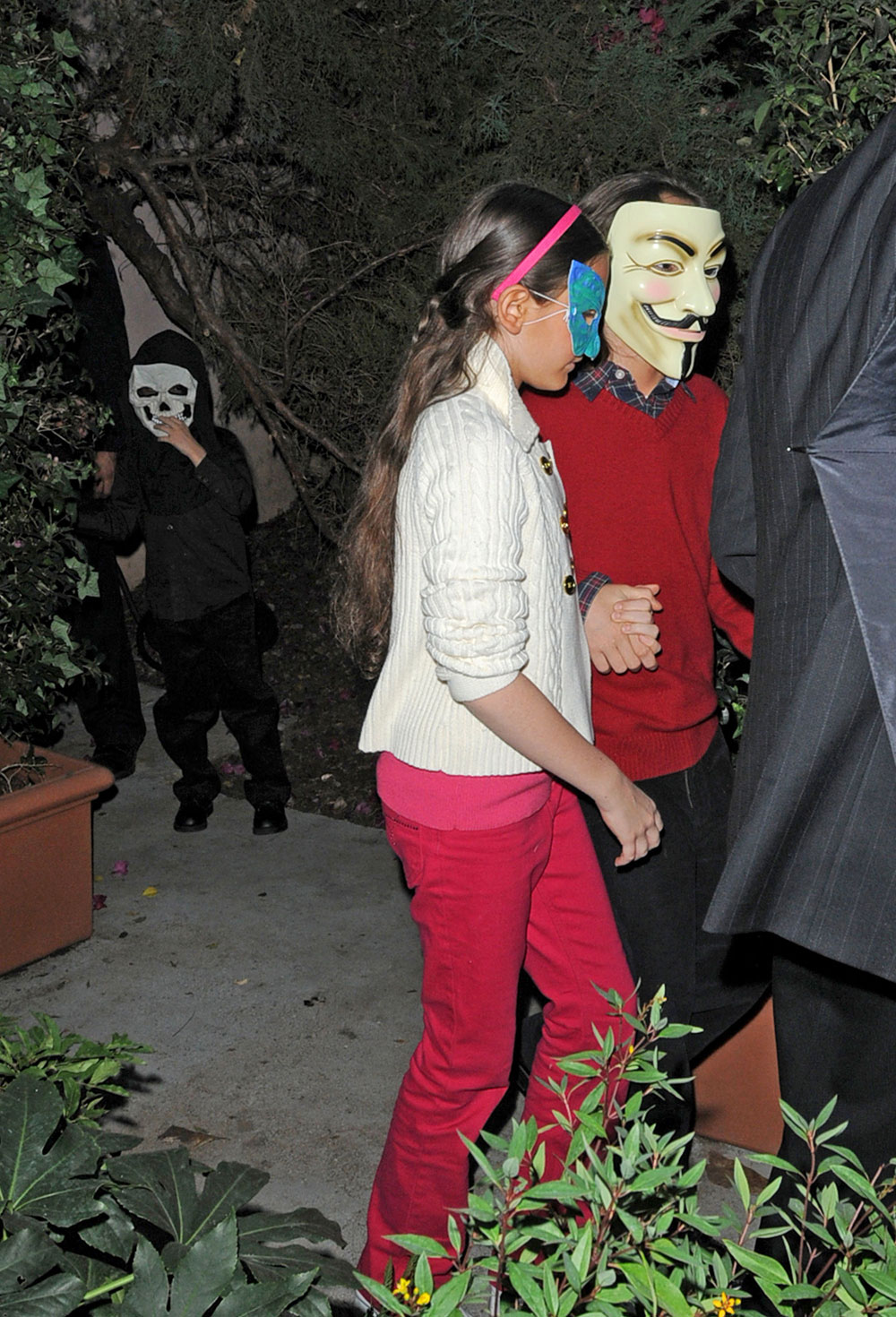 The very obvious thing to say about beleaguered pop star Michael Jackson taking his kids trick or treating in costume is that it's not a novelty to them since they're often stuck behind masks and face coverings. At least he's able to take advantage of the season to explain their facewear. One of Jackson's kids even donned the Guy Falkes mask that is a favorite of Scientology protesters from the group Anonymous. I wonder if Jackson knew the significance or if his son just liked the mask and picked it out. They probably have a whole room full of dress up clothes and disguises. It's like the final step to getting dressed in the Jackson household to go pick out a mask before leaving the house.
Jackson is said to be planning a comeback tour to take place in 30 cities worldwide and is rumored to be recording a new album. His last release, a set of hit singles remixed called Thriller 25, was commercially successful and has improved his formerly bleak financial outlook. It looks like Jackson's mood has also improved considerably. He was just photographed out in Beverly Hills shopping last week and even smiled and posed for the paparazzi. Now that we have these photos of him taking his kids out for Halloween he seems to be steadily working to try and improve his public image.
Jackson has three children, the two oldest of whom are known to be from his ex wife, Debbie Rowe. He has Prince Michael, 11, Paris Katherine, 10, and Prince Michael Jackson II, nicknamed Blanket, 6. Blanket's mother is unknown. These photos are captioned as Jackson taking the kids trick or treating, but it's possible they're going to a Halloween party as they were taken on Wednesday night, two days before Halloween.
Credit: Bauergriffinonline