Brad Pitt & Angelina Jolie do 'Moneyball' premiere in Tokyo: hot or meh?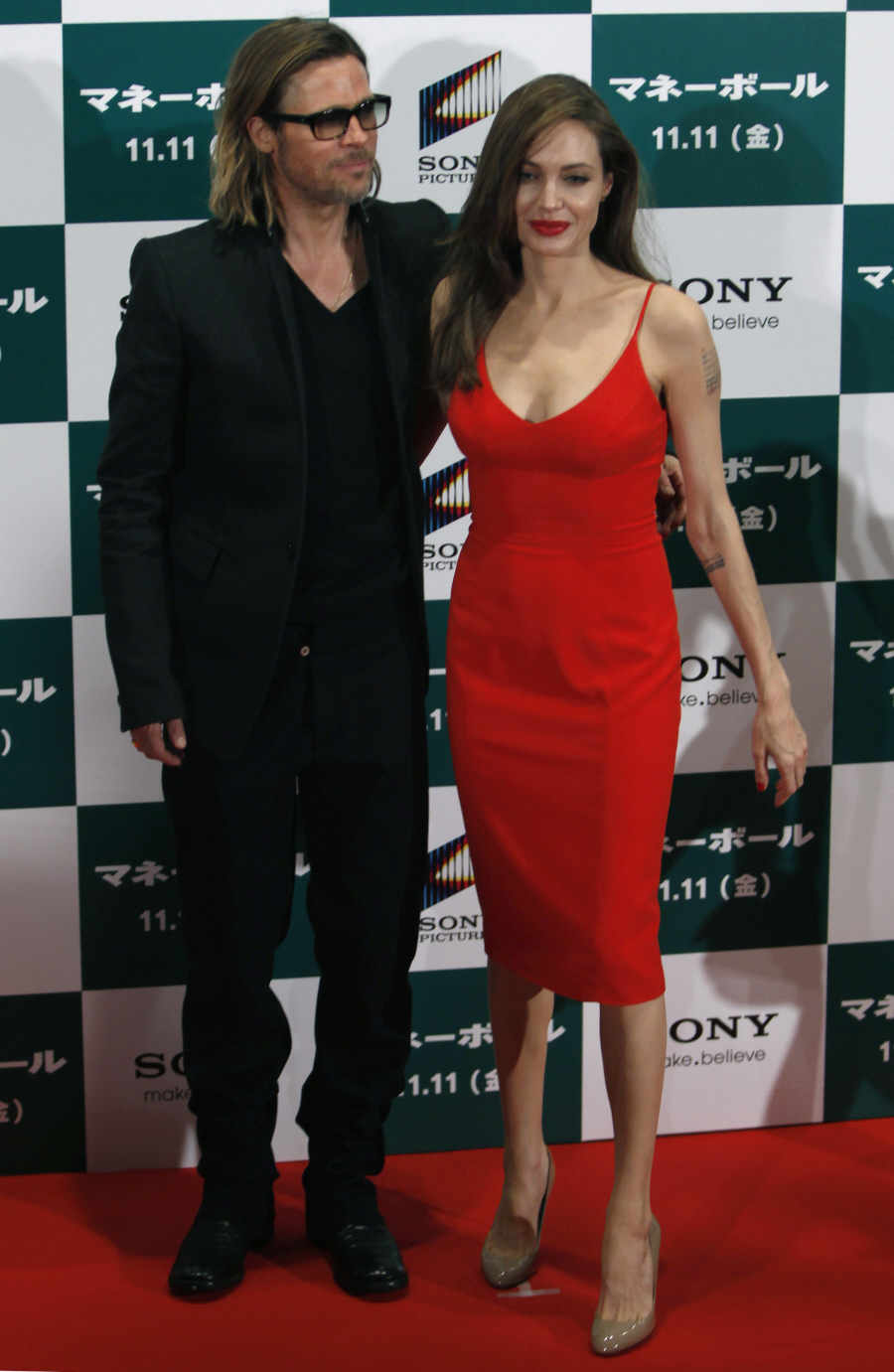 Angelina in COLOR. Dear God, is the end nigh? These are photos from the Tokyo, Japan premiere of Moneyball. I saw Moneyball and really, really liked it, and I'm not even a baseball person. The Japanese like baseball, though. Right? I mean, I'm not trying to generalize about an entire nation, but baseball is a popular sport over there, correct? I believe it is, so I imagine they'll like the film.
Anyway, Angelina is wearing this RED(!!!!!!!) dress. I can't find the designer ID, but I suspect it's L'Wren Scott, just because of the way the bust is cut – that's the way L'Wren does it, and Angelina has worn similar L'Wren dresses and gowns before. She does well in L'Wren (and Versace). I wish she would wear sexy, well-cut dresses like this more often. I wish she would wear color more often too. She also looks like she's put on a little bit of much-needed weight. Her boobs look great, and her midsection looks a bit fuller. Her arms are still pretty bony though. Also: RED LIPS. Goodness.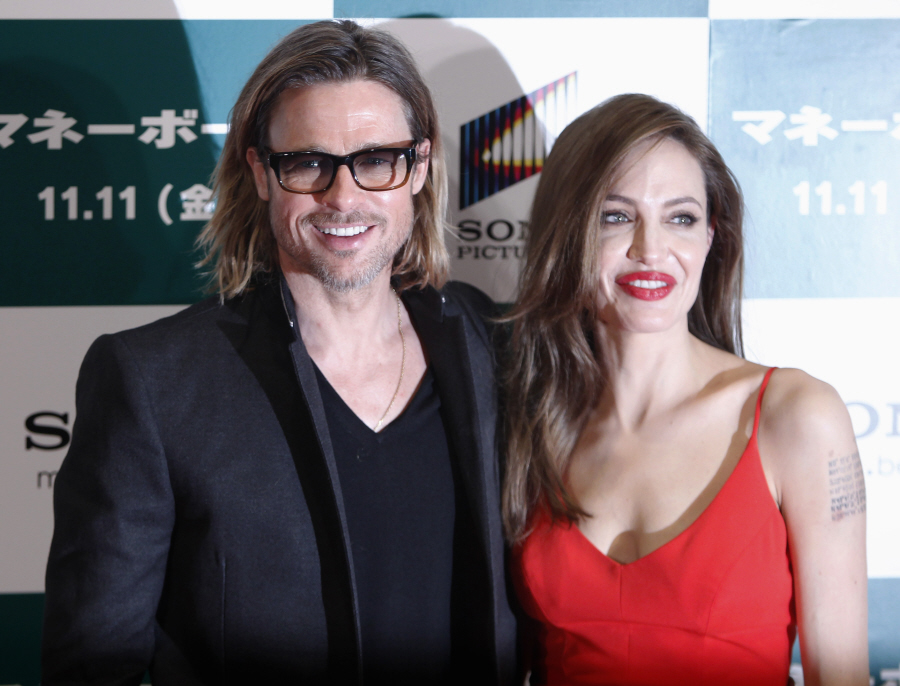 As for Brad… Jeez, look how long his hair is. Is this his new thing? Growing out body, facial or head hair randomly? His hair was longish a few months ago when he was filming World War Z in Scotland and England, and I believe he's still filming that interminable sci-fi film still, now in Budapest. I think the difference in hair length will probably be justified because the film moves back and forth in time. Maybe long-haired Brad is the super-future Brad. I don't know. I kind of like him with longer hair.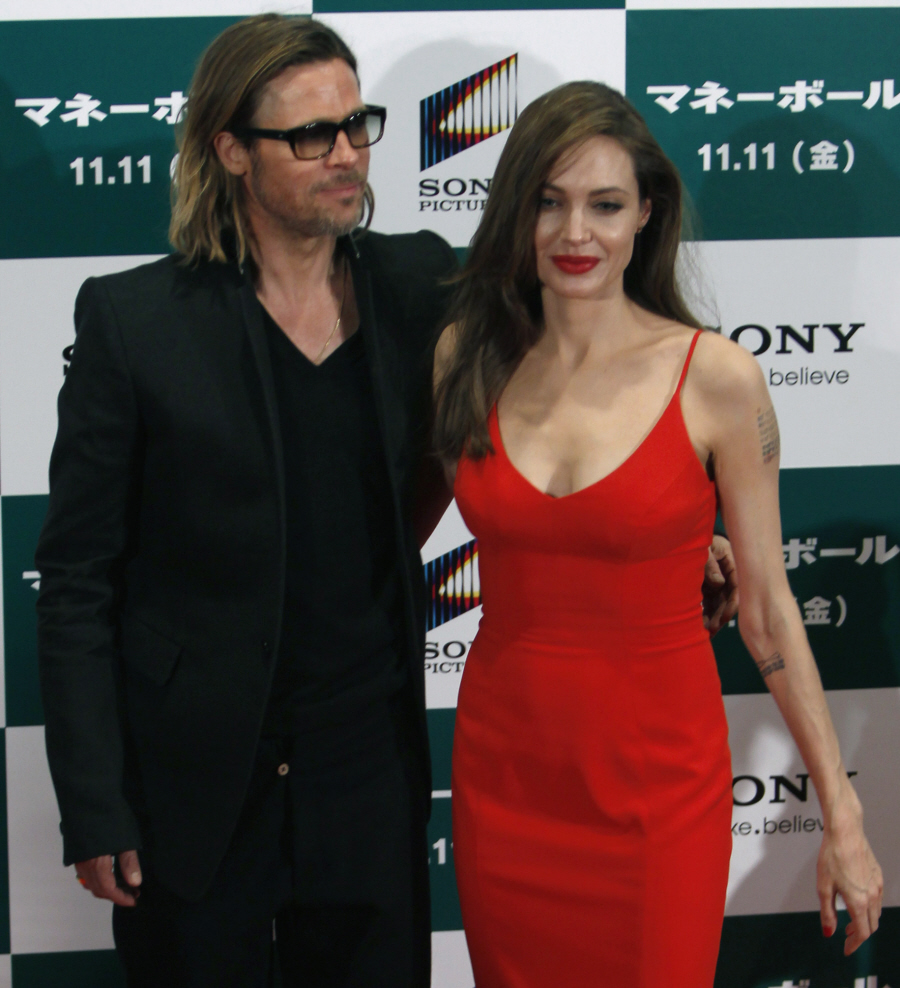 Photos courtesy of Reuters.

Written by Kaiser

Posted in Angelina Jolie, Brad Pitt, Fashion

- Who butchered the National Anthem? [D-Listed]
- Rob Lowe never ages [Lainey Gossip]
- What is Vanessa Hudgens wearing? [Go Fug Yourself]
- Summer guide to reality TV [Reality Tea]
- Game of Thrones recap [Pajiba]
- Tan Mom's music video [Buzzfeed]
- Amanda Knox is broke [Starcasm]
- Backstage at the Billboard Awards [Popsugar]
- Miley is still stuck in the 90s [Popoholic]
- Blind Items revealed: Adam Levine [CDAN]
- Hugh Hefner bought Crystal Harris a house [Celebslam]
- What happened to Aimee Teegarden? [The Blemish]
186 Responses to "Brad Pitt & Angelina Jolie do 'Moneyball' premiere in Tokyo: hot or meh?"