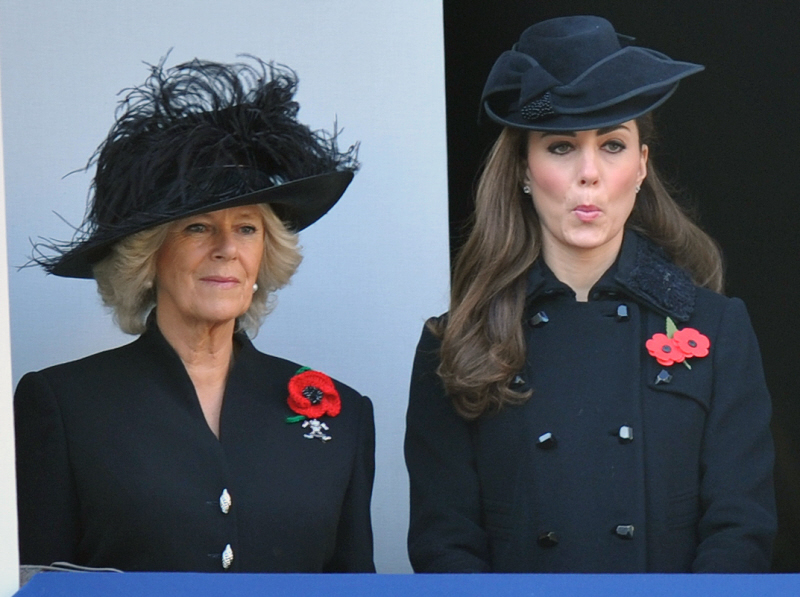 During Duchess Kate and Prince William's engagement, the British and American tabloids reported several stories about Kate possibly fighting with Camilla Parker Bowles, otherwise known as Camilla, HRH The Duchess of Cornwall. The tabloids had Camilla attempting to talk Kate into cheaping out on her wedding, and Camilla offering unsolicited "advice" to her new step-daughter-in-law. Camilla later told reporters that Kate "is a lovely girl" and in my mind, I tend to think Camilla and Kate are cut from the same cloth – they have more similarities than differences overall. The Mail has an interesting story today about just how well Camilla and Kate really are getting on – apparently, Camilla is the one who has "taken Kate under her wing." For real.
Of all the Royal Family's hopes and expectations when Kate Middleton married Prince William, no one could have anticipated it would transform the former Mrs Camilla Parker Bowles. Thanks to Kate, the Duchess of Cornwall's stock has never been higher within the palace walls, especially with the Queen — who once looked upon Prince Charles's former mistress as a potential threat to the stability of the monarchy.

The reason for this heartening approval is that Camilla, 64, has taken the Duchess of Cambridge firmly under her wing. Camilla has claimed the crucial role of making sure Kate that feels 'at home' as a royal. It was always clear that Kate would need help to see her through the difficult early years of life in the royal goldfish bowl — something no one gave Princess Diana, with tragic results.

William couldn't really help very much. Indeed, he is viewed as lamentably inadequate in this area. 'He's not always the easiest of people, entirely understandably, given how old he was when Diana died,' says a close family friend. 'At the best of times, the royal men just don't have much sensitivity when it comes to helping ease new members into the royal life. They're not unkind — they just don't think.'

Enter the Duchess of Cornwall, a woman who has lived more than a little. She is 'in regular touch' with Kate and has become her sounding board on practically everything: from how to deal with other, more prickly members of the family such as Princess Anne, to coping with photographers. She told Kate that one trick is to focus on the faces of one or two cameramen she recognizes in order to help her look more relaxed.

Camilla, of course, had a private, ringside view of the totally avoidable tragedy of Diana's unhappiness. So for Diana's friends, at least, it is a bitter irony that the fabled 'third person' in the Princess's marriage should apparently be setting out to make herself indispensable to the popular young woman who would have been Diana's daughter-in-law. They see it — unfairly, perhaps — as the strategic move to take control of an older and more experienced woman from a family that has been close to the royals for generations.

But Camilla's expanding sphere of influence is something that seems to have started to take shape before William and Kate's marriage in April. Many believe that her influence was stamped on the guest list, which excluded long- standing friends of Diana who had known William since he was a child, such as Rosa Monckton and Lady Annabel Goldsmith. Several weeks before the ceremony, Camilla and her daughter, Laura, enjoyed a girlie lunch with Kate and her sister Pippa at Koffman's, the Berkeley hotel restaurant in London's Knightsbridge.

One word in particular reached the ears of fellow diners during their animated conversation — 'advice'. On the day of the wedding, Camilla arranged for Kate to have her nails done by her own favourite manicurist, Marina Sandoval, from the Jo Hansford hair salon in Mayfair. She also gave Kate a highly personal wedding gift — a gold charm-style bracelet with a small disc engraved with hers and Catherine's cyphers. Each is a large 'C' under a coronet, though Camilla's is surrounded by a circle. What makes the gift so significant? Camilla has a similar bracelet of her own that she rarely takes off.

'Camilla's exceptional warmth has really touched Catherine,' says one of Kate's friends.

The other area about which she has been talking to Camilla is which charities to support.
One idea is for Kate to help a specific charity intensively for a limited time of one or two years during special appeals. This could be more beneficial than if she spread herself thinly over dozens of good causes. Obviously, she is in high demand. These charities include those helping young people and military veterans as well as those in areas such as conservation and art therapy. But perhaps Camilla's greatest help so far in smoothing Kate's path as a fledgling royal is the change she has brought about in Prince Charles.

Though he adores Kate, he is the one figure who has found it difficult to adjust to her arrival in the Royal Family, mainly because of all the uncomfortable memories thrown up by constant comparisons between her and Diana.

'At one stage he was almost tearing his hair out at the endless references to Diana and what she was like, because it always led to talk of his own shortcomings,' says an aide. 'It went on for months, and he has only recently calmed down.'

It was Camilla who soothed him, in the same reassuring way that she has been handling Charles's glooms and fretfulness for 30 years. But now comes a new challenge. After the Queen's Diamond Jubilee next year, the Prince of Wales will have to put up with Kate becoming chatelaine of Kensington Palace, the place everyone associates with Diana and her unhappy marriage — and with the powerful memory of the lake of flowers created by a mourning public after her death.

Earlier this month, it was announced that William and Kate would be moving into the late Princess Margaret's old apartment there in 2013. Prince Harry is also due to move there, taking over the cottage that William and Kate currently use as their London base. Camilla is likely to be the key influence on young housewife Kate. Setting up home in this vast apartment of 21 rooms on four floors will need the guidance and advice of a woman with experience of that very different life as a royal. Camilla has already warned Kate that at Kensington Palace she and William will require a minimum staff of a butler, a housekeeper, a ladies' dresser, a valet, a cook, chauffeur and several other workers.

Unlike Diana, an Earl's daughter who had grown up with servants, Kate is still uncomfortable having staff pirouetting around her. But she knows that, on moving into Kensington Palace, she will have to accept the inevitable. Camilla has also advised her that a personal dresser is vital if she is to perform the royal role the public expect of her.

As for choosing the staff, the Duchess of Cornwall — mature, knowledgeable, reassuring, and the chatelaine these past six years of Clarence House, Highgrove and Birkhall — will be there to help. If ever the former Mrs Camilla Parker Bowles dreamed of playing a crucial role at the centre of the Royal Family, this is it.
[From The Mail]
It is interesting, isn't it? It didn't even occur to me that Prince Charles would worry about his daughter-in-law overshadowing him. I thought it was just William who worried about Kate that way – when are royal men going to realize that it's not so much about them? People are more interested in princesses because of clothes and the styling. It really is that simple. Anyway, I'm uncomfortable with the way that Camilla is systematically shutting out Diana's friends and Diana's memory. One of the best things about Diana was that she challenged the status quo of royalty, but it seems like Kate and Camilla have no interest in doing anything to rock the boat.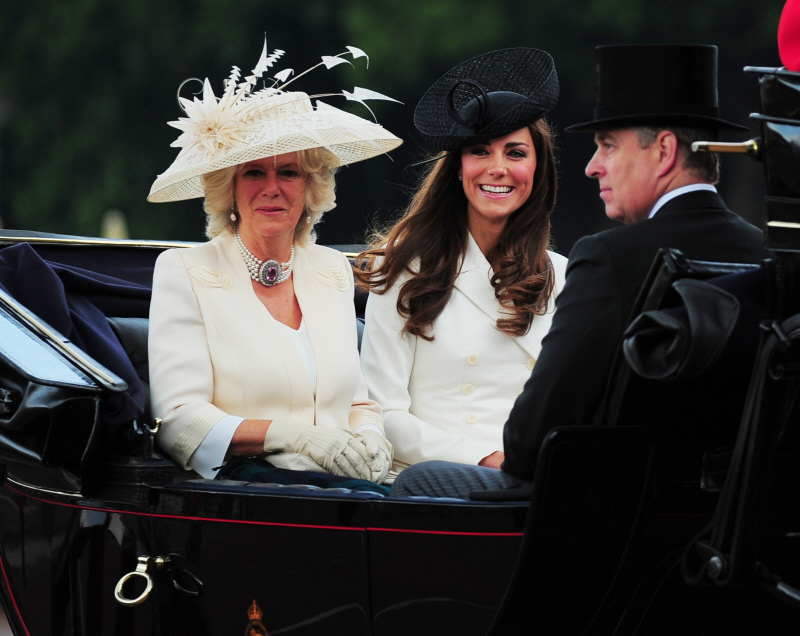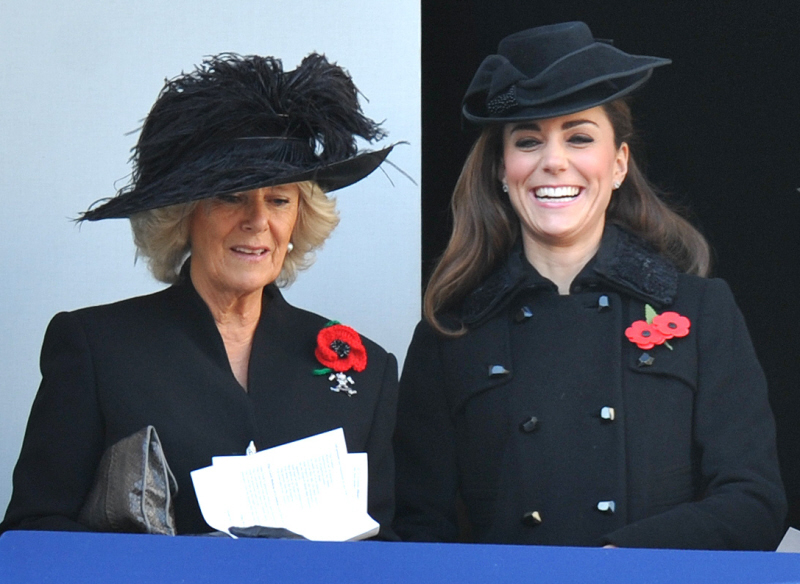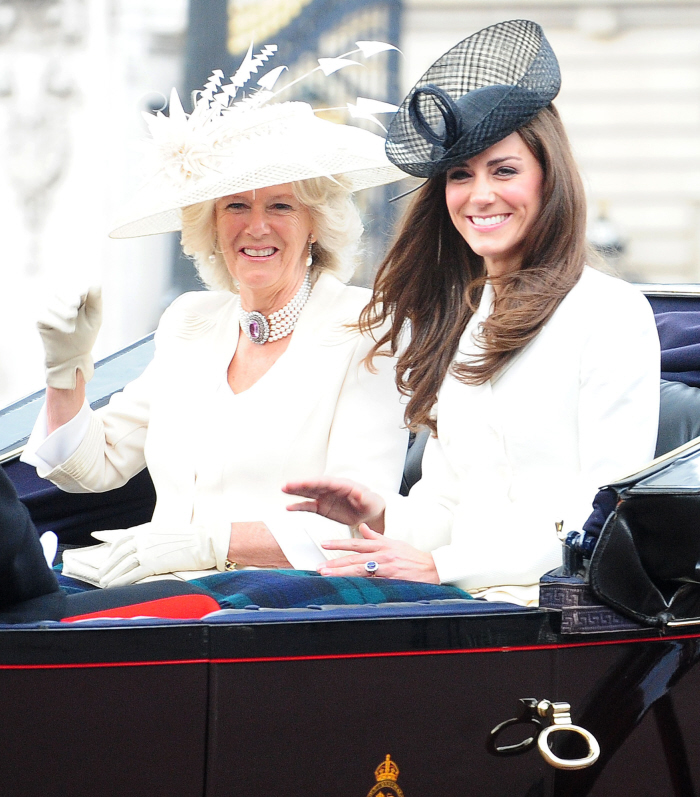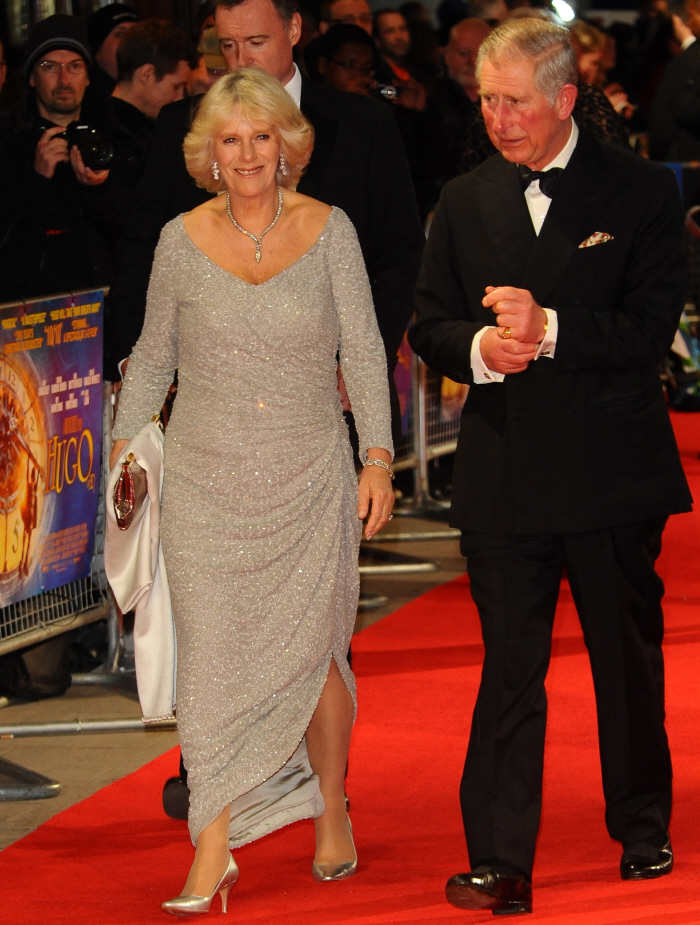 Photos courtesy of WENN.