Lady Gaga covers Vanity Fair (again): "I have never felt truly cherished by a lover"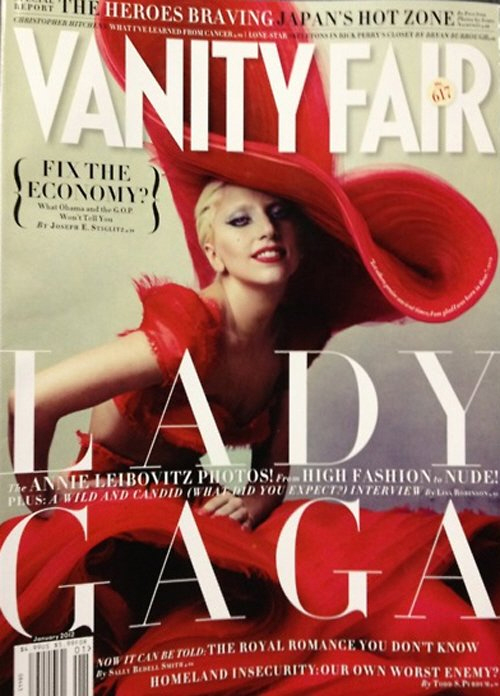 Ugh, I'm so sick of Lady Gaga being on magazine covers. Some of her photo shoots can be quite interesting, but she's over-saturated the market with too many cover interviews – she doesn't have anything new to say, and it's especially rough because Gaga was just on the cover of Vanity Fair a little more than a year ago – and in that time, she's appeared on multiple covers of Harper's Bazaar, Rolling Stone, Vogue, etc. It's too much. Oh, and Gaga isn't just on the cover of the January Vanity Fair – she's also on the cover of Elle UK. I've included some Elle images at the bottom of the post. Anyhoodle, here are some excerpts from Gaga's latest VF interview:
Lady Gaga gets candid with Vanity Fair about her history with relationships: "I have never felt truly cherished by a lover. I have an inability to know what happiness feels like with a man," the singer tells contributing editor Lisa Robinson. "I say this honestly, and this is my new thing as of the past year: when I fight with someone I'm in a relationship with, I think, What would my fans think if they knew this was happening? How would they feel about my work and about me as a female if they knew I was allowing this to go on? And then I get out."

Will her rumored romance with Vampire Diaries actor Taylor Kinney be a departure from this disappointing history? "I have this effect on people where it starts out good. Then, when I'm in these relationships with people who are also creative, or creative in their own way, what happens is the attraction is initially there and it's all unicorns and rainbows. And then they hate me."

But her creativity is the one thing she says she will not compromise on, no matter the cost to her romantic life. "Perhaps it's a whose-dick-is-bigger contest. If I go to the piano and write a quick song and play it back, they are angry with how fast and effortless it is. That's who I am, and I don't apologize for it. But it's a hideous place to be in when someone that you love has convinced you that you will never be good enough for anyone. I had a man say to me, 'You will die alone in a house bigger than you know, with all your money and hit records, and you will die alone.'"

In these dark moments, Gaga tells Robinson, she has found meaning in her work: "Even though I know it sounds a bit Hallmark, whenever I [was] in that kind of stressful, worthless moment, I would think, I'll show you.'" Gaga continues, "I think what it really is, is that I date creative people. And I think that what intimidates them is not my purse; it's my mind."

Gaga says the weird thing is, after she's left a few people, they've asked her to marry them. "How f–kin' romantic, you a–hole. Sure, pop a ring on my finger and make it all better. I can buy myself a f–kin' ring."

Robinson spends time on the set of Lady Gaga's most raw and personal video to date, "Marry the Night." It is "autobiographical," according to Gaga, and required the grueling task of "getting ready to relive the worst day of my life." She has never talked about it before. Prior to filming a hospital scene in which Gaga, appearing bruised and drugged up, is wheeled on a gurney into a women's clinic, she asks Robinson and a few others in her trailer how far she should go with the re-enactment; she decides to commit to it fully.
"It's chaotic and sad. But I don't want it to be safe," she says.
[From Vanity Fair]
Do you think Gaga's lovers are truly "angry with how fast and effortless it is" for her to write her music? Maybe they're angry about how her music and her shtick is going downhill fast? Maybe they're angry with how she's jumped the shark? Maybe they're angry with her Gwyneth-style humble-bragging? "I'm so very talented, that's why all my lovers leave me!" No, it's because you're a narcissistic monster.
There are some other quotes floating around from Gaga, and I don't know if they originated in VF or Elle UK or they're just part of some other interview. Gaga talks about what a man needs to get in her the sack: "It ranges from a really big d-ck to a degree at Harvard. Talent and perseverance and pushing the boundaries of love and acceptance." She also says she's not ready to be domesticated: "I'm not ready to buy a house. It feels like marriage or something. It's such a commitment, I don't like it. I do love being with my parents but I also just really fear domestication. I just don't have a home, I am 25 and buying a house feels a little weird. I actually sleep at my best friend Bo's apartment a lot. She kicks her boyfriend on to the couch and it's really funny. We stay up and watch movies." Blah. I told you – the well is dry. She really doesn't have anything new to say at this point.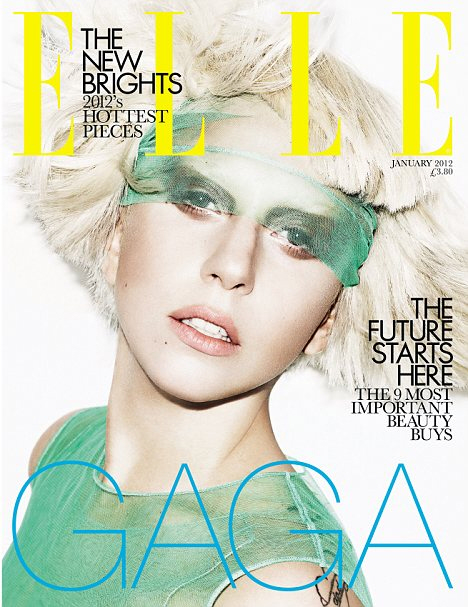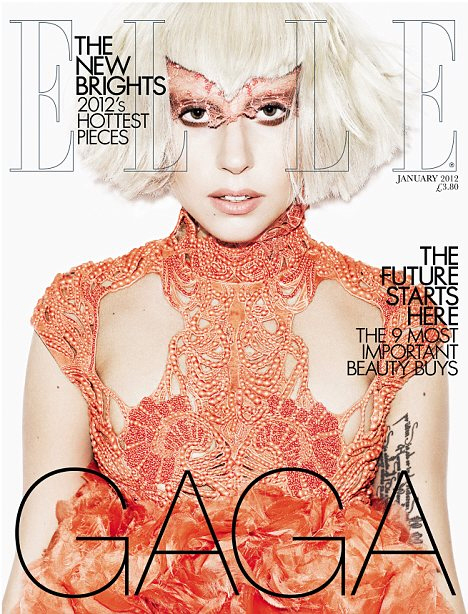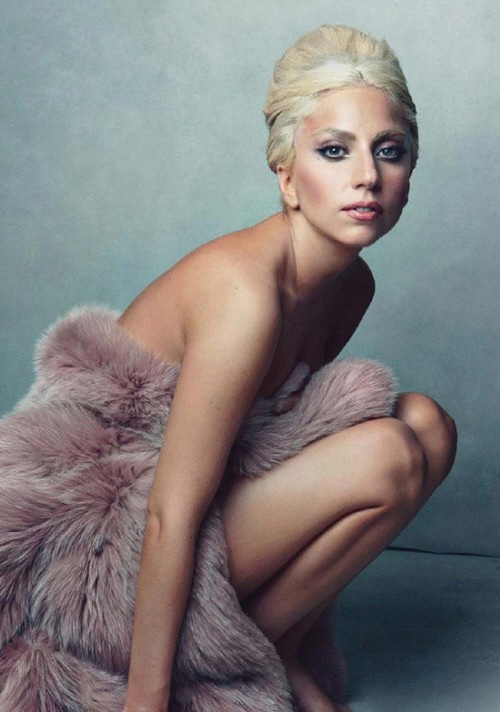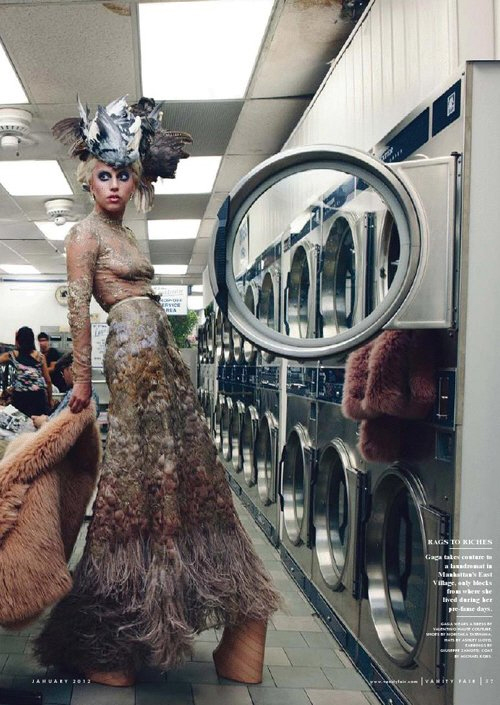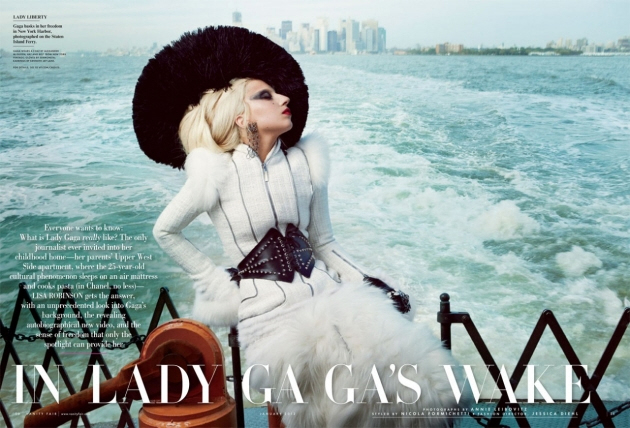 Photos courtesy of Vanity Fair & Elle UK, via The Fashion Spot.

Written by Kaiser

Posted in Lady Gaga

- Mariah Carey lip synced on American Idol [CDAN]
- Colin Firth is looking good [Lainey Gossip]
- Internet celebrity charged with murder! [D-Listed]
- What is Paz Vega wearing? [Go Fug Yourself]
- New bachelors on The Bachelorette [Reality Tea]
- Goodbye to The Office [Pajiba]
- Bachelor Sean's fiance cheats on him [Evil Beet]
- Britney Spears out with her man [Popsugar]
- Nina Dobrev works it [Popoholic]
- Cindy Crawford needs to lay off the 'tox [Celebslam]
- Who said it: Carrie Bradshaw or The Dalai Lama? [Buzzfeed]
67 Responses to "Lady Gaga covers Vanity Fair (again): "I have never felt truly cherished by a lover""