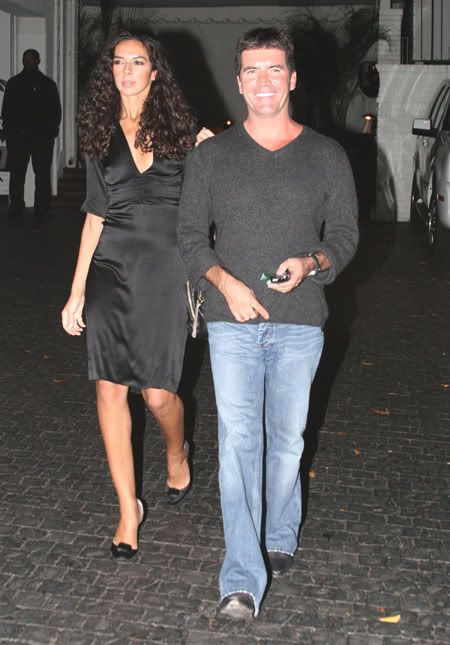 In April there was a story in the National Enquirer that American Idol judge and reality show mogul Simon Cowell, 43, was dumped by his longterm girlfriend, TV presenter Terri Seymour, 33. At the time Terri was said to be fed up with Cowell's rumored carousing and his inability to settle down and have a family. If they did split it seems to have been temporary as they were spotted out together since. Seymour even attended an American Idol event to introduce the new judge Kara DioGuardi in late August.
Last year Seymour told a funny story to the press about how she hardly ever mentions children to Cowell, but that when she did bring it up he told her to get a turtle. She added that she did want children eventually but that she knew that it wasn't an option with Cowell and she didn't expect him to change his mind about it.
Fast forward to the fall and Seymour seems to have realized that if she wants a family she'll have find a man who's up for it. Cowell's rep confirmed to People Magazine that his client was dumped by Seymour over the phone about six weeks ago and that the issue of whether to have a family was what drove them apart:
Simon Cowell and longtime girlfriend Terri Seymour have split, Cowell's rep confirms to PEOPLE.

"Terri phoned Simon and finished it in September, about six weeks ago," says Cowell's rep, Max Clifford. "They are going to remain close friends. Simon thinks the world of Terri and that isn't going to change. He also understands her reason for ending it."

The couple were together for six years. Seymour, 34, first met Cowell, 48, when she was 18, but the couple didn't begin dating until she interviewed him for a show in 2002.

"In the past Terri has said that she wants kids but that just isn't Simon," added Clifford. "Nobody else is involved, certainly not on Simon's side."
[From People]
It takes a lot to change a guy who's set in his ways and Cowell just isn't the type who is going to wake up one day and realize he wants kids. He has his mansions and his high performance cars and he wants a girlfriend who is happy living a life of freedom with him. There are surely plenty of other women who would be glad to oblige.
Seymour is now said to be dating hot actor Stephen Dorff, 35. He doesn't strike me as the type who's particularly ready to start a family, but he is a definite upgrade from Cowell.
Simon Cowell and Terri Seymour are shown out in LA on 4/25/07. Credit: Fame Pictures